If you're wandering around the Loyola University New Orleans campus and happen to see a colorful cropped 'do, chances are you've spotted Stephanie.
Not only does she have hair that stands out from the crowd, but Stephanie also rocks the borrowed-from-the-boys look like no one else on campus. Her wardrobe makes me wish I could pull off her quirky and comfortable style with such ease.
Stephanie 101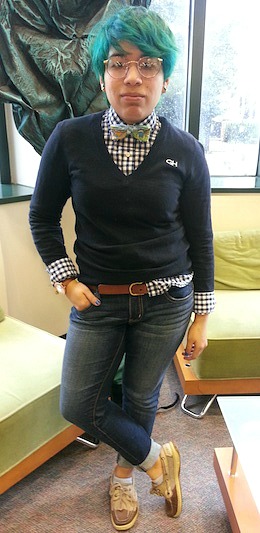 Name: Stephanie
School: Loyola University New Orleans
Year: Sophomore
Major: Psychology with a minor in writing
Let's Talk Fashion
Who or what inspires your style? "I probably get inspired most by people-watching, which is one of my favorite hobbies. I like how a lot of people dress, so I don't really stick to one set style of dressing."
Where do you like to shop? "I like to shop on a budget, so [I shop at] thrift stores, Goodwill, and I work at a fashion retailer where I get awesome discounts."
How would you describe your sense of style? "I don't think there is any set way of describing it; sometimes it's bohemian and sometimes it's preppy. It's always according to my mood or goals for the day, I guess."
Why did you choose this particular outfit? "I woke up wanting to stay in and read on this dreary day. I guess it fits that studious, reading mood."
What fashion advice would you give to other students looking to improve their style? "Dress however you dream of dressing. There is nothing wrong with overdressing or being underdressed if it reflects exactly how you want to be perceived that day."
What are your favorite trends right now? "I'm really in love with bohemian prints right now, so tons of red and oranges with bold black lines."
Do you have any favorite fashion designers? If so, who? "Alexander McQueen is an immortal god."
What do you do for fun – do you have any unique hobbies or interests? "I am always at concerts and music festivals. That's probably the only hobby I have, and it leaves me super broke."
If you could raid anyone's closet, who would it be and why? "That would be Vanessa Hudgens, because she maintains a bohemian look that never looks too hippie and boho."
Elements of Stephanie's Outfit
1. Bow Tie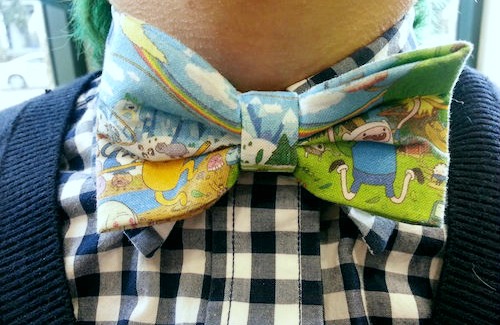 This bow tie instantly dresses up Stephanie's menswear-inspired outfit. You can almost picture her studying in the library! The Adventure Time print adds a touch of quirk to her otherwise classically preppy ensemble.
2. Shoes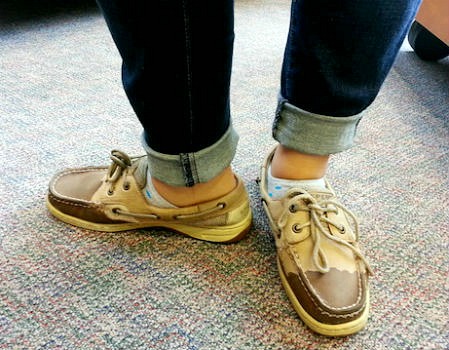 Stephanie's boat shoes are equal parts functional and fashionable. The dark leather tips add contrast, which gives this classic footwear a fresh look. Stephanie also paired her Sperrys with cuffed jeans, which is hip without being too hipster.
3. Earrings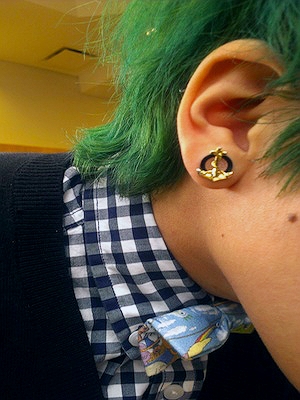 Stephanie accented her look with gold anchor earrings. This accessory ties in seamlessly with her boat shoes, giving her preppy ensemble several nautical touches.
4. Watch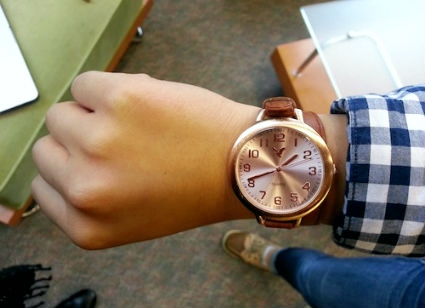 Stephanie's watch is a perfect example of a practical yet stylish accessory. Not only does her watch let her know the time, but the oversized style gives her that borrowed-from-the-boys feel that is so popular right now.
Let us know what you think about Stephanie's menswear-inspired look!
Do you wear boat shoes and bow ties? What elements of Stephanie's outfit do you love? We want to know your thoughts, so leave us a comment below.