When I met Sophie at a party before school started, the first thing I noticed about her were her bold outfit choices. I had a feeling Sophie had a passion for fashion, so last week, when I spotted her on her way to a different party, I had to learn more about her style! Read on to learn about Sophie's unique fashion philosophy.
Sophie 101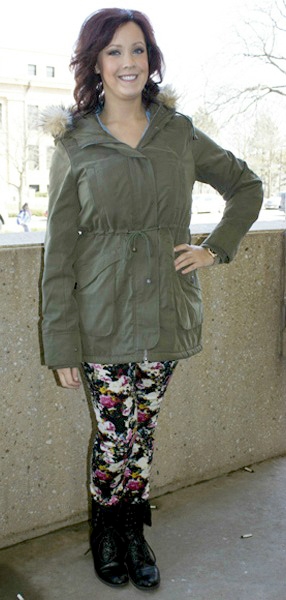 Name: Sophie
School: University of Kansas
Year: Sophomore
Major: Art History/Journalism
Let's Talk Fashion
Who or what inspires your style? "I really admire some of the classic fashion icons, like Audrey Hepburn and Marilyn Monroe. That's where I learned to 'keep it classy' in my outfits. I LOVE the elegant styles of the late '50s and early '60s – I almost wish I had lived during that time."
Where do you like to shop? "My clothes come from all sorts of places, I guess you could say I 'collect' wherever I go. I love finding original pieces at small boutiques that you know no one else will have. However, I also love Nordstrom, especially Nordstrom Rack- it has reduced prices of all the same clothing as Nordstrom, so it helps me keep a little extra money in my pocket. I also like Urban Outfitters."
How could you describe your sense of style? "I would say classy with an edge, but also with a little bit of bohemian in the mix. Imagine a simple black patent leather pump, but covered in gold studs and pearls – that would describe me the best. I CANNOT live without gold jewelry or pearls. I wear them with almost every outfit."
Why did you choose this particular outfit? "I chose the red pants to go with my red lips, and the light white blazer to go with the cool weather. Blazers are easier to wear when going out than coats [since you don't take them off]. I also chose black and white because they complement the red in my outfit – black and white help bold colors 'pop'."
What fashion advice would you give to other students looking to improve their style? "I would say to always be original and to try and create your own style. Wear what YOU feel, not what the girl next to you in class is wearing. You can follow Kim Kardashian and all these style celebrities, but only you know what works best on your body, and lets face it, not everyone has a butt to work with like Kim! Audrey Hepburn felt strongly about being your own, original person. I also feel strongly about this. It's better to create your own trend then to follow another. I love this quote by Michael Kors – 'Just like a great song, a great fashion moment is about telling a story and evoking a mood.'"
What are your favorite trends right now? "I love peplum tops, studded accessories, boots, and (faux) fur. Peplum tops help accentuate your chest (for those of us who weren't blessed with large chests) and they always keep an outfit classy. Studs on anything help create an edge, (faux) fur will always keep you warm in the winter, and you can't go wrong with a good pair of knee-high boots."
Do you have any favorite fashion designers? If so, who? "Marc Jacobs, Alexander McQueen, Michael Kors, and Coco Chanel."
What do you do for fun? Do you have any unique hobbies or interests? "I love to decorate and design. I designed my entire bedroom at home and at school. Pictures of Audrey Hepburn and Marilyn Monroe cover my walls. I'm really into art and I collect a lot of original artwork, probably why I'm an art history major. I also love to run, it's my de-stressing time and it helps clear my mind. If you can't afford a therapist, run. You could also say I love to shop as a hobby."
If you could raid any person's closet, whose would it be and why? "I would have to say Blake Lively, she always has something fabulous on. But, if I could have just one thing, it would be Kate Middleton's wedding dress by Alexander McQueen. My heart still drops when I see pictures of it. In my opinion, it is a work of art."
Elements of Sophie's Outfit
1. White Blazer and Red Jeans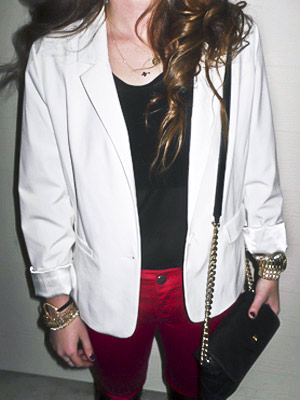 I love the bold contrast Sophie creates by pairing bright red jeans with simple black and white – the neutral hues help the red to really pop. Also, her boyfriend-cut blazer adds a sophisticated element to her otherwise-simple outfit – make like Sophie and just add a blazer for instant night out glamour.
2. Gold Bracelets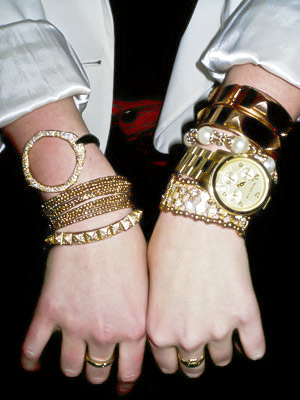 Sophie definitely has the arm party look going on! As seen above, she loves to pile on numerous gold bracelets, gold rings, and few gold necklaces. This jewelry not only matches the gold accents on her black riding boots, but also matches the gold chain on her bag.
3. Quilted Black Purse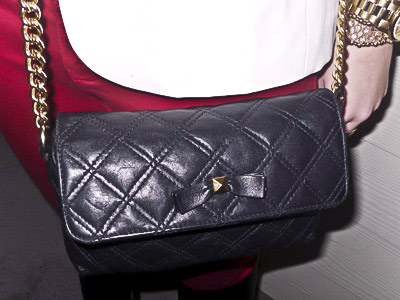 This quilted black purse is very Chanel-esque, which matches the classic tone of Sophie's outfit. A simple chain-strap bag is an essential for going out; it's big enough to hold a wallet, keys, and phone, but not too bulky that it gets in the way throughout the night. In addition, a simple black back will go with absolutely everything you own.
Your Thoughts?
What do you think of Sophie's look? Have you added colored jeans to your closet yet? What would you pair with Sophie's white blazer? Let us know with a comment!