It was no surprise that I spotted Sophie the moment she left my building one cold morning: Her look was super simple, yet her confidence and style really stood out amidst the hundreds of people walking by. From her wide sunglasses to her furry hat and mysterious smile, Sophie's look seemed to make everyone stop and stare.
Sophie 101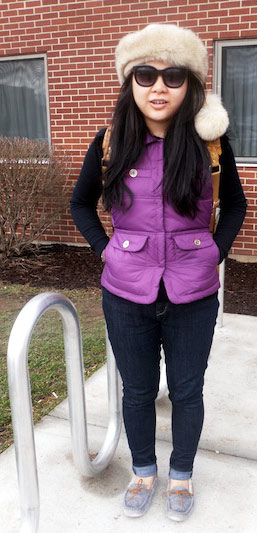 Name: Sophie
College: Syracuse University
Year: Freshman
Major: Economics
Let's Talk Fashion
Who or what inspires your style? "I travel every chance I get. The people and cultures of different countries inspire me to dress up and find my own creativity and individuality."
Where do you like to shop? "I like shopping at high-end retail stores like Marc Jacobs, Gucci, and Chanel. Other than that, I also spend a huge amount of my time hanging out at the mall and buying items at Nike, Bebe, etc."
How would you describe your sense of style? "I don't really have a defined sense of style. I like experimenting. One day I'm in a Michael Kors dress, the next I'm wearing Levi's jeans with sneakers. It's really exciting to surprise people with your outfits every time you leave your room."
Why did you choose this particular outfit? "I wanted to feel comfortable walking through snow and up the mount. The Syracuse campus is huge so I spend a lot of time walking from classroom to classroom. My purple puffy vest makes me stand out from all the people wearing black. And the furry hat is my favorite! People always, always notice it."
What fashion advice would you give to other students looking to improve their style? "I would have to say, don't be scared to experiment. You're young and in college, you should be open to exploring and thinking out of the box. If you won't do it at this age, when will you improve your style?"
What are your favorite trends right now? "Since I'm around snow a lot, I like trench coats and Hunter boots. Those are the essentials when you want to survive the winter months."
Do you have any favorite fashion designers? If so, who? "Yes, I love fashion and I love Marc Jacobs, Anna Sui, Gucci and Prada."
What do you do for fun? Do you have any unique hobbies or interests? "Does studying count? You can always find me studying. Other than that, I like going to the mall to shop for clothes and shoes. I'm also a cook! I cook a lot of Chinese food for my friends at school."
If you could raid anyone's closet, who would it be and why? "I would raid the closets of all my friends here at Syracuse. Not only are their closets realistic for college girls, but they have beautiful clothes as well. Their clothes have personality and class, and I want those kinds."
Elements of Sophie's Outfit
1. Moccasins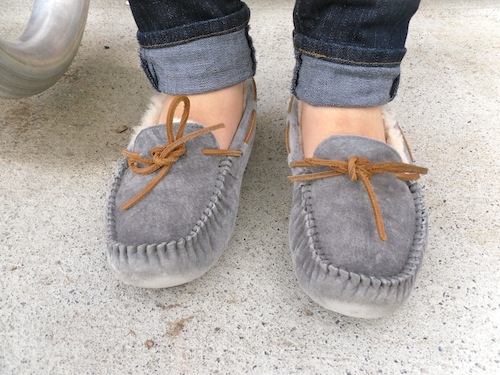 Sophie's cozy shearling-lined moccasins are warm and comfy, yet still stylish. In addition, their grey color makes them perfect for matching with just about any outfit. (Notice that Sophie also matched their laces to her camel-colored backpack!)
2. Vest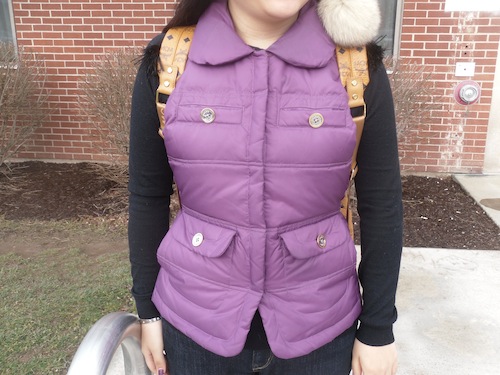 Sophie's purple puffy vest is what first caught my eye: It's rare to see someone sporting that color on a chilly day! Purple stands out no matter what since it's bright and pleasing to the eye. Most students wouldn't be brave enough to rock such a bright color, but I'm glad this fashionista went for it.
3. Furry Hat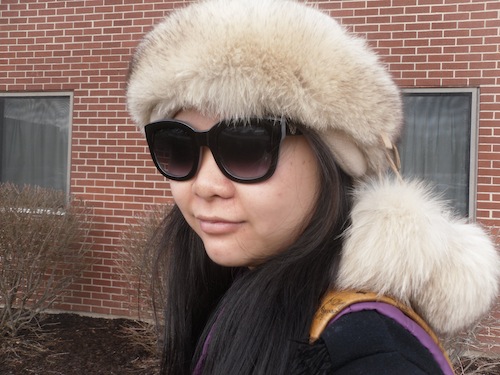 Is there any hat style more glamorous than a faux fur cap? This is probably the most fabulous hat I've ever seen on campus – not only is it fashion-forward, but it's warm and practical. I've been tired of the usual beanies and baseball caps: This one is a statement-maker!
Share Your Thoughts!
What do you think about Sophie's style? How do you stay fashionable and warm during the winter? How do you feel about moccasins and faux fur caps? What kind of hats are you wearing this winter? Share your thoughts with a comment!