Summer is in full bloom here in New York City and it's hotter than ever! Due to the heat, it's tempting to just throw on a pair of jean shorts and t-shirt and run out the door. However, like most college students, we have summer jobs or internships that require us to spend a little more time on our outfits. Sophia's outfit provides the perfect balance between staying cool and comfortable, and still looking chic at work! Keep reading to learn more about Sophia's style.
Sophia 101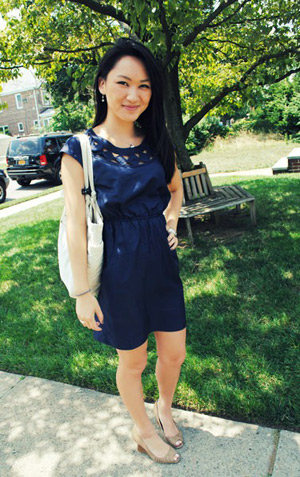 Name: Sophia
School: New York University
Class Standing: Junior
Hometown: Queens, New York
Major: English
Let's Talk Fashion
Who or what inspires your style? "There is no particular model icon that inspires my style. I think walking down the streets of NYC every day inspires me. The store displays and the people who are busy on their way to wherever catch my eye. I take a mental note of everything — the bags, the tops and bottoms, the accessories, the hairstyles and most importantly, the shoes!"
Where do you like to shop? "I always like to make a stop at J.Crew, Banana Republic, and Urban Outfitters. But I'm open to whatever looks good!"
Why did you choose this particular outfit? "I'm into dresses lately, especially during this hot summer season."
What fashion advice would you give to other students looking to improve their style "Try on everything! I used to only try on things that were similar to what I already had in my wardrobe, like black and white clothing only. Finally, my friend made me try on tops and shoes I normally wouldn't slip on and to my own surprise, I loved them and received more compliments than expected. Break out of the safety bubble of what you know looks good and try on things that could look great."
What do you do for fun – do you have any unique hobbies or interests? "For fun I like to do modeling! I've been a part of Shortstack, a teen fashion and modeling program, for four years. Right now it's my fifth year and I'm the executive assistant. Last semester, I was also part of the NYU Expo, which is a benefit fashion show. It's all been a great experience. But aside from that, for fun…I shop with friends. For therapy, I shop. For boring days at home, I online window shop."
Elements of Sophia's Outfit
1. Sunglasses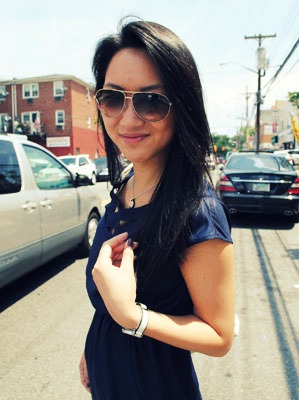 Sophia's aviator sunglasses are the perfect last-minute addition to any summer outfit. Hers are a classic aviator style from Marc by Marc Jacobs — definitely an item that will stay trendy for many summers to come. However, it is important to choose a pair that fits not only your face, but also your budget – it helps to save up for a few high-end pieces you know will last you forever.
2. Classic Dress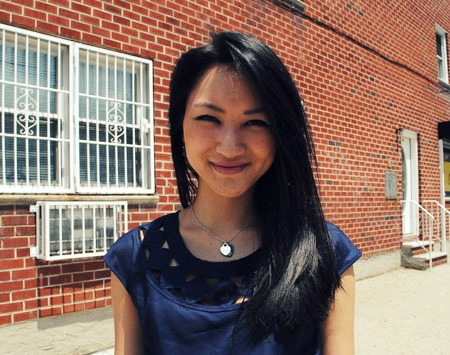 Sophia's chic and feminine dress may seem like your typical frock at first, but after taking another look at her swoop neckline, I beg to differ! With the subtle hint of cut-out patterns, the dress is transformed from typical to fashionable. Wear this classic dress to the office, to class, to a cocktail dinner…wherever!
3. Wedges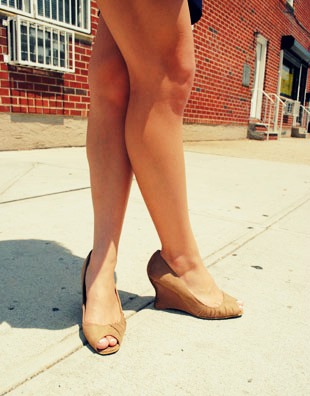 Wedges are always the ideal shoe to wear for height and comfort – these low ones are perfect for trekking around the streets of NYC, and would be perfect for the office. Most importantly, they are super cute!
Although black heels seem to be the classic go-to shoe, these beige wedges also offer the same flexibility for dressing up or down. Sophia wore these on the way to work but I wouldn't be surprised to find a girl wearing a similar pair during a night out with the girls or on a first date.
4. Nail Polish and Timeless Jewelry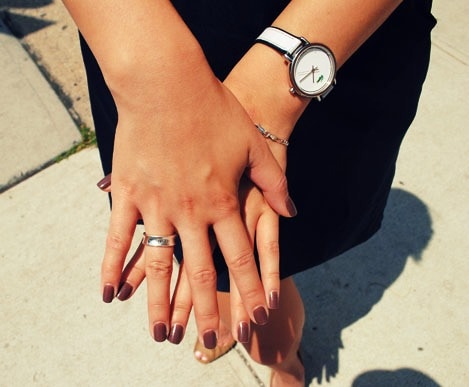 As you probably noticed by now, Sophia's style is very simple yet still very classy. She pulls this off by utilizing solid colors and timeless pieces such as her Lacoste watch and Tiffany ring. Again, Sophia knows how to choose a few high-end items that will last her forever instead of spending on trendy pieces that won't last. I especially love how her bold white watch complements her neutral-colored nails.
What do you think?
Do you like Sophia's style? Do you like her simple and solid colored wardrobe? What are your tips for how to dress during summer jobs and internships? Let us know with a comment!