I've had several classes with Sloan over the years, and have always taken note of her amazing style. Skirts, knee-high socks, killer boots, her signature thick brows… you name it, she rocks it.
With her Mary Quant-esque style, she's not afraid to turn a pre-owned Goodwill purchase into something fresh and trendy. Quite frankly, she is the queen of her sewing machine, and won several awards in a campus fashion show last semester for some of her personal creations.
When I walked into class a few weeks back and saw her wearing this number, I knew I had to snag a photo to share with all of you!
Sloan 101
Name: Sloan
School: Indiana State University
Year: Senior
Major: Textiles, Apparel, and Merchandising (TAM)
Let's Talk Fashion
Who or what inspires your style? "I got this particular outfit when I was going through my Mary Quant [the creator of the mini skirt] phase. I did a report on her junior year and she has that 1960s mod, English-European style, so that is what inspired the whole mini skirt and crew neck. She was all about an emphasis on the legs, and I love that."
Where do you like to shop? "Right now I do a lot of shopping at Goodwill. I like to take things that are inexpensive and make them into something different and unique."
How would you describe your sense of style? "It definitely changes a lot for a TAM major, especially because in our major we're constantly looking to jump on the next thing. I think overall, right now, I'm trying to be casual but professional with a slightly modest look."
Why did you choose this particular outfit? "I felt like wearing a skirt today. I don't really like wearing pants, so as often as I can avoid wearing them I'll wear a skirt."
What fashion advice would you give to other students looking to improve their style? "I would say don't spend a lot of money on things. If you can get it as cheap as possible, that is usually going to be your most unique piece anyway."
What are your favorite trends right now? "Right now we are in the middle of Blizzard 2014, so scarves, coats, and really tall socks."
Do you have any favorite fashion designers? If so, who? "Like I said earlier, Mary Quant, she was a big one. I'm all about miniskirts. I really like Marc Jacobs because he's just a little bit off-kilter, and I can really identify with that."
What do you do for fun – do you have any unique hobbies or interests? "On the weekends I go out with my friends; during the week my fun time is homework. I also like to do yoga."
If you could raid anyone's closet, who would it be and why? "Zooey Deschanel. She is super girly and has a lot of cute clothes. On New Girl half of her wardrobe is from J. Crew, and every time I watch, I see things that I could wear to work at J.Crew.
Elements of Sloan's Outfit
1. Skinny Brown Belt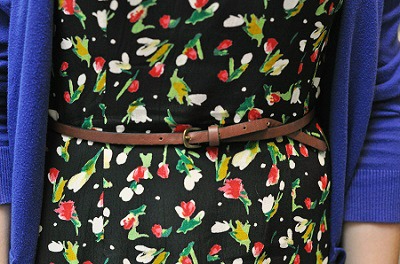 The skinny brown belt Sloan chose to wear with her dress not only creates a nice contrast against the cobalt cardigan and floral print, but also pairs perfectly with her boots. In addition, the belt adds a little bit of shape to her dress and breaks up the pattern. This is a tried-and-true styling trick that adds visual interest and helps to define the waistline, and Sloan definitely rocks this look.
2. Cognac Boots and Boot Socks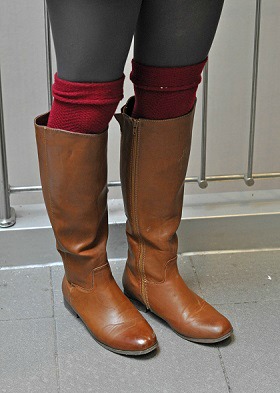 These riding boots, which Sloan received as a gift, are such a gorgeous cognac color. Flat boots like these are ideal for trekking across campus and the neutral color means they can be worn with pretty much anything. Here, Sloan paired hers with burgundy boot socks. She actually made them herself by transforming a pair of leggings with her trusty sewing machine!
We want to know what you think!
Do you wear patterned dresses and boots? Do you like Sloan's colorful cardigan? Let us know your thoughts by leaving a comment below!