One Saturday afternoon, while walking to our campus's downtown area, I stumbled upon Simone. She was on her way to a friend's apartment to play guitar but I was too obsessed with her boho-chic outfit (complete with floral headband!) to let her go by without photographing it.
Simone 101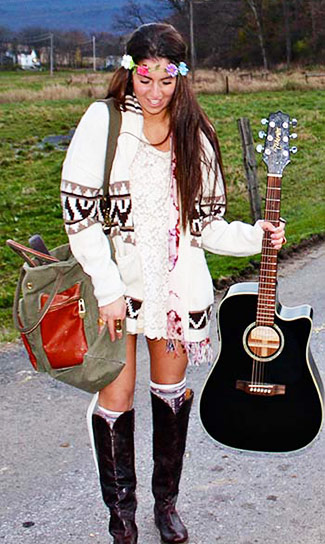 Name: Simone
School: Penn State
Year: Junior
Major: Public Relations
Hobbies: Singing, playing guitar, dancing
Let's Talk Fashion
Who or what inspires your style? "I love looking at lookbooks of various stores, such as Free People and LF Stores, and I'm always checking up on what celebrities are wearing. I particularly gain a lot of inspiration from Miley Cyrus's style."
Where do you like to shop? "Urban Outfitters, T.J. Maxx, H&M, Forever 21, and Free People."
How would you describe your sense of style? "My style combines many different elements, usually depending on the mood I'm in. Today, I was in a bohemian mood so I went with this flowy lace dress and chunky sweater for some layering. It's starting to get so cold at school so I'm wearing thick, high socks and boots to stay warm."
What fashion advice would you give to other students looking to improve their style? "Don't be scared to take risks because it's exciting! Make sure to be unique because it's easy to blend in with the crowd and looking different makes you feel like your own person!"
What are your favorite trends right now? "I'm a huge fan of studs and spikes on sweaters and shoes. I recently bought a pair of Jeffrey Campbell sneakers with silver spikes all on the front. I also love wedge sneakers and just bought a pair during Thanksgiving break – I can't wait to wear them! You can always find me with a chunky scarf, too!"
What do you do for fun – do you have any unique hobbies or interests? "I like to play the guitar and the piano and sing occasionally. I also enjoy going running outside."
If you could raid anyone's closet, whose would it be and why? "Miley Cyrus because she has a cool and edgy style. She takes a lot of risks with her outfits and I admire that."
Elements of Simone's Outfit
1. Chunky Sweater
Simone's big sweater, from LF Stores, combines comfort and style. Its oversize shape and brown and cream color scheme contribute to the bohemian feel of her outfit and emphasize the rich hue of her boots. A chunky sweater like Simone's is a perfect layering piece in the winter – thick cardigans look great over flowy dresses or tops, allowing you to stay warm and stylish.
2. Eclectic Accessories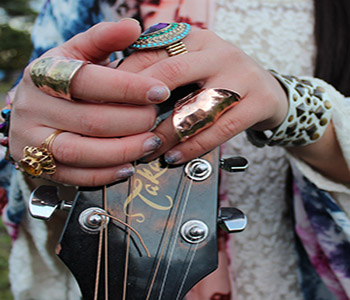 As you can tell, Simone loves her rings! As she informed me, she always mixes colors and shapes to spice things up.
There's a lot going on with her jewelry collection: Two long metal rings add a hint of edge, while a classic gold cocktail ring and turquoise and purple jeweled ring contribute to the look's eclectic vibe. She gets extra boho style points for her cool studded leather cuff.
3. Military-Inspired Tote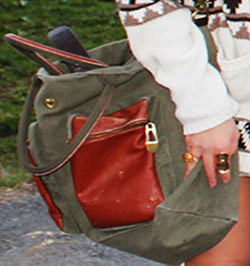 Simone's outfit would not be complete without her awesome military-inspired bag from Urban Outfitters. Its adjustable strap and handles allow it to be worn in a variety of ways – it can be carried by its handles, worn cross-body, or – as Simone demonstrates – worn as a messenger bag. It's the perfect size for school because it can fit plenty of books and even a laptop.
I love the functionality of this bag, but I'm also obsessed with its form factor: The brown leather pockets contrast the surrounding thick green material, creating a two-toned look that makes any outfit more stylish.
Your Thoughts?
What do you think of Simone's boho-chic look? Do you layer sweaters over your dresses? Do you love her rings as much as we do? Let us know with a comment!