Sia is the girl you always see running around campus to a million different places, always dressed in the most adorable pieces. She inspires you to throw that extra bracelet on or switch up your bag to give your ensemble that added spark.
When I saw her wearing a maxi dress done right, I couldn't help but find out where she gets her style inspiration. Sia and I sat down and discussed the ins and outs of her closet, African and American-infused styles, and her general love of dressing up, even when she is super exhausted. Learn more about Sia below!
Sia 101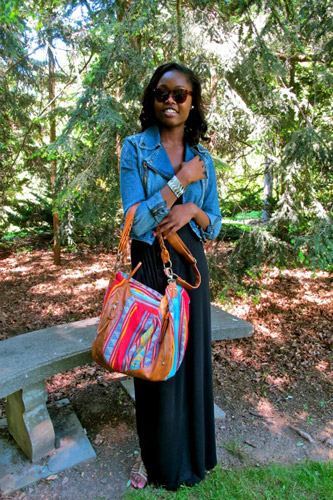 Name: Sia
School: Union College
Year: Sophomore, Class of 2013
Major: Biology
Hometown: Freetown, Sierra Leone
Hobbies/Interests: dancing, watching foreign films, listening to music, President of Black Student Union, volunteering, and traveling.
Let's Talk Fashion
Who or what inspires your style? "My African background, in terms patterns and vibrant colors, but I recently picked up vintage shopping and look to that for inspiration. My shopping goal is to buy pieces that are affordable and unique."
If you could raid anyone's closet, who would it be and why? "My mom's closet. She has great style; she rarely wears plain clothing and always keeps her ensembles exciting. She mixes her clothing from home (Sierra Leone) with American styles, which creates a really interesting mix that inspires me."
What inspired this outfit today? "I woke up this morning and wanted to feel comfortable but at the same time put-together."
Where do you like to shop? "While in the States, I like to shop at Forever 21, Aldo, Marshalls, and thrifts stores. In Sierra Leone, I recently stumbled upon Aschobi, a clothing line by Adama, who is a new designer that left New York to go back to Sierra Leone to create an African-European infused line of clothing. I love everything she does!"
What are your favorite trends right now? "I love patterns, prints, bright colors, and anything vintage."
Describe your style in three words. "Cultural, laid-back, sexy."
Where would you like to travel to to shop? "I would love to go to Dubai, Saudi Arabia, and Johannesburg (South Africa) for those bold and bright patterns that I love incorporating into my closet. But I also love shopping in London because of they always have a good hold on classic looks. If you're ever in London, I recommend going to Next which is a store similar to Urban Outfitters with an affordable and British take on fashion."
Elements of Sia's Outfit
Sia's go-to spring ensemble is a black maxi dress, cinched at the waist, worn with an edgy take on a classic jean jacket and finished with metallic sandals. This outfit showcases her ability to mix textures, colors, and patterns while still keeping her look cohesive and fashion-forward. Also notice her sunglasses: The tortoise wayfarers complement her facial structure as well as the overall look.
1. Biker Chic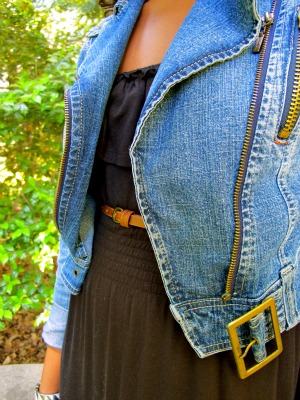 Sia's cropped jean jacket is a fun play on the rough and tough nature of a true leather motorcycle jacket. The juxtaposition of the zippers and buckles on the jacket against the neutral skinny belt and maxi dress create a harmonious visual effect. Sia rocks a classy black dress with her cropped motorcycle chic jacket to create just the right amount of what we all call "mixing it up."
2. Silver Statement Bracelet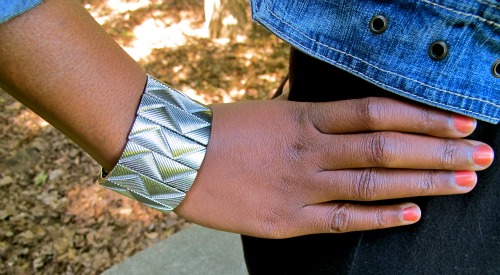 Sia obviously understands the power of a statement piece of jewelry. She doesn't over-accessorize, opting instead to use one standout piece of jewelry – in this case, a gorgeous silver cuff – to create focus and interest. The detailing on the cuff is intricate, giving her wrist some extra funk. Also, check out her cute summery nail polish!
3. Bohemian Patterned Cross-body Bag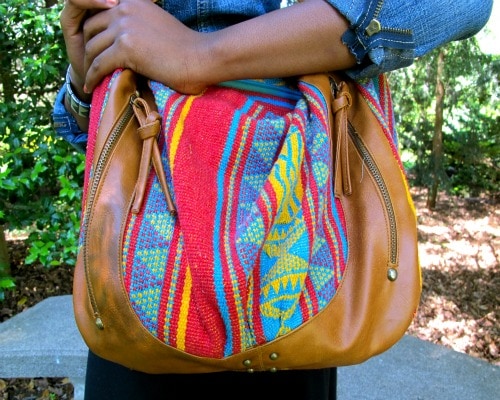 Like Sia mentioned, interesting patterns and vibrant colors are among the many aspects of African style and dress that she loves to incorporate into her wardrobe, especially while here at school in upstate New York. Even though this particular bag isn't from Sierra Leone, it absolutely channels the same themes that are evident in many African fashions.
What do you think?
What do you think of Sia's style? Are you wearing maxi dresses this summer? Are you inspired by your heritage? Do you express your ethnicity in your wardrobe? What kind of jewelry have you been wearing lately? Let us know with a comment!