In Reno, the last month of the semester is always when students get into a routine of wearing UGGs, sweats, and jackets. Between the cold, unpredictable weather and approaching finals, it's hard to find fashionable students around campus in December. Shelby's put-together look proved that students can look warm, comfortable, and cute on campus at the end of the semester.
Shelby 101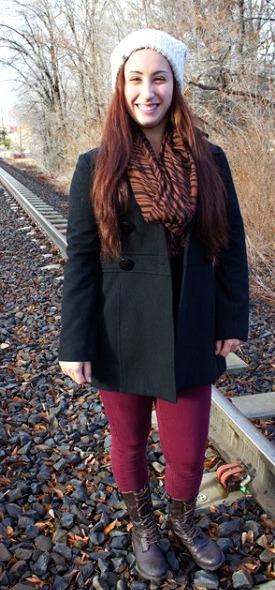 Name: Shelby
School: University of Nevada, Reno
Major: Human Development & Family Studies
Hometown: San Jose, CA
Let's Talk Fashion
What is your favorite part about dressing in the colder months? "I love wearing jackets, scarves, and hats. The cold weather accessories are so fun to group together."
How did you choose this particular outfit? "When I left for class it was raining. I wanted to wear something that would keep me dry and warm."
What are your favorite trends right now? "Boots. I'm obsessed with all styles, colors, everything. I asked for a few pairs for Christmas because a girl can never have too many shoes!"
Where do you like to shop? "I work in the mall so I am constantly browsing in Forever 21, Tilly's, and H&M. Most of my closet is from those three stores."
What or who inspires your style? "I always look at the mannequins or models online and see what stores are putting together. Somehow from there I can find similar pieces in either my roommate's closet or mine and make outfits work."
What fashion advice would you give other college students? "I spend a lot of money shopping for clothes. If I only dressed up on the weekends all that shopping would seem like a waste. I enjoy looking nice for class and getting complimented for doing so."
Elements of Shelby's Outfit
1. Combat Boots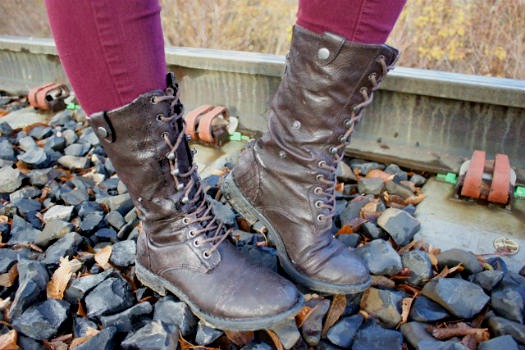 Shelby's Cathy Jean boots help keep her feet dry around campus and are incredibly stylish. Shelby confessed that she just purchased these combat boots since her older pair had been too worn out. Combat boots are her favorite boot style because she's able to wear them year-round.
2. Printed Scarf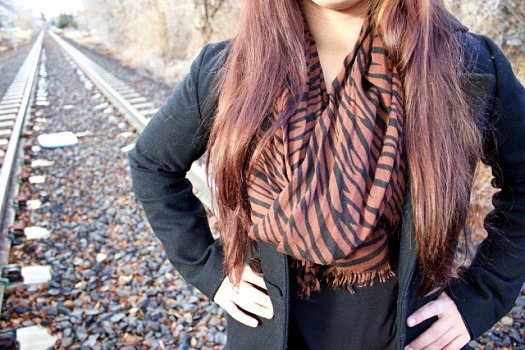 Shelby has cold weather accessories down to a science. This Forever 21 scarf keeps her warm in the 30-degree weather and spices up her classic black peacoat. The color is surprisingly neutral and low-key, but the zebra print makes quite a statement. Despite the gloomy weather, this scarf instantly brightened my day because of the great color and the unexpected pop of print.
3. Knit Beanie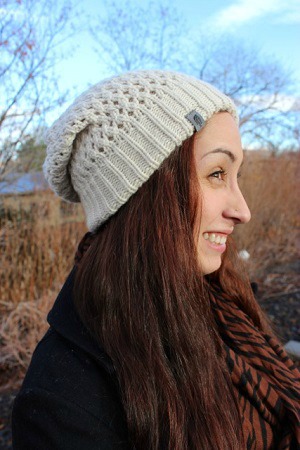 Shelby's North Face beanie is another perfect cold weather accessory that will keep you warm. It can easily be removed if the weather warms up or kept on to keep dry. "I have so many different beanies and scarves," Shelby said. "After moving to Reno, I realized I needed way more and now buy some every time I can find a deal."
Do you love Shelby's cold weather outfit?
Would you wear her outfit? Do you like beanies? What do you think about her printed scarf? Leave a comment below and let us know!