For most college students, September is a time for new beginnings. Fall semester definitely holds many surprises and opportunities for all of us, and there's no better way to approach it than with a great attitude… and a great wardrobe. Shannon returns to Boston for her third year at BU looking chic and comfy. Continue reading to learn more about her style!
Shannon 101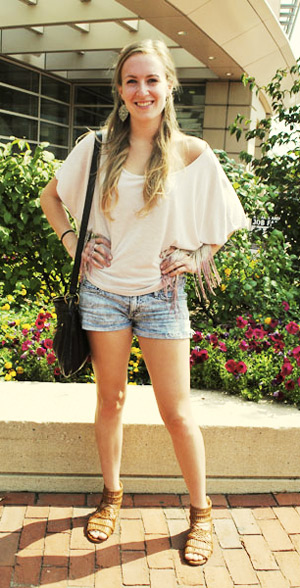 Name: Shannon
College: Boston University
Hometown: Madbury, NH
Age: 20
Year: Junior
Major: International Relations
Hobbies/Interests: "Dancing, reading, and sadly… shopping."
Let's Talk Fashion
Who or what inspires your style? "I'm inspired mostly by the people I see in the city. I love people who are willing to take a chance with new clothes and styles. More often than not, I pick out clothes I like and want based on the styles I see on the street."
Where do you like to shop? "'I'm a sucker for Forever 21; I sometimes pick quantity over quality. I also love Zara and Urban Outfitters."
How would you describe your sense of style? "It depends on my mood. I would describe my overall style as girly. Dresses fill the majority of my closet, but I can't say no to a great pair of jeans and some cute shoes. Sometimes I add a little bit of rocker flare with a great leather jacket, other times I dress like a hippie."
Why did you choose this particular outfit? "This shirt screams summer and I love how amazing but odd the fringe is. These are my favorite pair of shorts and I think the shoes tie the outfit together. It's comfy but cute."
What fashion advice would you give to other students looking to improve their style? "I would really just say to wear what makes you feel great. You can still be comfortable and cute at the same time."
What are your favorite trends right now? "I'm a huge fan of fun colors, tribal prints, wedges and cropped t-shirts."
Do you have any favorite fashion designers? If so, who? "I love, love, love Chanel! Chanel is classic, timeless and feminine. You really can't go wrong. [On the lower end], I have a strange love for Dolce Vita shoes, however. They're crazy and extremely modern, and I can't get enough!"
What do you do for fun – do you have any unique hobbies or interests? "I dance! I'm on a dance team at BU and I teach classes when I'm home in New Hampshire. I'm hoping to continue dancing after I graduate by joining a professional team so I never have to stop."
If you could raid anyone's closet, who would it be and why? "It's a tie between Lauren Conrad and Kourtney Kardashian. Their clothes are so cute and flirty, but still classy and chic. I'd be thrilled with either one of their wardrobes!"
Elements of Shannon's Outfit
1. Fringe Top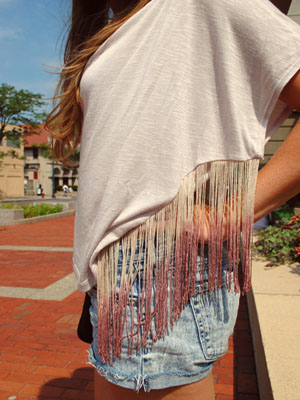 Shannon's shirt is a great example of how bold details can transform an otherwise-simple piece into something extraordinary. In this case, her off-the-shoulder burnout tee is finished off with delicate fringe at the sides. It's simple enough to wear to class but still interesting enough to work on its own. Moreover, it pairs nicely with her acid wash jean shorts on a hot day.
2. Cross-Body Bag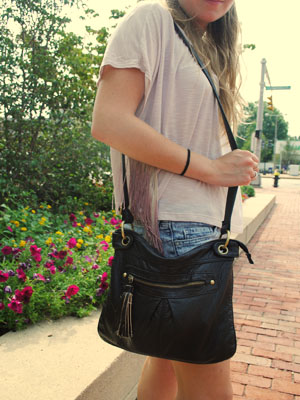 Shannon's black leather cross-body bag with gold details and a fringe zipper would work just as well for a night on the town as it does for a day on campus. In addition, its fringe detail adds another boho-chic element to the ensemble.
3. Gladiator Sandals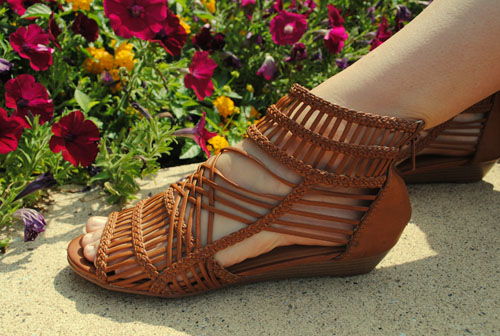 These braided gladiators with a little wedge add the perfect amount of pop to an otherwise laid-back, casual outfit. I absolutely love the light brown color, as it goes with nearly everything and gives the sandals a natural, earthy vibe.
What do you think?
What's your favorite piece in Shannon's casual yet chic look? What did you wear during your first week back on campus for fall semester? How do you dress for warm weather at college? Let us know with a comment!