I took a mini-vacation to Miami this past week to visit some friends and explore a new place. As a native Floridian, I have somehow not been to this city since I was eight years old and saw Gloria Estefan's house on a boat ride (highlight of my childhood). If you haven't been, I highly recommend adding a trip to Miami to your bucket list – the place is teeming with activity and culture, not to mention style! This city is so fashion-forward; I've never seen so many people taking interesting fashion risks…that worked!
While roaming around Miami's design district I went inside 004 Gallery, which showcases graffiti artists' work. There, I ran into Sasha, a quirky college student with a lot of flair; she brings fabulous new life to the old clothes she finds at second-hand shops.
Sasha 101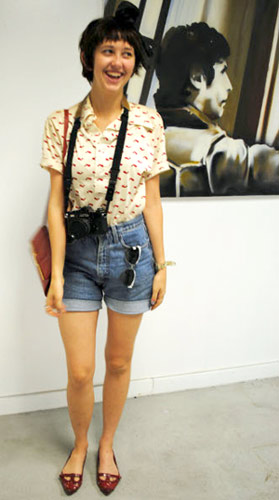 Name: Sasha
College: Miami International Institute of Art and Design
Year: Sophomore
Major: Graphic Design
Let's Talk Fashion
Who or what inspires your style? "I'm inspired by visual art, graphic design, and vintage photography of period attire."
Where do you like to shop? "Family member's closets, thrift stores, and Anthropologie."
How would you describe your sense of style? "Mismatched, colorful, random."
Why did you choose this particular outfit? "I just acquired a bunch of these pieces and wanted to wear them out, and I loved how the spirit of each piece fit with the others."
What fashion advice would you give to other students looking to improve their style? "Don't be afraid to experiment with prints, and find the joy in mismatching."
What do you do for fun – do you have any unique hobbies or interests? "I like to knit, draw, and climb trees. I know all about trees – my friends jokingly consult me every time we see an interesting tree and ask me what kind it is. I generally know."
If you could raid anyone's closet, who would it be and why? "Nicki Minaj. She is outlandish, and I love her."
Elements of Sasha's Outfit
1. Sunglasses
Sunglasses are a necessity here in the Sunshine State, and the retro, almost cat-eye-like shape of Sasha's pair helps them stand out in a sea of trendy wayfarers. The black and white pattern is also a quirky twist that brings something extra to her outfit.
2. Whale Shirt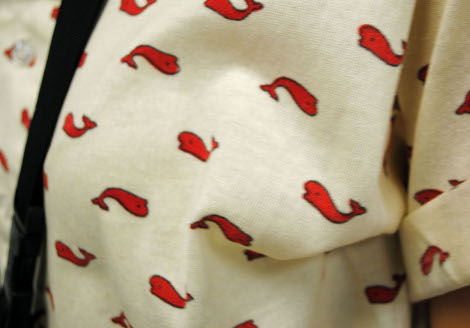 How fabulous is Sasha's vintage cotton collared shirt from the '70s? She told me she got it free from a pile of clothes someone was giving away! The quirky whale print brings an interesting twist to a common shirt style, while the pop of red means it goes with just about everything.
3. Safety pin shoes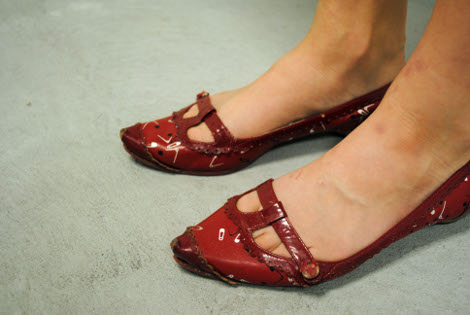 The first thing I heard when Sasha walked up to me was the clack of her shoes – she was rocking a red patent-leather pair of safety-pin patterned flats. Their vintage feel, combined with their outlandish pattern, makes them an interesting conversation piece and a fabulous outfit accent.
4. Scarf bow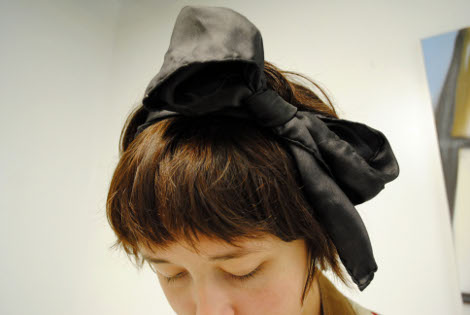 Sasha rocked a simple black scarf wrapped around her head to make a bow, an adorable and easy addition to any outfit. Sasha says she has scarves in every color and pattern, noting "they're such an easy way to top me off!"
5. Vintage purse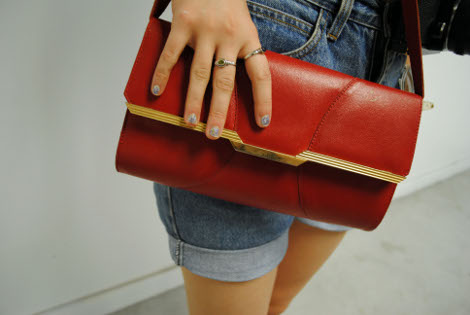 Another thrifty find, Sasha got this gorgeous red bag from a family friend. She says she loves owning pieces like this because they are filled with history. Who knows where this purse has gone?
Share Your Thoughts!
Do you love Sasha's outfit as much as we do? Do you incorporate vintage pieces into your style? What are your best vintage finds? Do you love her darling whale-printed shirt? Share your thoughts with a comment!