I have always loved visiting Northgate Vintage, a little boutique across from campus that stocks trendy, yet eclectic pieces for the college girl's wardrobe. At the counter, I found Sarah manning the shop single-handedly on her first day of work! From her designer neckerchief to her pointed-toe booties (both of which are vintage finds), she certainly impressed me with her mastery of comfy-chic college style.
Sarah 101
Name: Sarah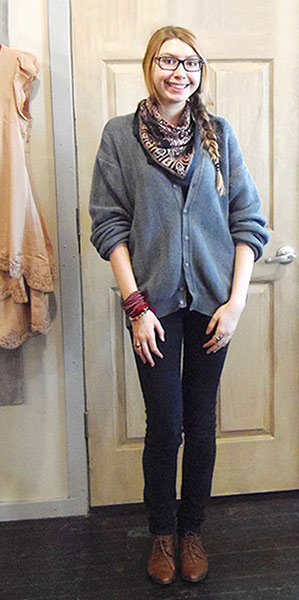 School: Texas A&M University
Year: Class of 2013
Major: Communications
Let's Talk Fashion
Could you describe your outfit? "I got this cardigan at a thrift store either in Houston or Galveston when I was just driving around places. This scarf is actually a vintage Oscar de La Renta – I found it in a little thrift store in downtown Belton! The pants are regular jeans I got from a consignment shop – I think Plato's Closet – and the black tank top underneath the cardigan is from Target. The red woven bracelet is a reminder from the Red Thread Movement, a charity supporting girls in Nepal that have been rescued from human trafficking."
What inspires you in terms of fashion? "I do look at blogs sometimes, but I kind of like to do my own, eclectic thing with all the cool stuff I find at thrift stores. I'm always inspired by nature and earthy tones, but then I love to add the little pops of color like my bracelets and ring."
How would you describe your style? "I'd say I have a varied style. I like to dress pretty comfortably day to day, so I could wear the same thing from working at Northgate Vintage to my barista job in a local coffee shop (which I love!). I love dresses, skirts, and tights, but I've never been super girly or into heels!"
Where do you like to shop? "I like to shop at thrift stores mainly because thrifting is inexpensive. It's also a creative outlet for me – you never know what you're going to find! This is my big advice to people who are always telling me, "I can never find anything!" in a thrift store: you have to go in with a certain mindset, "I'm not looking at things for what they are, but what they could be." A lot of things I buy look very bad on a hanger, but if you can find the inspiration to style them or wear them certain ways, they can look really cool and unique!"
Elements of Sarah's Outfit
1. Skinny Jeans and Booties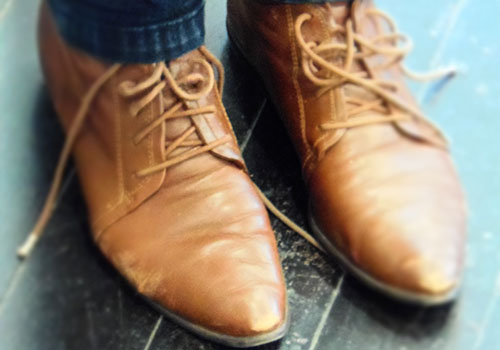 There is a great sense of proportion in Sarah's outfit – she plays with volume on top with her large, cozy sweater, then balances it out with black skinny jeans and menswear-inspired, pointed-toe booties. By streamlining her look on the bottom, she keeps her outfit looking balanced, and shows that there can be a compromise between dressing well and dressing comfortably.
2. Accessories for Pops of Color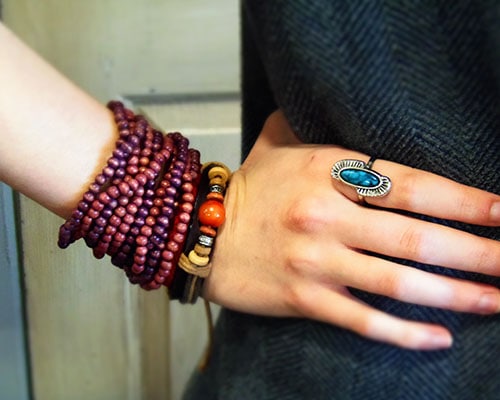 Sarah's clothes may be neutral in tone, but she keeps her outfit looking bright and varied by rocking colorful accessories. Her red beaded bracelets and unique turquoise ring add an eclectic mix of hues, while her Oscar de la Renta neckerchief ties the entire ensemble together with its colorful and intricate patterns.
Your Thoughts?
What do you think of Sarah's look? Have you tried thrifting to find unique pieces for your closet? Do you love her booties as much as we do? Let us know with a comment!