There is something so inspiring about a girl who isn't afraid to take fashion risks and experiment with new trends, and Sarah does just that with her beach-to-city style.
I spotted the Northern California native rocking the heck out of some trendy overalls, and her entire look radiates a fresh, fun, and summery vibe. As soon as I saw her adorable outfit and shining smile, I knew I had to pick Sarah's brain and interview her for all of you lovely readers!
Sarah 101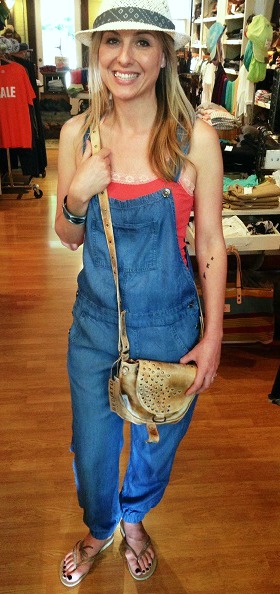 College: Sonoma State University
Year: Senior
Hometown: Napa, CA
Major: Education
Age: 23
Hobbies/Interests: Wine tasting, traveling, working out, shopping, kickboxing, and wedding dress shopping
Let's Talk Fashion
Who or what inspires your style? "I would definitely say that the area of California I live in inspires my style a lot – especially [when it comes to] particular trends, like with this outfit."
Where do you like to shop? "I love shopping at tiny boutiques in San Francisco when I go into the city for fun on the weekends. I also love big department stores such as Bloomingdales and Nordies."
How would you describe your sense of style? "I like to mix things up. I tend to play around with trends, like these overalls. I also love flower-y printed pants, crop tops, and wedges for summer. Basically, I love California girl style!"
Why did you choose this particular outfit? "I chose this outfit because I was so excited that overalls have come back into style. Talk about ultimate comfort! I also really like accessories, and wanted to try out my new fedora."
What fashion advice would you give other college students? "Have fun with what you wear! Be crazy and try new things."
What are your favorite trends? "Obviously the overalls! Other than that, high-waisted shorts and jeans, maxi dresses, tops with cut-outs, peasant tops, and gladiator sandals!"
Who are your favorite fashion designers? "I don't really follow fashion designers much, to be honest. I go with what I see and like. I will buy anything if it is a good value, cute, and fits well. However, I have recently become super into Topshop online and in Nordstrom [stores], so I guess I would say the designers who are in charge of Topshop!"
What do you do for fun? "I enjoy going on dates with my fiancé; [we're] getting married in August! I can't wait. We live in an amazing area of Northern California, so we really try and make the most of it."
If you could raid anyone's closet who would it be and why? "I would love to raid Vanessa Hudgens's closet. Did you guys see her dressed at Coachella this year? Enough said."
Elements of Sarah's Look
1. Overalls and Pink Lace Tank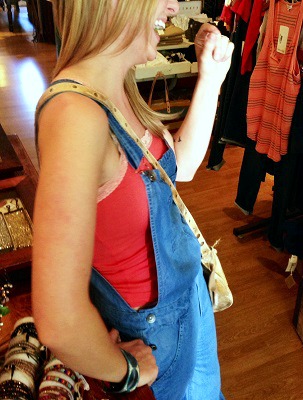 Sarah's adorable Splendid overalls are made out of a very soft denim fabric. When I was obsessing over her outfit, she told me that wearing these overalls felt like walking around in her PJ's. Who doesn't want that!?
Sarah paired this fabulous denim statement piece with a simple pink tank, but she also told me she wants to find the right printed tank to go under the overalls for a funkier look. Here, the solid colored tank works well – it means she can go bold with the accessories!
2. Fedora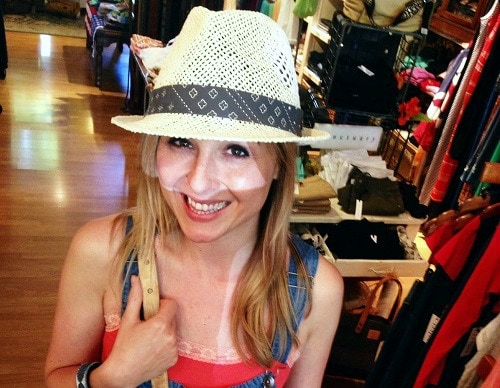 The True Religion fedora Sarah was rocking also kept her ensemble very summery and daytime-appropriate. She told me she didn't have much time running out the door this morning, and realized her hair really could have used a bit more time. When in doubt, do the right thing and throw on a hat like Sarah!
3. Bag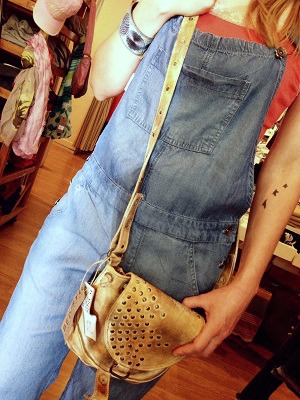 The detail on Sarah's small studded bag is perfection. This purse has very detailed fading across the sides, which creates a "perfectly worn" appearance. In addition, the cross-body style of her distressed bag pairs perfectly with her casual overalls.
Do you dig this casual yet trendy look?
Do you wear overalls? What do you think of Sarah's straw fedora? Did she nail the perfect summertime look? Let us know your thoughts below in the comment section!