I spotted Sarah waiting for the train as we were both heading into the city. I loved the flair her jacket added to her outfit. Naturally, I had to ask her about her style.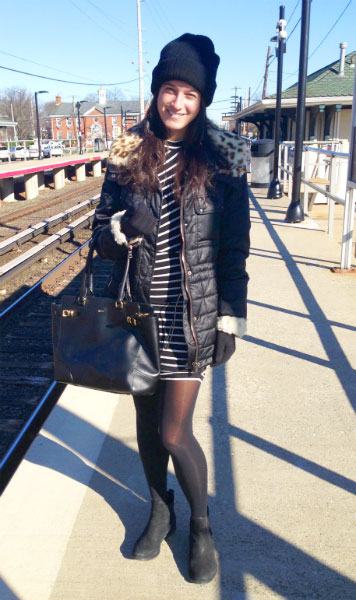 Sarah 101
Name: Sarah
Major: Neuroscience/Pre-Dental
School: Queens College, City University of New York
Hometown: Lawrence, NY
Let's Talk Fashion
Where are you heading? "To the city to meet friends."
Who or what inspires your style? "That's a really tough question. I really love everything my sister-in-law wears, so I end up copying her and getting her hand-me-downs a lot. It's really nice [that] I have five older brothers so it's cool now I have two sisters."
Where do you like to shop? "I love stores that are really helpful with finding the specific things I'm looking for. So I love going to Saks [Fifth Avenue], Nordstrom, Lord & Taylor, and Zara. I feel like they're really helpful. I also don't shop like most teenage girls. I go, like, once before a season starts, get really good pieces and then otherwise don't shop so much."
How would you describe your sense of style? "Lots of classic pieces with a flair! I love wearing animal prints and sometimes bows and sneakers with any outfit. Even if it's a fancy dress I'll find sneakers to wear with it."
Why did you choose this particular outfit? "It's a really cold day but this outfit keeps me warm and makes it look like I put an effort in[to this look]."
What are your favorite trends right now? "Sneakers and 'athleisure' in general. I'm always going to the gym so it's good for me that gym clothes are now an acceptable option."
What do you do for fun? "I hang out with my boyfriend and my friend[s]. Even if it's just sitting around doing nothing, I love being with my friends. I also have six nieces [and] nephews that I'm very close to so I'm babysitting a lot."
If you could raid anyone's closet who would it be and why? "I would raid my mom's closet. She has tons of nice clothes that are classy and fun at the same time."
What are your favorite colors to wear? "I love black and white."
Elements of Sarah's Outfit
1. Leopard-Trimmed Jacket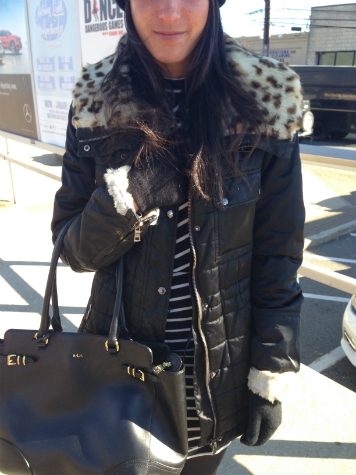 The faux leopard fur detailing on Sarah's parka adds a fun flavor her winter staple piece. Investing in a coat with extra detail like Sarah's will add a lot to your wintertime look and set you apart from the crowd.
2. Striped Dress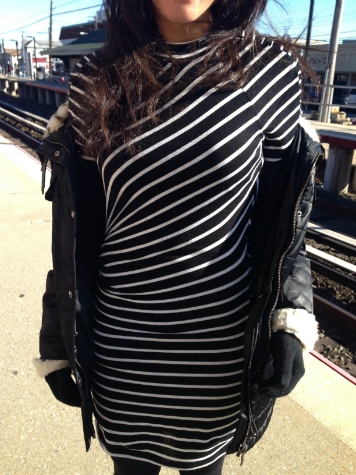 I loved Sarah's high neck dress. A dress and pair of tights is an easy go-to outfit combo when you're in a rush. I love that Sarah's dress has a high neck as well – that makes it perfect for the winter season.
What do you think of Sarah's outfit?
Would you wear her high-neck dress? Do you love her leopard-trimmed jacket? Comment below and let us know!