It was Friday and I was done with classes so naturally I was heading downtown to grab my Dunkin Donuts regular order: a medium iced coffee with cream and sugar. Nothing is usually capable of getting in between me and my coffee, but this past Friday was an exception when Sarah caught my eye.
It's rare to see girls rocking such fashion-forward looks during the day, especially on a Friday, so when I spotted black platforms and a classy up-do out and about at 3 p.m., I had to find out the reason behind it. I caught Sarah in the midst of a phone call as it turns out she was getting directions to a dance competition she was about to judge!
Sarah 101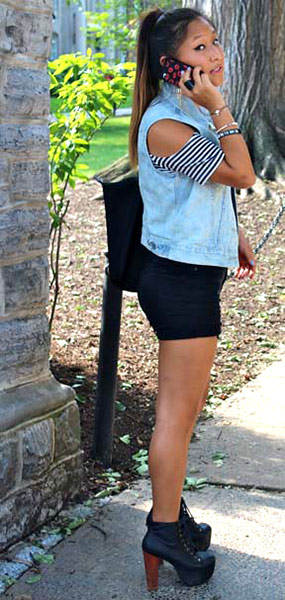 Name: Sarah
School: Penn State
Year: Junior
Major: Rehabilitation and Human Services
Hometown: Blue Bell, Pennsylvania
Hobbies: Dancing and singing
Let's Talk Fashion
Who or what inspires your style? "Being a hip-hop dancer, I've always been into an urban style and because I have a very confident and bold personality and I like to have my style reflect that."
Where do you like to shop? "Forever 21, Urban Outfitters, Nordstrom, and a bunch of online sites such as Nastygal and PLNDR.com."
How would you describe your sense of style? "I have a very versatile style because it really depends on my mood! Sometimes I dress very chic and other times very edgy. I always like to have a little bit of femininity in my outfit; even if I wear a very boyish outfit, I like to add a sense of glam into it so I'll wear huge earrings, for example. When I wear shorts or skirts I like to show legs and when I wear dresses I like to show curves. Even though I'm not the skinniest person in the world, I make sure my outfits are flattering for my body type."
Why did you choose this particular outfit? "I chose this particular outfit because I was on my way to judge a hip-hop dance competition so I wanted my outfit to reflect that type of vibe. I knew the Jeffrey Campbell Litas would do the job because they are such an intense pair of shoes that make a bold statement."
What fashion advice would you give to other students looking to improve their style? "I don't ever like to tell people which style to follow because I think each person's style should reflect their own personality. No matter what your style may be, just try to make sure it is flattering to your body and appropriate for a certain occasion. I enjoy the fact that all my friends have different styles and we don't have identical closets – it makes us unique in our own way!"
Do you have any favorite brands? "My favorite fashion brands are Jeffrey Campbell, Marc Jacobs, BDG (Urban Outfitters). I mostly judge clothes on how they look and feel on me rather than who makes them!"
What do you do for fun – do you have any unique hobbies or interests? "I love to dance, mostly hip-hop. I am on two dance teams at Penn State! I enjoy singing, shopping, and traveling. Blogging is one of my favorite activities and I am always reading up on other people's blogs to stay in touch with interesting things going on in the world."
If you could raid anyone's closet, whose would it be and why? "I would raid Beyonce's closet because she is an icon for female empowerment and always about embracing women's curves. I am obsessed with shoes and Beyonce wears a different pair of heels everywhere she goes! An outfit isn't complete without the right pair of shoes. "
Elements of Sarah's Outfit
1. Striped Shirt and Denim Vest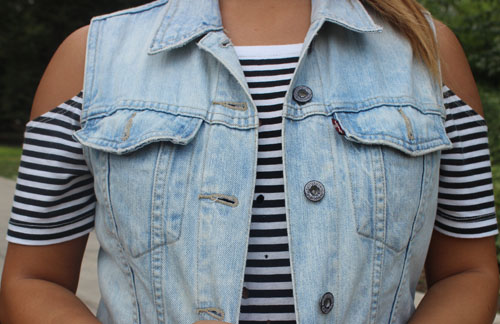 Sarah's striped shirt with shoulder cutouts from Forever 21 is totally on-trend this season – stripes are everywhere! Also, Sarah's denim vest from Urban Outfitters is the perfect layering piece when it's still warm outside and adds interest to any basic shirt you layer beneath it.
2. Mixed Statements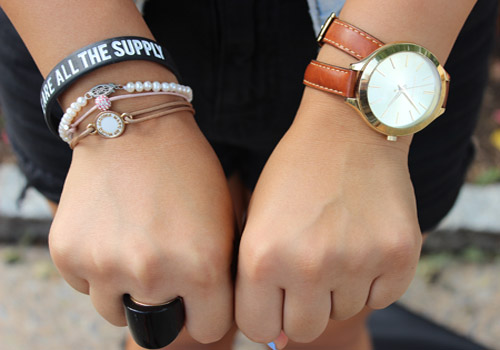 After getting to know Sarah, I learned that she has a wide array of passions and causes that are close to her heart. The black rubber bracelet that reads "WE ARE ALL THE SUPPLY" is a slogan for a club that Sarah started at Penn State. Sarah's Marc Jacobs bracelet is a simple and versatile piece of jewelry because it matches everything. And really, who doesn't love rocking a little Marc Jacobs every day?
Rather than having a collection of thin rings on a few fingers, Sarah prefers one large one that stands out on its own. Although Sarah has an edgier style, she never forgets to include one girly piece to bring out her femininity. This time she brought out the white pearl bracelet, which works perfectly with the white plate of the Marc Jacobs piece.
3. The Jeffrey Campbell Litas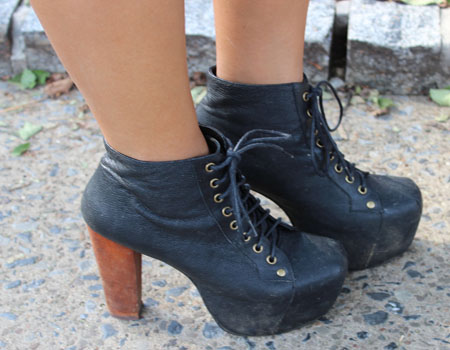 To complete this fashion forward outfit, Sarah added her Jeffrey Campbell Lita boots. These heels can be found in a variety of stores and websites, including Nastygal, where Sarah got her pair. As you may know, Litas come in every color and pattern imaginable. Sarah chose black because "they literally go with every single outfit."
Your Thoughts?
What do you think of Sarah's look? How many striped pieces do you have in your closet? Do you like Sarah's compilation of jewelry? Do you own a pair of Litas? Let us know with a comment!