The girls in the fashion department at Pratt always seem to rock the boldest ensembles, and Sara's whimsical (and expert!) pattern mixing instantly drew me to her look. Spring weather practically screams for florals and polka dots, and her outfit included both.
Sara 101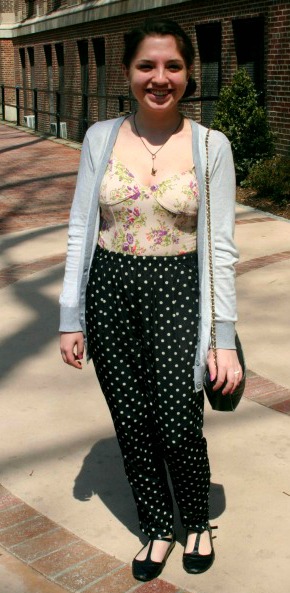 Name: Sara
Year: Freshman
Major: Fashion Design
Hometown: South River, NJ
Let's Talk Fashion
Who or what inspires your style? "I'm inspired a lot by vintage stuff. So, the '60s. I really like the '50s too, even though it's kind of stereotypical to like the '50s. I really like how feminine everything is, and I really like how delicate [it is]. So I really like vintage."
Where do you like to shop? "I like going to thrift stores and flea markets, but lately I've been shopping a lot at Forever 21 and H&M just because they're nearby and affordable, and you can find really cute stuff there."
How would you describe your sense of style? "I try to be feminine but edgy I guess. Pop-punk, you can kind of say."
Why did you choose this particular outfit? "Well, I actually used to have this leotard, but then I gave it away and I was so upset. Someone was selling it on the "Pratt Free and For Sale" Facebook page, so I bought it and decided to wear it because it was going to be nice today. I really like these pants because they're really light [and] really comfy. I just wanted to be cute and comfy today."
What fashion advice would you give to other students looking to improve their style? "Definitely look at other people for inspiration, but then try to keep to your own personal aesthetic. It's important to take influence but then make it your own."
What are your favorite trends right now? "I really like blazers. I really like florals, as you can tell. I'm really into denim skirts, like the American Apparel ones, and I really need to get more of those. I like florals and polka dots, and as you can tell, I mashed them into one outfit."
Do you have any favorite fashion designers? If so, who? "Betsey Johnson [is my] all time favorite. I love her. I also really like Anna Sui. She's kind of like Betsey Johnson with the prints and stuff, but more refined, not as crazy. Elie Saab, too. Also, because of the Jean Paul Gauliter exhibit at the Brooklyn Museum recently, I've kind of taken more of a liking to his work."
What do you do for fun- do you have any unique hobbies or interests? "I really like to read and it's sad when there's so much work and you can't really read that much. I just like walking around Brooklyn, which now that it's nice out, I can do more. I like watching weird independent movies. Netflix helps with that. I just like taking in new things."
If you could raid anyone's closet, who would it be and why? "There's this French singer, Melody Prochet, and she has the cutest style. It's like Parisian streetwear, and I would love to own everything that she has."
Element's of Sara's Outfit
1. T-Strap Flats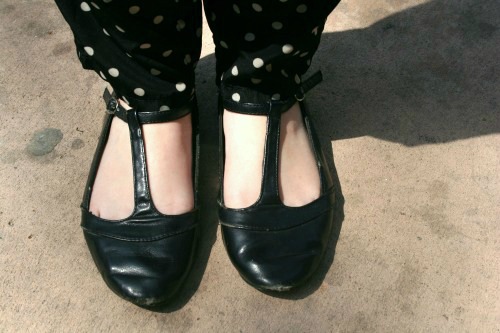 Black flats are a wardrobe staple; they go with everything from jeans and skirts to dresses and shorts. Sara's well-worn pair of t-strap flats are a little funkier than a classic ballet flat, and gives her outfit a fashion-forward vibe.
2. Quilted Bag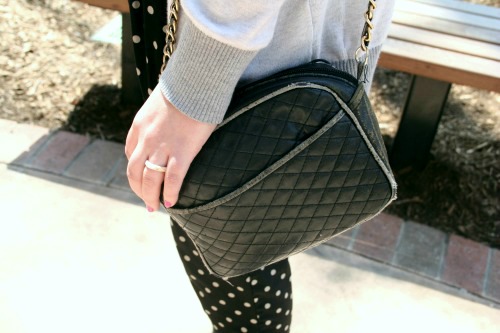 This quilted purse adds texture and interest to Sara's ensemble, but doesn't get in the way of her multiple patterns. Not to mention, this black handbag is just is the right size to hold the essentials, and can be worn across the body for a hands-free look.
Do you like Sara's mixed prints?
What do you think of pairing florals and polka dots? Do you have any jazzed-up black flats? What about her darling quilted bag? Leave a comment below and let us know what you think!