CLICK PHOTO TO ENLARGE.
Last week in Chicago, we finally experienced spring! With the balmy (60's-ish) weather, it seemed like everybody was eager to wear their favorite warm-weather outfits. I found Sara embracing spring with this nautical-inspired outfit.
Name: Sara
Major: History
Year: Senior
Describe your style: "I don't really know. It changes a lot but usually it's a little preppy."
What inspires your style? "I look at net-a-porter a lot. I love they way they put together outfits. Also, I like seeing how people around the city dress. Sometimes I'll see something I never would have thought of."
What is your biggest fashion pet peeve? "I hate it when people wear summery white skirts before Memorial Day. I know its an old-fashioned rule, but it still makes me cringe every time I see it."
Why did you choose this outfit? "Because it is finally warm out! I love these shoes and I couldn't wait to wear them. Also, I love the nautical trend, which led to this top and the bracelet."
Elements of Sara's Outfit
The Shoes: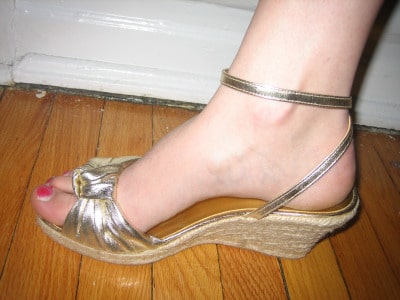 These metallic shoes immediately caught my eye. They easily spice up a boring outfit and they go with almost anything.
The Bracelet: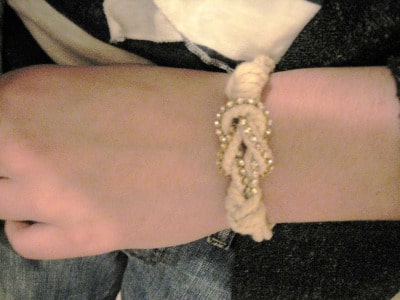 I love how the bracelet is nautical but with a sparkly twist. The best part is that it's from American Eagle, so it is really affordable!
The Shirt: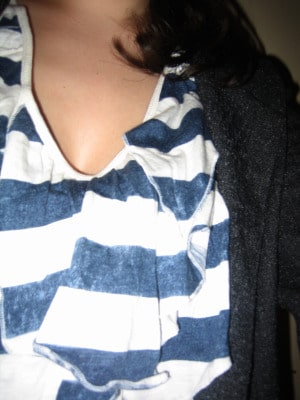 Nautical stripes + girly ruffles = Amazing. Since the blazer and jeans are more androgynous, the girly ruffles, alongside the metallic shoes, keep the outfit feminine.
Inspired by Sara
This look mirrors Sara's style with a similar bracelet (also from American Eagle) but a more fitted blazer and a nude leather wedge.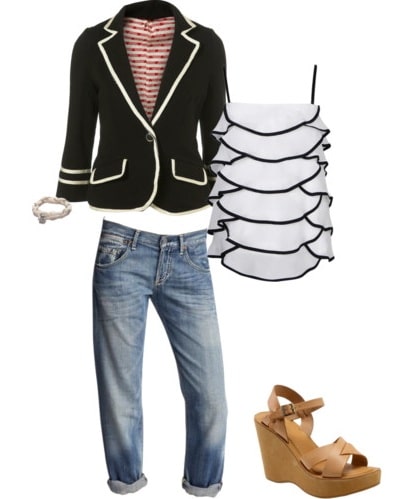 Product Information: Ruffle Top- Forever 21, Blazer- TopShop, Cropped Jeans- Piperlime, Wedges- Nordstrom, Bracelet- American Eagle
What do YOU think?
Are you sporting the nautical trend this spring? What are your thoughts on ruffles? Are you loving Sara's look, too? Let us know with a comment!