This past weekend I got away from the hustle and bustle of Florence to head to the Amalfi Coast. Southern Italy called for light dresses, sandals, and sunglasses to throw on over my swimsuit for the beach. At the beautiful Capri Island, I noticed Sara's outfit – her adorable dress stole the show. It was the perfect way to look put-together yet still transition from walking around town to hitting the beach. Keep reading to get to know Sara!
Sara 101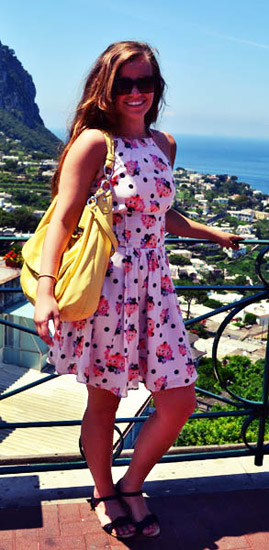 Name: Sara
School: Gonzaga University
Year: Senior
Major: Accounting and Finance with a minor in Economics
Hometown: Renton, Washington
Hobbies/Interests: "Traveling – I love to travel. I also like photography and reading books."
Let's Talk Fashion
Describe your style in three words: "Classic, adventurous, and vintage."
What are your favorite trends right now? "Playsuits and rompers. I have a closet full of them. I love them. I also like a big, boxy clutch bag and chunky jewelry. And lots of bangles."
Do you have any favorite designers? "I love Marc Jacobs – he has been my style icon since I was a little girl. I love his designs. And Gaultier is an absolute genius."
Where do you like to shop? "Zara, H&M, and J. Crew. I get lots of classic sweaters from J. Crew. I also like Anthropologie, Bloomingdale's, and Marc Jacobs."
Do you have any advice for students looking to improve their style? "I think style is all about expressing yourself. I love Forever 21 for trying something new; they always have new, trendy items that are inexpensive. Style is about being true to yourself and standing out in a crowd. And being comfortable!"
How has European culture inspired your style? "Well, I love Europe and always love the style freedom you see here. People are more open and less restricted than Americans. People in America often stick to one thing or trend and here [in Europe] they are more open. I can throw on a headband and a crop top and just do my thing!"
Do you have any style and/or shopping tips for students planning on studying in Europe? "Definitely. If you're doing it in the summer, you need a lot of dresses and a good pair of sunglasses. Also, light clothes – linen is huge right now – and stuff that is versatile. Since you'll probably need to pack light, it's not about wearing something different every day, but rather mixing pieces to make different outfits. I'll put on leggings or add a necklace to switch up something I've already worn."
Elements of Sara's Outfit
1. Simple Sunnies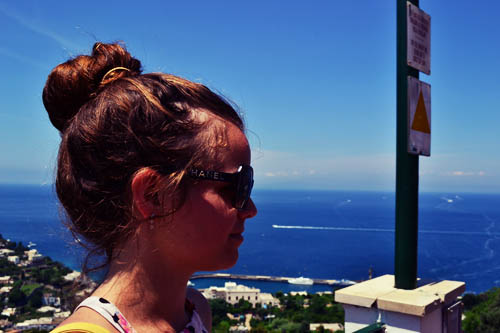 Like Sara said, a good pair of sunglasses is a must when studying in Europe during the summer. Sara's Chanel sunglasses are good quality and will last for ages. However, a pair of big sunglasses, no matter the price, adds a dose of glam to any outfit!
2. Happy-Colored Handbag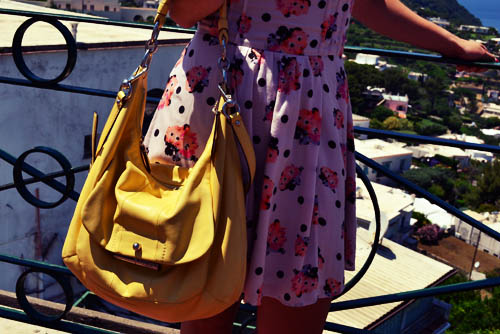 Sara's yellow bag certainly stands out against her pastel pink dress. It is classic and summery yet can still hold her money, camera, and other tropical traveling essentials. There is also an extra strap so it can be worn cross-body!
What do you think?
Do you like Sara's outfit? What are you wearing to the beach this summer? Do you have any tips for shopping in Europe? Let us know with a comment!