Sara and I have lived in the same dorm since last year, and every time I see her, she always has a smile on her face and looks very put together. When I ran into her this year in the mailroom, I jumped at the chance to discuss her style. I'm glad I did, because I made an awesome new friend in the process!
Sara 101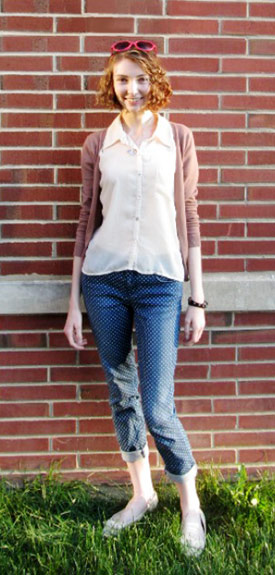 Name: Sara
School: Ball State
Year: Sophomore
Major: Photo Journalism
Let's Talk Fashion
Who or what inspires your style? "I'm really inspired by 1940s covergirls and vintage stuff."
Where do you like to shop? "My favorite store is T.J. Maxx. I also love outlet malls!"
How would you describe your sense of style? "I just wear things that make me happy."
Why did you choose this particular outfit? "I just got these pants and I hadn't worn them yet. I was so excited about wearing them!"
What fashion advice would you give to other students looking to improve their style? "Have fun with it! Sometimes when I'm shopping I think, 'I don't know when I'll wear that,' but if you love something then you'll find a way to mix and match it and make it work."
What are your favorite trends right now? "I love vintage and pinup girl style. I'm also very glad that people are wearing dresses everywhere."
What do you do for fun – do you have any unique hobbies or interests? "I've been dancing since I was 3. I also love photography and reading."
Elements of Sara's Outfit
1. Polka Dot Jeans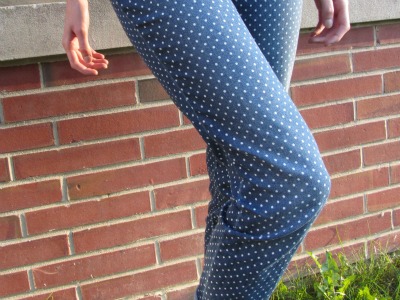 I love Sara's polka dot jeans. They're quirky and fun while still being understated enough to function as a neutral base for her look. The styling possibilities with these pants are endless!
2. Fun Sunglasses
It seems like the summer sun has been working hard to eke out as much light as it can before fall starts up. As such, sunglasses are still a necessity for getting around campus. I love these funky, heart shaped Lolita frames – they help show off Sara's fun personality.
3. Sophisticated Accessories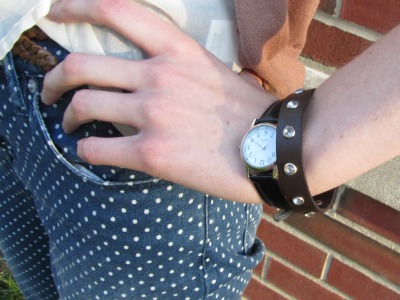 Sara's dainty watch and edgy leather bracelet complement the color scheme of her outfit. Plus, there's nothing better than an accessory, like this classic watch, that's both practical and pretty.
Your Thoughts?
What do you think of Sara's look? What kind of sunglasses did you rock this summer? Patterned jeans are all the rage this season — are you adding some to your closet? Let us know with a comment!