For early February, we've had some uncharacteristically warm weather here in Pittsburgh – not that I'm complaining! Sixty-degree days are more than welcome in the middle of winter. And vibrant red always adds an appreciated pop of bold color in the midst of neutrals.
I spotted Samantha from across the street and knew just where I was headed when the light turned green. Read on and you'll see her quirky personality is a perfect fit with her style.
Samantha 101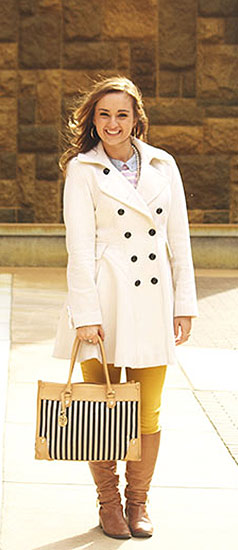 Name: Samantha
School: Point Park University
Year: Senior
Major: Marketing with a minor in Digital Media
Hometown: York, Pennsylvania
Hobbies/Interests: "I play the ukulele! I also make up really cool dance moves when I'm bored."
Let's Talk Fashion
Describe your personal style: "Well, I guess it would be considered more on the classic, preppy side. And it's a little quirky too. I totally have the same geometric pink skirt that Marcia wore on The Brady Bunch."
What are your favorite trends right now? "I'm not a huge fan of falling victim to trends, but sometimes they're pretty cool – like combat boots. If I could wear my mom's Espirit combat boots year round, I would."
Where do you like to shop? "Etsy, Ralph Lauren, the L.L. Bean Fall catalog and Martin + Osa"
If you could raid anyone's closet, whose would you choose, and why? "My mom's. The woman is a fashion genius. And guess what? I already raid it."
What would you say is a wardrobe essential; something everyone should have in their closets? "Sorry, I know everyone says it, but a little black dress."
Who or what inspires your style? "My love for Frank Sinatra and old-time movies is partly the influence of my style. I have this mink scarf that makes me feel like I'm back in the 1920s!"
What fashion advice would you give to students trying to develop their personal style? "Pick a signature piece that serves as the foundation for your style. Make your style memorable. For instance, I'm that kid that wears penny loafers like 300 days out of the year. That's a lot of loafin' around."
Elements of Samantha's Outfit
1. Blazer & Oxford Combo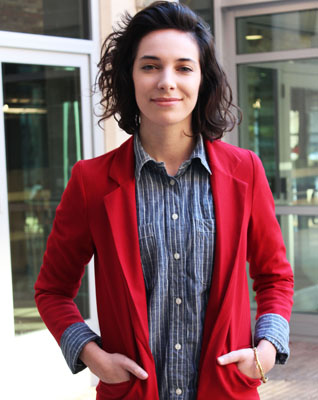 In my opinion, it's not easy to rock a red blazer without looking like a news anchor or politician, but I love the way Samantha blended classy with casual by pairing hers with a pinstriped denim oxford shirt. By cuffing the shirt over the blazer sleeves, she perfectly ties the whole look together.
2. Branch Bracelet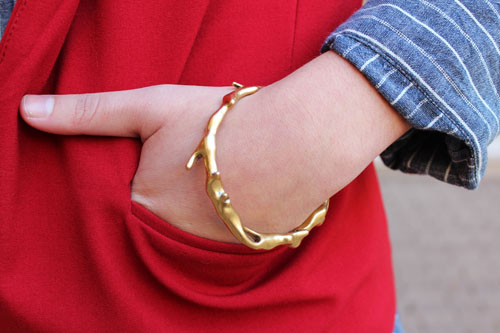 Rolled up sleeves practically beg to be paired with bracelets, and Samantha doesn't disappoint. I've never seen anything like Samantha's bracelet before: It's the perfect balance of simple and intriguing, catching the light, but not distracting from the clean-cut lines of her outfit.
3. Buckled Boots & Dark Denim
I think everyone needs a pair of perfect-fit, dark wash jeans – they're great for dressing up or down, wearing to class or for a night out. Samantha tucked hers into a pair of simple brown leather boots that look just as comfortable as they are stylish.
What do you think?
Do you like Samantha's style as much as we do? Would you rock a bold red blazer like hers? Have you found any fun pieces in your mom's closet? Share your style stories or suggestions in a comment!