I spotted Sam on the last day of classes at Hartwick College. Her bright red maxi dress encompassed both the excitement of the last day of school and the end of a great year. By wearing this outfit, Sam definitely kicked off summer with a fashionable bang!
Sam 101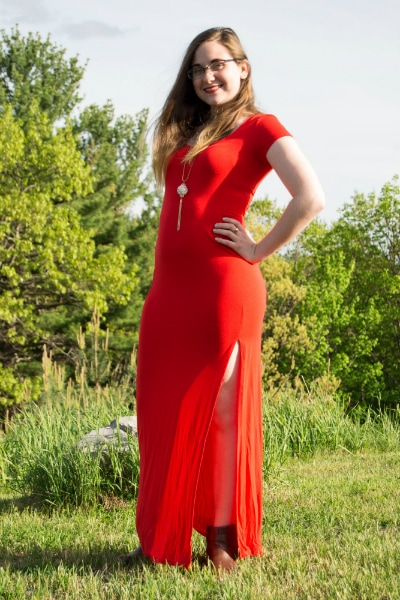 Name: Sam
Year: Freshman
Major: Geology
Hometown: Albany, NY
Let's Talk Fashion
Who or what inspires your style? "The weather, comfort, and the people around me."
Where do you like to shop? "Thrift stores, Forever 21, and Target."
How would you describe your sense of style? "Trendy business casual."
Why did you choose this particular outfit? "I wanted to stand out on my last day of classes and no one wears a floor-length red dress!"
What fashion advice would you give to other students looking to improve their style? "Follow trends. If you find one that works, hold on to it!"
What are your favorite trends right now? "Trapeze dresses, maxi dresses, color-blocking, and wearing all of the same color."
Do you have any favorite fashion designers? If so, who? "Alexander Wang, but other than that, I don't really follow fashion designers."
What do you do for fun? Do you have any unique hobbies or interests? "Scuba diving, rock climbing, and I am involved in the school's geo and rifle club."
If you could raid anyone's closet, who would it be? "Anna Kendrick and David Bowie."
Elements of the Outfit
1. ​Gold Jewelry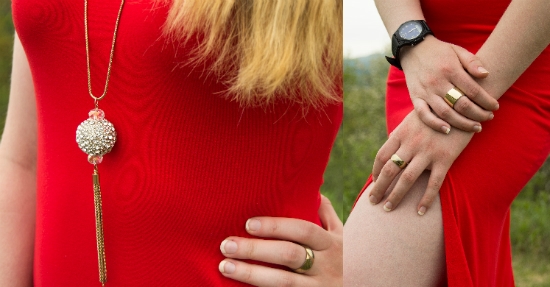 Sophisticated gold jewelry jazzes up Sam's bold maxi dress. While red is a powerful color, the silhouette of the dress is simple. The addition of a gold statement necklace and rings take the outfit from good to great.
2. Brown Leather Boots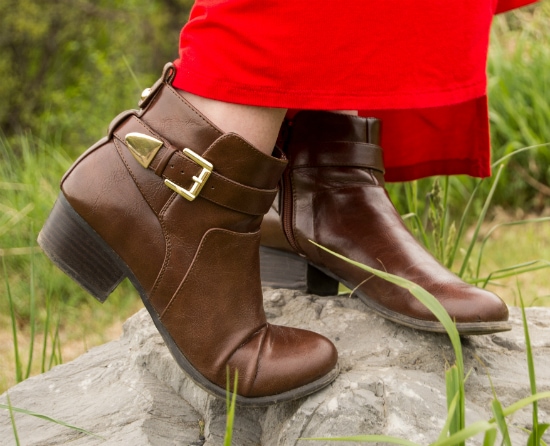 I couldn't think of a better shoe to wear than Sam's boots. They add a casual balance to her otherwise dressy outfit. The neutral color and classic shape make these boots versatile; they would look fab with almost any outfit.
Would you wear Sam's red dress?
If so, would you wear it to class or out on the town? What do you think about wearing boots with maxi dresses? Comment below and let us know!