Sam and I live in the same apartment building, so I often pass him and his awesome wardrobe to and from campus. With his trademark glasses and maroon Doc Martens, his unique style is impossible to miss. When I asked him to pose for Looks on Campus, I was delighted to find that he is as charming and unique as his homemade bow tie.
Sam 101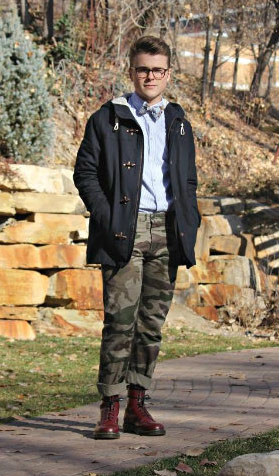 Name: Sam
Hometown: Scottsdale, Arizona
College: BYU
Year: Sophomore
Major: Graphic Design
Let's Talk Fashion
Where do you like to shop? "I like to shop sale racks. I usually go to Urban Outfitters and J.Crew. Other than that, I like to go to second-hand stores to find little gems."
What do you like to do in your free time? "I like to sing and play music. I like to collect old vinyl records. I like to swim and surf. And I like riding my little penny board."
How has your hometown influenced your style? "Scottsdale is pretty fashion-forward. People know it for good shopping. Living there constantly influences you, and there's always good stuff to buy."
How has your style evolved? "As I started to travel, I would go places and see how the culture would influence people's styles and how it was different from my own. When I would incorporate that into my own style, it would stand out as something different."
Where do you look for inspiration? "I like watching people in daily life. I try to follow sites like The Sartorialist. I like looking at style blogs."
What is your favorite thing in your closet? "My charcoal grey J.Crew cardigan. I wear it all the time."
What is your favorite trend? "Grunge mixed with preppy."
What advice would you give to other students who are trying to find their style? "What I notice with people who don't have good style is that their clothes don't fit them right. If they get clothes that really fit, that have the right cut, they'll look fantastic."
Elements of Sam's Outfit
1. Unique Accessories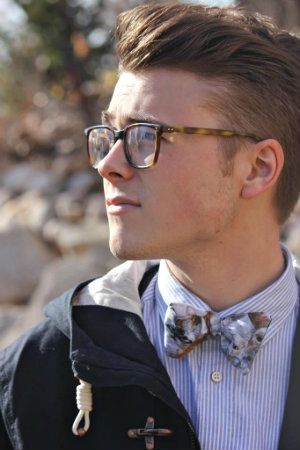 Sam's Oliver Peoples glasses are retro and classic, giving him a stylish, academic look. I was surprised to discover that his bow tie, which appears to be a simple pattern when viewed from far away, is actually a charming cat print! He made it himself – pretty cool, right?
2. Mixed Patterns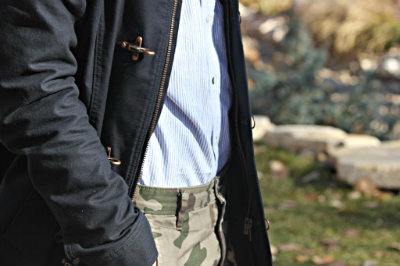 Mixed patterns have been a big trend this year, but I haven't seen too many guys attempt the look. I like that Sam paired his camo pants with a polished, striped button-down. When Sam combined his mixed prints with a solid navy jacket, the overall look reflected his ideal aesthetic, the mix of preppy and grunge.
3. Doc Martens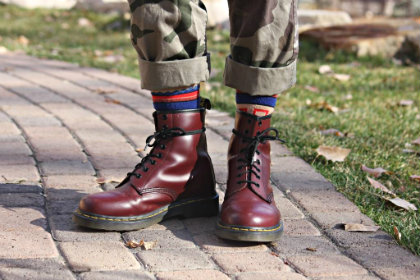 Boots are commonplace at Brigham Young University (and probably on your campus, too!), but Sam's Doc Martens set him apart from the crowd. When paired with his camo pants, they give off a great '90s vibe. Sam's quirky socks, usually hidden by his pant leg, show that you can never have too much fun with fashion.
Your Thoughts?
What do you think of Sam's look? How will you draw inspiration from this guy's style? Have you combined grunge with preppy? How awesome are his Doc Martens and bow tie? Let us know with a comment!