In our nation's capital, a city full of the most prominent political minds, the art of fashion often gets lost in the hustle and bustle. Especially on a college campus, where students often find themselves swamped with work, one's fashion inspiration can feel stifled. So, you can imagine my delight when I ran into Saina, a stylish sophomore at Georgetown University.
I found Saina rushing in between classes and I was so happy I was able to get her to stop for a quick photo and interview. I was impressed with Saina's ability to combine very different styles and make it appear effortless. She pairs a more conservative look with a very urban, yet girly edge – and it works perfectly! I applaud her for her fearless and inspiring experimentation. A+!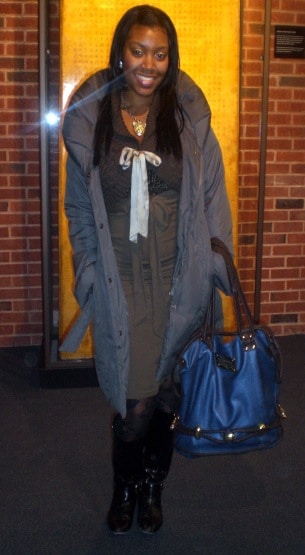 Saina 101
Name: Saina
Hometown: Washington, DC
School: Georgetown University
Some More Details…
Major: Government with Minors in English and Theology
Year in College: Sophomore
Hobbies and Interests: "The Georgetown Philodemic Society; I tutor children in my spare time; I'm a mentor at my former Washington DC Public Charter High school; and I love dancing and assisting in my mother's fashion line, Blanuqueen – Black Nubian Queen."
Describe your style: "My style is very diverse. There's not really much I consider off-limits, fashion wise. I'll pretty much try anything."
How would you describe your style in 3 words? "I would say vintage, edgy, and ethnic"
Who or what inspires your style? "I feel like I get most of my stylistic expression and inspiration from my mother, being that she is a stylist and considers herself a designer. Also, I like to include inspiration from cultural and African expressions in my wardrobe – a kind of ethnic spin. Not exclusively African but all different kids of cultural expression. I may even wear a sari now and then."
Biggest Pet Peeve: "I hate when people wear lip liner. Like, you can wear lip liner, but I hate when the line is too thick and doesn't even blend with your lip gloss. It just shows you have little to no makeup experience."
Where do you like to shop? "Thrift stores or Vintage shops; Urban Outfitters, Nordstrom, Karmaloop.com, Kusp and Intermix"
Why did you choose this particular outfit? "It's been pretty cold over the last couple days. When I was getting dressed this morning I just thought to myself, 'Find something warm!'"
Elements of Saina's Outfit:
1. Brilliant Blue Purse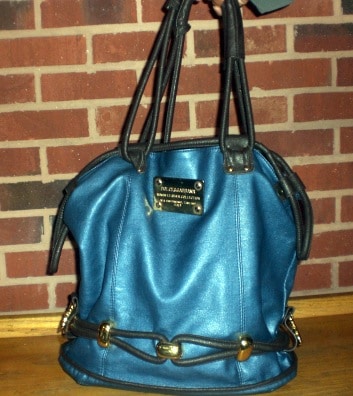 Saina's vibrant blue purse adds a great splash of color to her otherwise-neutral ensemble. Not only is the color inspiring, it's also the perfect size to hold all of a girl's beauty essentials (oh, and of course, her books too).
2. Versatile Boots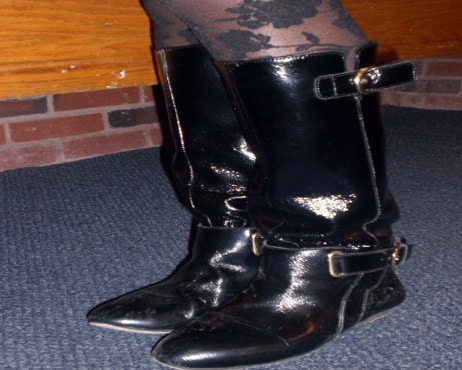 What initially caught my eye about Saina's outfit was her gorgeous pair of patent leather boots. Aside from being extremely practical (considering the series of winter storms we've had in the DC Area), they offer a high-gloss finish that adds interest to her look.
3. Statement Jewelry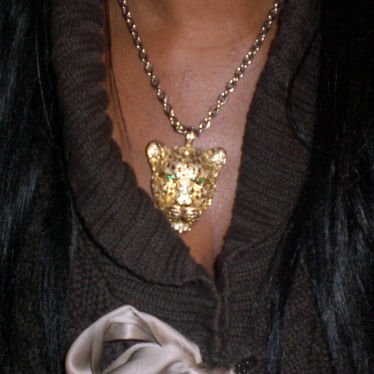 Perhaps this is a personal fixation, but I absolutely adore fashion jewelry. There's no better way to make a statement than with a large pendant necklace. Saina's gold leopard pendant with beautiful emerald eyes gives her outfit a more extravagant edge.
Looks Inspired by Saina
This look plays on the same shapes featured in Saina's outfit, while also showcasing a similar color palette. I was really drawn to the bow in her top, so I wanted to include that element as well.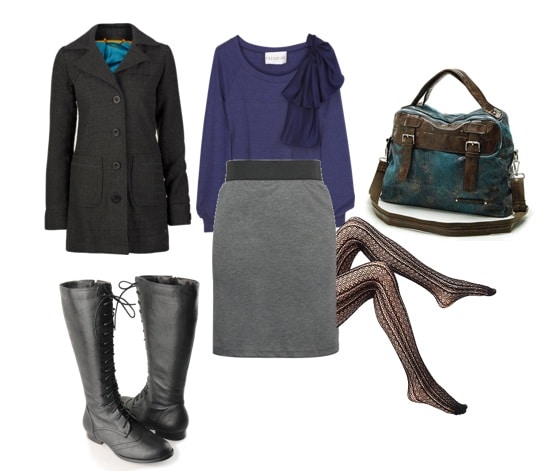 Product Information: Coat- Tillys, Boots- Forever 21, Skirt- Fred Flare, Top- Net a Porter, Bag- Yes Style, Tight- Urban Outfitters
Here is another variation on Saina's outfit. I was inspired by her jacket and how it kind of has a sporty look. The material isn't typical knit or tweed, so here is a more "sporty" version of Saina's great outfit!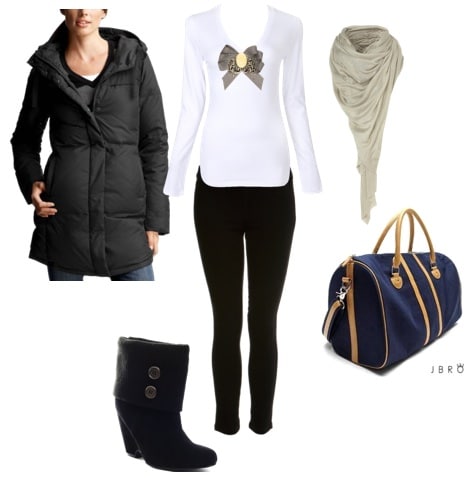 Product Information: Down Jacket- Gap, Boots- Heels.com, Scarf- TopShop, Bag- Yes Style, Black Jeggings- Miss Selfridge, Long Sleeve- Forever 21, Bow- Tarina Tarantino
What Do YOU Think?
Do you like Saina's unique style as much as we do? Do you also like to experiment by mixing different trends? Does anyone else out there have a fashion designer relative? Post a comment and tell us what you think.