Sashaying through the hallways, Sadé exudes elegance and grace. She possesses a style that not only demonstrates her understanding and appreciation of fashion, but also shows off her rebellious side.
Upon talking to her, I discovered that she just got a prestigious internship with Ralph Lauren this summer! She is wickedly intelligent, motivated, and has a fantastic sense of style to go along with it.
Sadé 101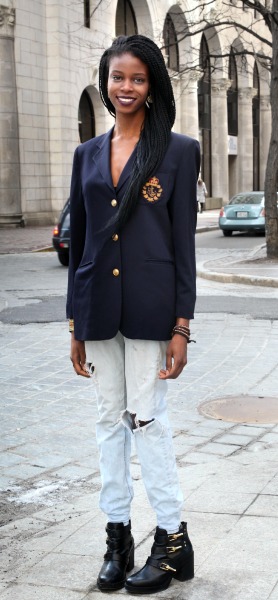 School: RISD
Year: Sophomore
Major: Apparel
Hometown: Kingston, Jamaica
Let's Talk Fashion
What are your favorite trends right now? "I really like the leather trend right now, like leather pants. Maybe not so much leather leggings, but leather pants. I really love leather right now."
What inspires your style? "Right now I don't really have a set source of inspiration, but in the past, I used to really look at a lot of Egyptian pharaohs and Greek goddesses. I tend to ride the line between preppy and grungy."
Any favorite designers? "I love Givenchy, Mara Hoffman, Lanvin, McQueen, Dior, and Kenzo. There's a huge list, but those are my top favorites right now."
Where do you like to shop? "I love H&M. Most of my stuff is hand-me-downs from my mom from when she was younger. They're conveniently cool, so I just wear them all."
What kind of advice would you give to others who are interested in improving their style? "Be yourself. That's the best thing. Maybe explore your culture a little bit more. I'm huge on heritage and past lineage. [I] explore aspects of that and bring it out on how I dress."
Elements of Sadé's Outfit
1. Blazer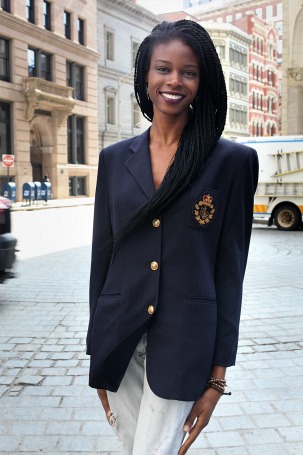 Sadé is wearing an awesome Ralph Lauren blazer that was a gift from her mother. She chose an oversized blazer to keep her look from leaning too preppy, but the navy blue shade references her studious and professional side. This blazer has a "borrowed from the boys" vibe to it, and she paired it perfectly with gorgeous jewelry and a stellar smile.
2. Torn Jeans & Boots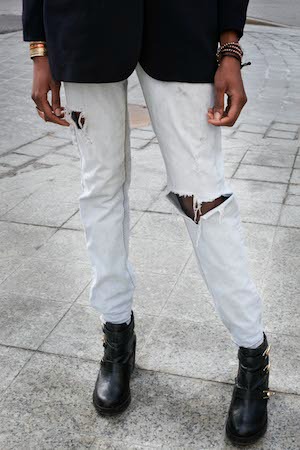 For a grungy twist, Sadé incorporated ripped jeans from H&M into her look. The loose fit and light wash added a casual touch, and created a cool contrast with her navy blazer. Sadé also chose some chunky ankle boots from DSW for a boost of height. The mix of leather and gold buckles again speaks to her grungy-yet-preppy style.
3. Jewelry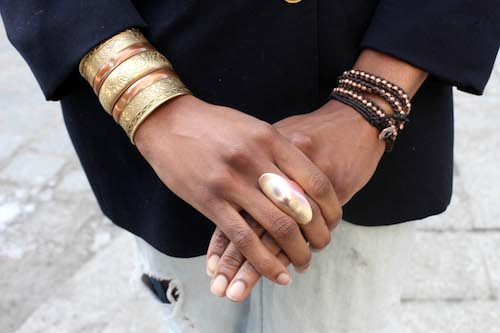 Sadé got her jewelry from an African Art festival. She choose to wear gold and bronze jewelry, which complements her skin tone and matches the gold detailing in her shoes and blazer. Sadé mentioned that she enjoys exploring her culture in the way she dresses, and this jewelry pays homage to her heritage.
What do you think of this look?
Do you admire this Upper East Side style mixed with punk rock elements? Do you have an oversized menswear-inspired blazer? What are your thoughts on wearing torn-up jeans? Leave your thoughts in the comments section below!