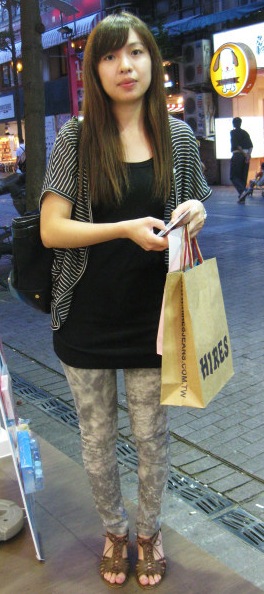 After writing for Looks on Campus for months, I have naturally adopted the habit of scouting for trendy girls wherever I go. And today, among a crowd of young teenagers with hot pants, floral dresses or heavy make-up in Taiwan's shopping district, Ruo-Ting's simple yet fresh style quickly caught my eye.
Though she might not be an over-the-top fashionista like those we'd usually feature, I really like how effortless and practical her outfit looks! I think it is perfect for a school day when you want to feel stylish AND comfortable.
Ruo-Ting 101
Name: Ruo-Ting Hwang
School: Long Hua University in Taiwan
Class Standing: Junior
Hometown: Taiwan
Let's Talk Fashion
What inspires you in terms of fashion?
"Girls on the street/street styles."
Where do you like to shop?
"Ximending- where lots of unique boutiques are. One of the must go-to places in Taipei for young people!"
Why did you choose this particular outfit?
"It's simple and comfortable."
What fashion advice would you give to other students looking to improve their style?
"Just be yourself and trust your instincts!"
Elements of Ruo-Ting's Outfit
1. Lace-Up!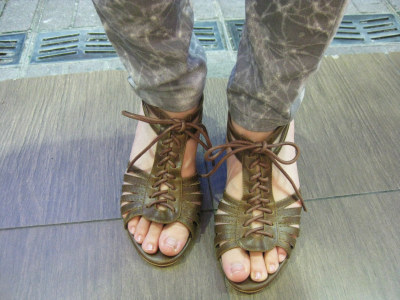 If you read College Fashion regularly, you probably already know that one of the biggest fall shoe trends is the lace-up boots. But if you live in a more tropical area or autumn is not quite there yet where you are, why not try a pair of lace-up sandals? They definitely make a simple outfit so much cuter!
2. Tie-Dyed Jeans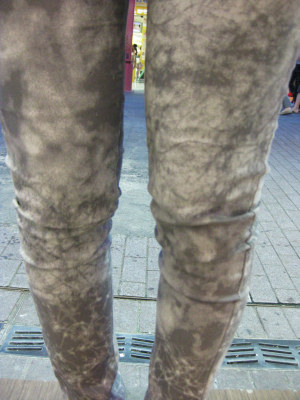 Tie-dyed jeans have been hot for a few seasons now, and they're a great wardrobe option because they can be worn all year long. In addition, I love how they add variety to a simple outfit, and the chic, retro look they give off. Though some may dislike this trend, I think these jeans work perfectly for Ruo-Ting- on her, they look simple yet daring!
3. Rock Basics & Neutral Tones

Although I'm the type of person that usually likes to add pops of colors in my outfit, neutral colors, like those in Ruo-Ting's outfit, tend to make people feel calmer and more comfortable. So depending on your mood and the occasion that you're dressing for, neutral colors may be the way to go- especially when you are transitioning your wardrobe from summer to fall.
Share Your Thoughts!
As much as I admire Ruo-Ting's style, I personally would add a long necklace or some bracelets to spark up this outfit a bit, but that might just be my personal preference.
Now I want to know your thoughts! What do you think? Is Ruo-Ting's outfit too plain for you or do you love this fresh and clean look? Let us know with a comment!