During our fashion club's bi-weekly meeting at UW, I found my eyes immediately attracted to Roxy's outfit out of all the other well-dressed members. What I admire the most about her look is how she effortlessly looks stylish, classy, and sexy all at once.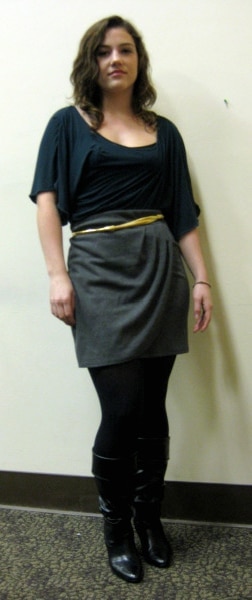 Roxy 101
Name: Roxy
Hometown: Issaquah, WA
Class Standing: Sophomore
Major: Pre-engineering
Hobbies/Interest: Dance! (ballet, modern, tap), reading (almost constantly), and old movies.
Let's Talk Fashion
How would you describe your style? "Yikes, I have no idea. I end up wearing a lot of clean-cut, classy outfits but my taste gravitates towards looser, boho things."
Who/What inspires you in terms of fashion? "I get most of my inspiration from the fashion bloggers I follow Garance Dore, Karla of Karla's Closet, and Jane Alridge of Sea of Shoes."
Any fashion tips? "Don't assume a trend will look bad on you because of your shape/size. Try on every piece you find in stores because you'd be surprised how much the little variations from piece to piece can alter how good they look on you."
What motivates you to dress up?"I feel better about myself when I look good. The days that I don't wear an "outfit" I find I'm in a worse mood."
Elements of Roxy's Outfit
1) Slouchy Top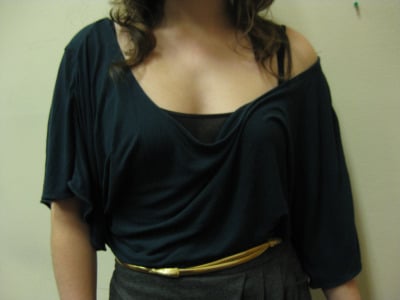 Slouchy tops are great because not only do they look effortless, but they also add sexiness and variety to any look! If you are like Mary-Kate Olsen, who prefers loose over tight clothing, or if you'd like to look sexy but not wear something too revealing, try on some slouchy tops! And guess what? Roxy got this chic top from Target's clearance rack! We definitely don't have to break the bank in order to look amazing.
2) Statement accessory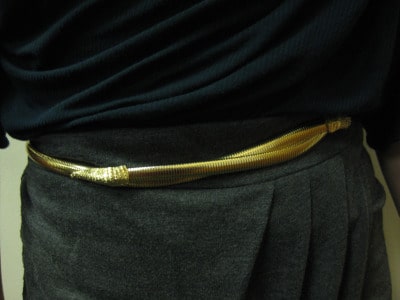 One of the best features of Roxy's outfit is her gold belt. Although her entire outfit is in neutral colors, the belt stands out and adds liveliness into her look subtly. This tip is useful for people who'd like to add colors into their outfit, but don't want to risk looking like a rainbow!
Get Inspired
Now that we've gone through the elements of Roxy's outfit, here are two example outfits that portray the classiness and sexiness of this style, for two different example situations.
1) Classy
This outfit is cute for a business-casual occasion or just for a classy look on school days. The pink elements would make this plain and semi-formal outfit more fun and girly. Also, the good news is that this entire outfit is under $200!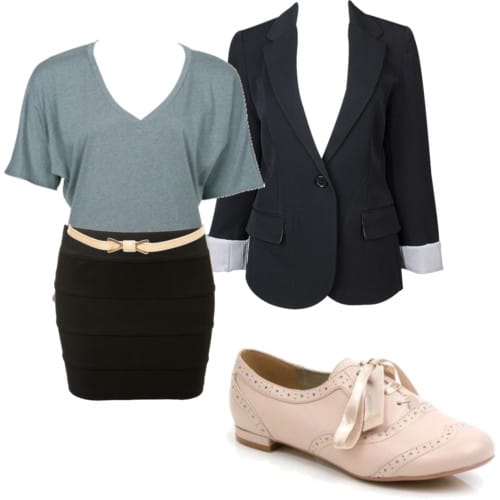 Product Information: Top –Charlotte Russe, Blazer- Forever 21, Skirt- Miss Selfridge, Shoes- Debenhams, Belt- Topshop
2) Sexy
Need a stand out look for a night out? This Elizabeth & James slouchy top defines implicit and effortless sexiness. Simply pair it with statement necklace, sequin shorts and embellished ankle boots, voila: you are ready to impress the crowd!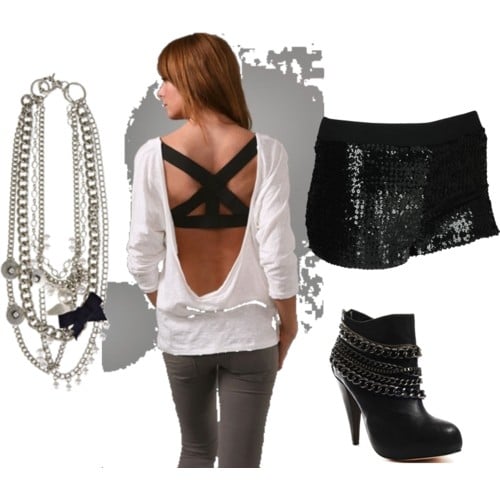 Product Information: Top- Shop Bop, Shorts- Forever 21, Boots- Heels.com, Necklace- Net-a-Porter
Share Your Thoughts!
Do you love slouchy clothing and statement accessories like we do? Are you now inspired to rock this look? What other elements can you emulate from Roxy's outfit?