As summer begins to creep up on us, the temperatures have soared into the seventies (and even eighties) here in CT! Over the past few weeks, I've noticed many people are starting to grow tired of the heat and are already resorting to a uniform of cotton tees, denim cutoffs, and flip flops.
Though I'll admit I've gone through two pairs of standard shorts in the past week, I can't deny how boring and trite lots of summer outfits are becoming. One afternoon last week, however, I ran into Robin, who has her own approach to simple, easygoing summer wear. Read on to learn more about her style and approach to college student fashion.
Robin 101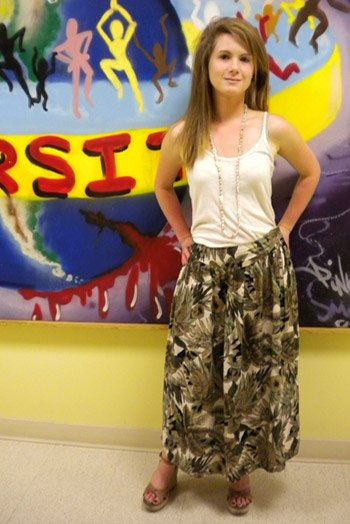 College: Wesleyan University
Hometown: Yarmouth, Maine
Class Year: 2013
Major: East Asian Studies
Hobbies: Biking, Reading, and Traveling
Let's Talk Fashion
Who or what inspires your style? "I actually lived in Japan for a year, and while I was there, I came across these great fashion magazines. I loved them because they displayed lots of street style (kind of like The Sartorialist), but they were not afraid to be really funky or crazy. To this day, I still get lots of outfit inspiration from them."
Who are your favorite designers? "I really like Marc Jacobs, and Alexander Wang. For brands, I love Free People."
Where do you like to shop? "Since I live in a really small town in Maine, I don't have many great shopping opportunities. However, when I do shop, I like to go to lots of stores in New York. Madewell is a personal favorite!"
How would you describe your style? "I'd say that I'm a pretty small-town hipster on a budget. I never used to really dress up that much, but after I started coming to school here, but I've certainly found my look!"
Elements of Robin's Outfit
1. Beige Tank and Printed Maxi Skirt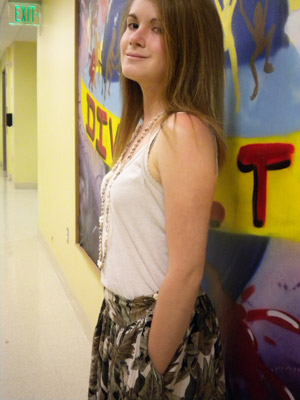 "I absolutely love cotton tanks," says Robin, "I got this one at Urban Outfitters a few years ago, and I still wear it all the time!"
How awesome is Robin's printed maxi skirt? "I actually got this skirt for a dollar!" she exclaims. "The theatre department was getting rid of lots of old costumes at a sale, and I grabbed it! I really love the hidden pockets it has on the sides." What a great find!
2. Sandals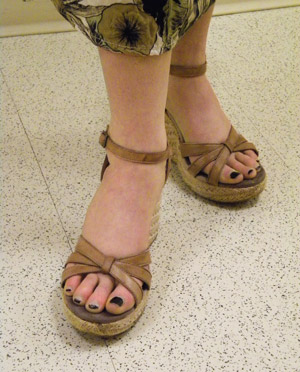 As you probably know, espadrille sandals are really big this season. We love how you can pair them with pants or skirts of any length, as well as how comfortable they are! Robin's brown, strappy espadrille wedges, by MIA, also go perfectly with the neutral colors she's wearing!
3. Shell Necklace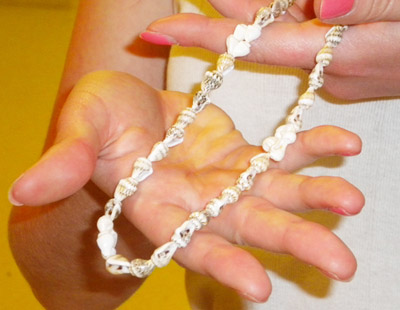 "One of my relatives gave me this necklace as a vacation souvenir," says Robin, "I love all of little conch-like shells – they're so pretty!"
What do you think?
What do you think of Robin's style? Are you wearing longer skirts this summer? What kind of sandals are you wearing? Let us know with a comment!