I found Robert on campus at Washington University while studying for our fast-approaching exams. This loading dock is his favorite place on campus to get work done because of how secluded it is. Finding your "own" spot on campus is like owning a piece of your college. You'll always remember it and it will make you feel a little bit more at home.
Robert was rocking this unique ensemble for studying. It was such an interesting look that I had to grab a few photos. Documenting Robert's style reminded me to take style risks and not to be afraid to try new things.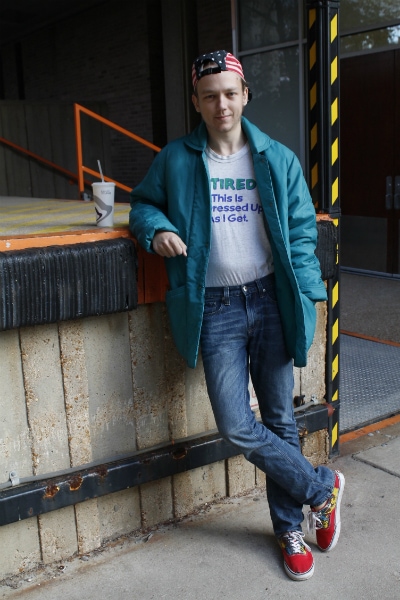 Robert 101
Name: Robert
School: Washington University
Major: Drama Major, Anthropology Minor
Let's Talk Fashion
Who inspires your style? "Americana culture."
Where do you like to shop? "Goodwill outlet[s], PacSun, and that's about it."
How would you describe your sense of style? "Funky, American, current, and ironic."
Why did you choose this particular outfit? "Because I have a long theatre rehearsal and wanted to be comfortable."
What fashion advice would you give to other students looking to improve their style? "I have a list! One, Let your clothes be an extension of yourself. Two, share with friends! Three, if you don't love it in the store, you won't wear it. Four, don't be afraid to wear what you want to wear."
What are your favorite trends right now? "Not skorts. Never skorts. But I like classic fall sweaters!"
Do you have any favorite fashion designers? "Alexander McQueen, but I could never wear it."
What do you do for fun? Do you have any unique hobbies or interests? "Anything to do with theatre, T-bell (Taco Bell), and trolling."
If you could raid anyone's closet, who would it be and why? "Miley Cyrus because she takes things that aren't clothes, but makes them clothes; like Lady Gaga, but sexier."
Elements of Robert's Outfit
1. Colorful Cartoon Shoes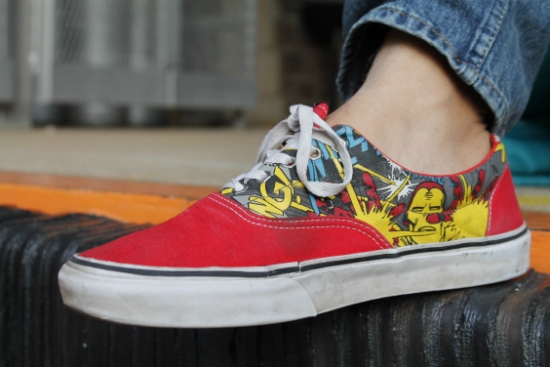 Shoes can make or break an outfit and Robert's sneakers really took him over the top (in a good way!). The comic book style is a great conversation starter without being too in-your-face.
2. Ironic Tee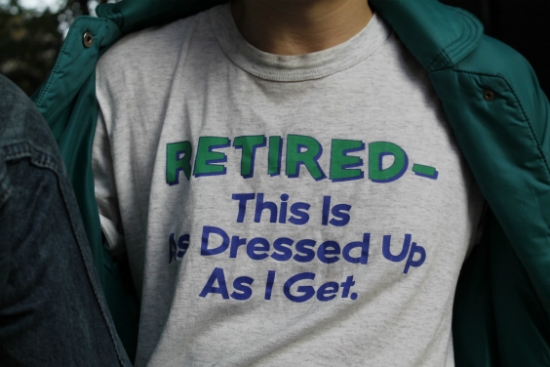 Ironic tees are a great way to show your personality through your clothes. Robert has such a sarcastic sense of humor that was evident with his shirt. He found this particular one at Goodwill, but you can find these anywhere and even special order them to say certain things. Ironic tees add fun vibes to an outfit without seeming too silly. Also, tucking your tee into your jeans is a daring move you don't see often, but if you can pull it off like Robert, I say "go for it!"
3. Hat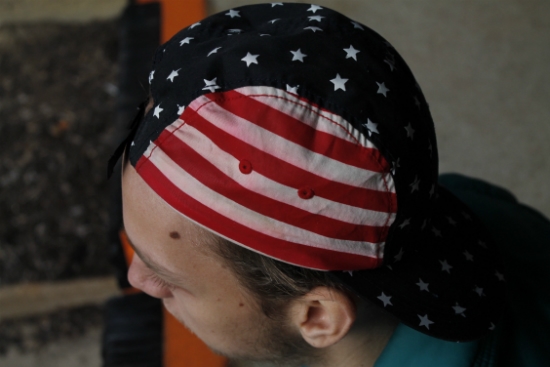 Robert's hat was my favorite part of his outfit. It screams Americana and goes great with his sense of style. I'm always hesitant to buy anything with an American flag on it because I feel like I would only wear it on July 4th, but Robert has shown me that I should absolutely add a few American-themed items to my wardrobe.
What do you think of Robert's style?
Would you wear his shoes or his hat? Do you like what he's put together? Comment below and share your thoughts!