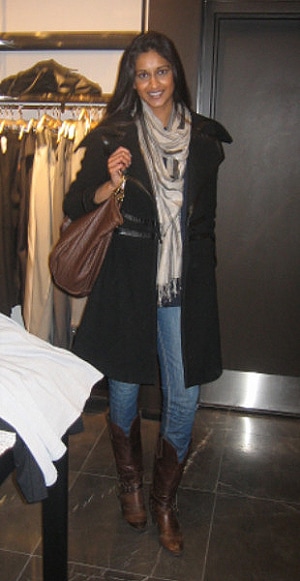 This week, the weather in Chicago has been particularly awful – a mixture of nonstop sleet, rain, snow, and strong winds. I found Rhea shopping in Zara, and I was impressed with how she made her cold weather gear look so stylish!
Not only did Rhea look extremely cute, but she also looked cozy as well! It's too easy to just throw on sweats when it's cold out, but Rhea is a great example of how you can fight the frumpiness when it's chilly!
Rhea 101
Name: Rhea
Hometown: Chicago
Some More Details…
College: DePaul
Major: Finance
Where do you like to shop? "I usually shop at Zara, H&M, and other similar stores"
What are your hobbies? "Definitely shopping"
Why did you choose this outfit? "Mostly because it is cold out. These boots have a low heel so I can still walk around in the snow and rain and the bag is big enough to fit everything I need."
Elements of Rhea's Style:
1. Boots and Bag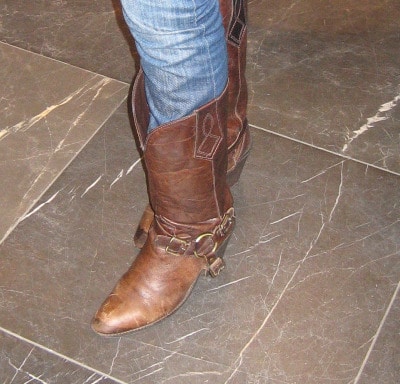 I loved the way Rhea's boots and bag matched – it really pulled the whole outfit together. The low heel on the boots above is perfect for cold, wet days to prevent slipping. Even better, the boots manage to look stylish despite the whether. Also, the shade of Rhea's accessories happens to be one of the hottest colors to wear this winter, cognac!
2. Her Coat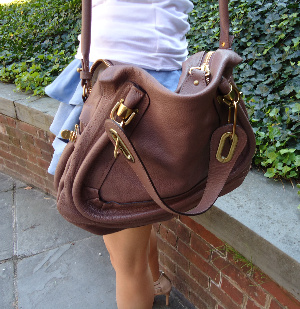 The leather detailing on Rhea's coat made me look twice. It gave her classic coat an edgy, high-fashion twist. Additionally, the play on neutrals shown above is really interesting- we have both brown and black, but they are so not plain jane or boring! The rich cognac color really complements the chic black material of the coat, while the leather detail complements the luster in the bag.
Outfits Inspired by Rhea
The key to making this cold whether look work is choosing a pair of boots with a low heel and pairing them with a bag that matches. Here's a great example of this: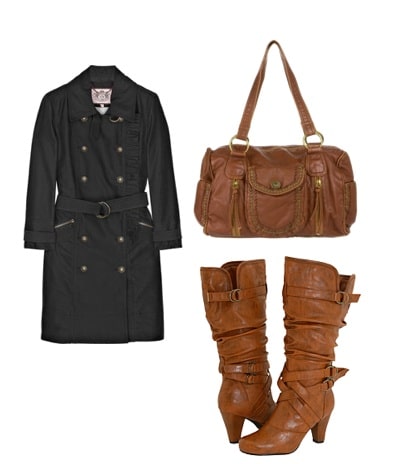 Product Information: Trench – Juicy Couture (via Net-a-Porter), Satchel – Charlotte Russe, Boots – Steve Madden (via Zappos)
Also, it is important to find a coat with interesting details – ruffles, unique buttons, or anything that gives it a little something extra to make it stand out. Put it all together and you might find yourself with something like this: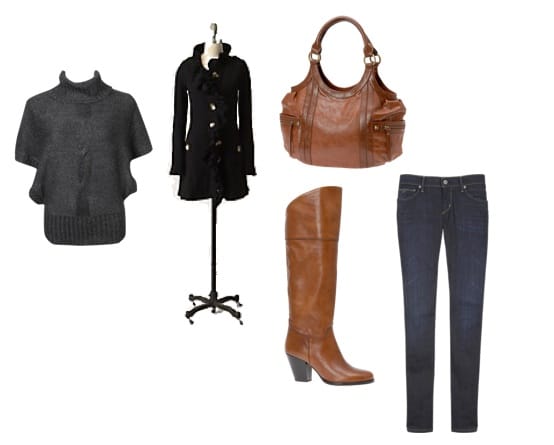 Product Information: Cowl Neck Top – Forever 21, Ruffle Coat – Anthropologie, Tan Hobo Bag – Aldo, Jeans – Citizens of Humanity (via Net-a-Porter), Boots – Aldo
What do YOU Think?
Are you as inspired by Rhea as we are? Do you own any matching shoes/bag combos that you wear together? If so, tell us about it…we love to idea swap! Do you have any chilly day outfits that you rely on when the weather isn't so great? Tell us!