In my Retail Management course, everyone wears the latest fashion trends and it's not uncommon to see looks translated from the runways to the classroom. Rebecca, who I know from that course, is the girl who goes to every class looking polished, classy, and well put-together. Despite the fast-paced life as a business undergraduate student, she never forgets to put on her best outfits and a smile. Truly, she's one of the finest fashionistas around Syracuse University and her photos and interview can attest to that.
Rebecca 101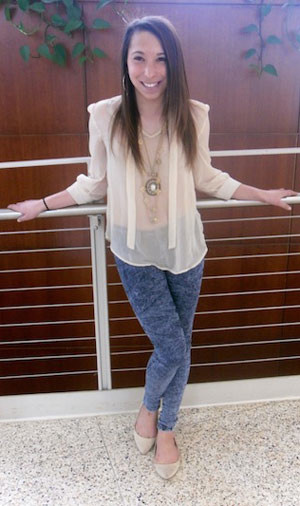 Name: Rebecca
College: Syracuse University
Year: Sophomore
Major: Retail Management
Let's Talk Fashion
Who or what inspires your style? "The things that mostly inspire my style are magazine ads, blogs, and just people on the street. Style is portrayed differently in each of those ways and help convey my own style."
Where do you like to shop? "I like to shop at Urban Outfitters, Forever 21, and online stores you can't find in the United States. It also depends on if I am looking for something in particular. In that case, I give every store a try."
How would you describe your sense of style? "I would like to say my sense of style is a dressed-up urban look. I like to go outside the box and wear things most people would not be willing to try. As Rachel Zoe said, 'Style is a way of saying who you are without having to speak.'"
Why did you choose this particular outfit? "I chose this particular outfit because I love unique pants (and wash in this outfit) and I go crazy for jewelry, especially gold. So adding a couple of gold necklaces is a good way to dress up a look."
What fashion advice would you give to other students looking to improve their style? "Some fashion advice I would give to other students is to dress how you view yourself as a person. For example, if you are loud and outgoing, wear bright colors or fun patterns because you are one to stand out."
What are your favorite trends right now? Do you have any favorite fashion designers? If so, who? "Some of my favorite trends currently are mixing bright colors and printed/colored denim shorts or pants. I would not say I have a favorite fashion designer because each company or designer has something special to offer."
What do you do for fun- do you have any unique hobbies or interests? "For fun (I know this is going to sound cheesy), I still like to play dress up – I discover so many pieces of clothing that I never thought would work together! I also enjoy making my own jewelry, taking photographs, dancing, and pretty much anything that allows me to be creative."
If you could raid anyone's closet, who would it be and why? "I would love to raid Aria's closet from the show Pretty Little Liars because she has the most interesting outfits."
Elements of Rebecca's Outfit
1. Sheer Blouse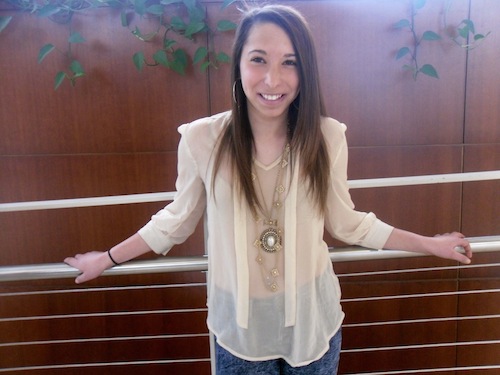 What do half-cut shirts and sheer blouses have in common? They're the best pieces a girl can wear to celebrate the start of the sunny season. After more than six months buried under thick coats and heavy layers, a girl can have fun wearing any of the two options.
Rebecca nailed her look by rocking this beige long-sleeved blouse that practically screams spring. Her choice of blouse is not too revealing, and its sleeve length keeps her from getting frozen by irregular winds. Sometimes, a sheer top can be risky, but Rebecca pulled this one off in style.
2. Acid Wash Jeans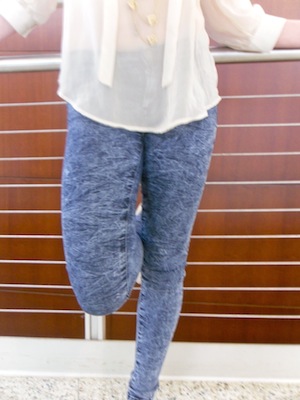 Let's talk acid wash: To be honest, before I spotted them on Rebecca, I hadn't seen acid wash jeans in months. That said, as soon as I saw hers, I was quickly reminded of their versatility and style. Since Rebecca was wearing a very simple top, she made her look stand out with her creative jean choice.
3. Gold Jewelry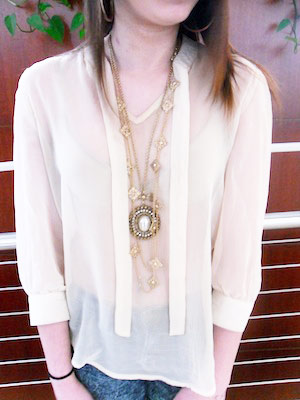 Rebecca completed her one-of-a-kind look by accessorizing with layers of gold. Nothing looks better than seeing someone wear the right amount and kind of jewelry for a school session. A minimalist look, just like Rebecca's, can become a head-turner with the right accessories.
Share Your Thoughts!
What do you think of Rebecca's style? Would you wear acid wash jeans? Have you added sheer pieces to your wardrobe yet? Let us know with a comment!