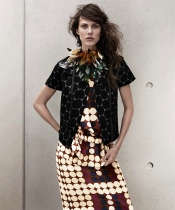 I've been dying to find the perfect printed cardigan lately. All of my cardigans are solid knits, and with the weather gradually becoming cooler, I need a way to spice up my autumn wardrobe!
I spotted Rachel wearing a very cute printed vintage-inspired cardigan with a great fall color underneath. I had to ask her about her style!
Who I Spotted:
Name: Rachel
Hometown: Tucson, Arizona
Age: 18
Year in College: Freshman
Major: Political Science
Hobbies/Interests: "[I like] reading, going to the movies, and dance, especially ballroom and tango."
Describe your style: "eclectic, relaxed, effortless"
Who/what inspires your style? "weather dictates a lot of my outfits. Also, my mood and the colors of the season."
Where do you like to shop/find clothes? "Urban Outfitters, Express, Forever 21, Target, and Savers."

What I Like About Rachel's Style:

I adore her cardigan and her ability to pair a print with a pop of color underneath. The texture in her ballet flats adds a little extra detailing and her dark wash jeans are a great investment because you can wear them with flats or boots!

Rachel's look seems very effortless. This is a great look you can throw together on your way to take a midterm or on one of those mornings after long night in the library!

The core element of Rachel's outfit is definitely the cardigan. If you look through your closet, you probably own a dark wash jean and a colored tank. Invest in a printed cardigan! I know I want to!
Time for Some Inspiration!
Here are some printed cardigans I really like. Depending on your budget, there are a variety of stores that are offering printed cardigans this season!
Product Information: Laced Roses Cardigan- Anthropologie, Knitted Print Cardigan- Top Shop, AE Leopard Cardigan- American Eagle
This is my interpretation of Rachel's look! The AE boyfriend tanks come in a TON of colors, too! Snag a few colored tanks for layering this fall/winter!
Product Information: Knitted Print Cardigan- Top Shop, AE Boyfriend Tank- American Eagle, Degaine Midnight Blue Jean- Chickdowntown, Black Quilted Ballet Flat- Peacocks, Yahdira Utility Tote- Forever 21
Other ways to wear your printed cardigan:
Here are three other ways to use your printed cardigan using some of the same items featured in Rachel's inspirational look! Hooray for versatility!
Option 1:
This outfit is great for a day at the office, or when you're headed out on a date!
Product Information: Wool Blend Skirt- Forever 21, Knitted Print Cardigan- Top Shop, AE Boyfriend Tank- American Eagle, Patent Platform Pumps- Forever 21
Option 2:
This outfit is good for those days or nights that are on the chilly side. Throw on your cardigan and go grab some hot cocoa with a friend!
Product Information: Knitted Print Cardigan- Top Shop, Degaine Midnight Blue Jean- Chickdowntown, Yahdira Utility Tote- Forever 21, Cuffed Suedette Boots- Forever 21, Free People Zipper Thermal- Piperlime, Preston & York Cable Scarf- Dillard's
Want to be featured in Looks on Campus?
We want YOU to be our inspiration! Here's how you can be a part of Looks on Campus!

Use a timer or have a friend take photos of your outfit head to toe – don't forget to include your shoes and bag!

Take a few detail shots of the pieces that make up your look – bag, shoes, accessories, etc. We want to see them up close!

Answer the interview questions listed above. Be sure to include where you go to school.

Send it all in an email to zephyr AT collegefashion DOT net with subject "Looks on Campus."
We'll pick our favorites to feature here in the Looks on Campus column. Please note that we can't feature everyone who submits due to volume, but we'll try to do as many as we can. Can't wait to see your submissions!