Despite the snowfall coming at all of us full force, the Syracuse University fashionistas still exert time and effort to look good and be creative in their outfit choices.
As I was taking a break in between classes, I noticed a girl who rocked mixed prints without looking over-the-top. Rachel proves that fashion is about taking risks, feeling young, and looking good. Her outfit will inspire all of us to veer away from the safe side – after all, college is the perfect time to go all out with your wardrobe and express your style.
Rachel 101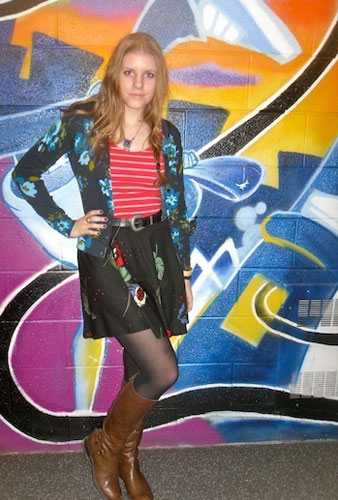 Name: Rachel
School: Syracuse University
Class Standing: Freshman
Hometown: Lansdale, Pennsylvania
Major: Communications Design
Hobbies/Interests: "Swimming and art. I love to sing, especially opera. I've been doing it for over 10 years. Also, I just joined the sailing team at Syracuse University so sometimes I feel inclined to look nautical. I love it!"
Let's Talk Fashion
Who or what inspires you? "I'm inspired by music. Right now, I'm really into We are Scientists, Florence and the Machine, Kings of Leon and Lana del Rey. I like to take the styles of music and interpret them into my fashion choices. The past inspires me — there are times when I try to channel a certain era in my clothing choices. I'm also inspired by young Hollywood and trends that are popular at the moment — I try to put my own twist on them."
Where do you like to shop? "Mainly, I love to shop at consignment shops, thrift stores, and vintage boutiques. I'm really into Urban Outfitters and H&M. I also love Modcloth, Topshop and sometimes American Apparel."
How would you describe your sense of style? "My sense of style is totally eclectic. Sometimes I'm clad in J.Crew and preppy/nautical pieces, other times I'm decked out in H&M and grunge/hipster pieces. It depends on my mood! Mostly I mix and match a lot of different styles — 80 percent of my wardrobe is consignment/thrift. Lately I've been channeling the '90s and/or old ladies, but in a good way."
Why did you choose this particular outfit? "I put this outfit together today because I was feeling a change of pace. It's been pretty dark and cold lately so I thought I would brighten up my wardrobe with some bold colors, mixed florals and cowgirl accents! I'm kinda all over the place, but I enjoy it."
What fashion advice would you give to other students looking to improve their style? "I would tell other students to check out Boom Babies in Westcott for some awesome stuff. You'd be surprised at what you can find at low prices! Also, Target is a good place to go for inexpensive fashion. I would also tell people to dress how they want to be perceived –putting in just a little bit of effort can make a really good impression on those around you."
What are your favorite trends right now? "Right now, for the winter months, I'm really into big knit scarves and high riding boots, as well as fur, high socks, and tights – but done with just the right amount of accessories. I'm also in love with the long skirt and boots look, although I don't own any… yet."
If you could raid anyone's closet, who would it be and why? "If I could raid anyone's closet, it would probably have to be Lady Gaga's because I'm obsessed with her and who wouldn't want the opportunity to try on all her crazy looks?!"
Elements of Rachel's Outfit
1. The Trendy Aesthetic: Mixed Prints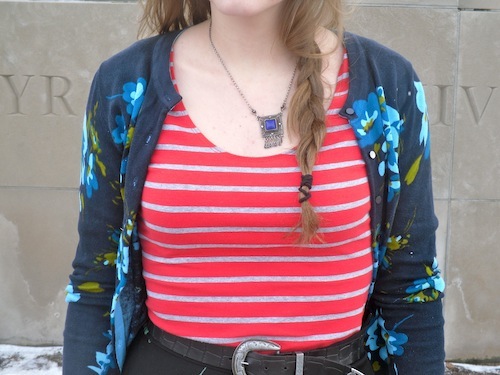 Rachel's sexy red striped top combined with her sweet blue floral cardigan makes her look very versatile and fun. When I first saw her, I immediately thought about the American flag. This outfit could be worn during the summer or could also be paired with a coat or jacket – as Rachel did here, though she took it off for our photoshoot – during the frosty winter days.
2. The Feminine Vibe: Belted Skirt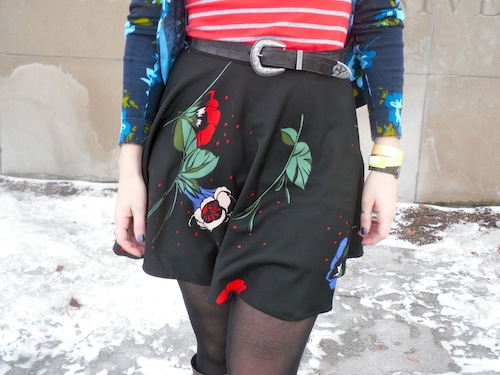 The black printed floral skirt gives off a feminine but edgy kind of look. It's the perfect skirt that can be worn anywhere – from school to parties to movie dates! Wearing a cute belt like Rachel's is a great way to emphasize your curves that might get hidden by a flowy skirt.
3. The Essentials: Solid Footwear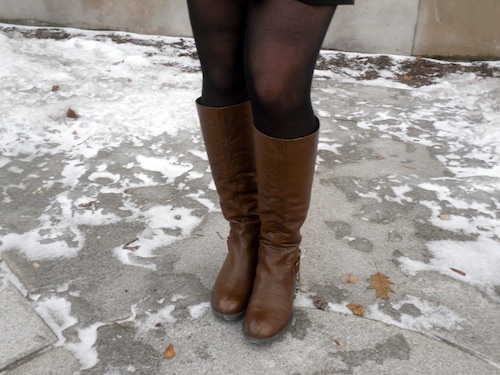 Boots are the best way to keep warm and stay standing during the winter months, especially when snow and ice are involved. You can never go wrong with a plain pair of solid colored boots like Rachel's – they literally go with everything! Also, leggings and stockings are good ways to keep your skin protected from the chilly weather. Remember to stock up on black legwear since it's basic and versatile.
What do you think?
What do you think of Rachel's outfit? Have you tried out the mixed prints trend yet? What kind of boots are you wearing this winter? Let us know with a comment!