One of my favorite summer styles is a bohemian look, so when I saw Rachel's fun printed dress and lacy fringe kimono, I instantly fell in love with her outfit. If you're looking for boho inspiration, you have come to the right place, because this girl rocks it.
Rachel 101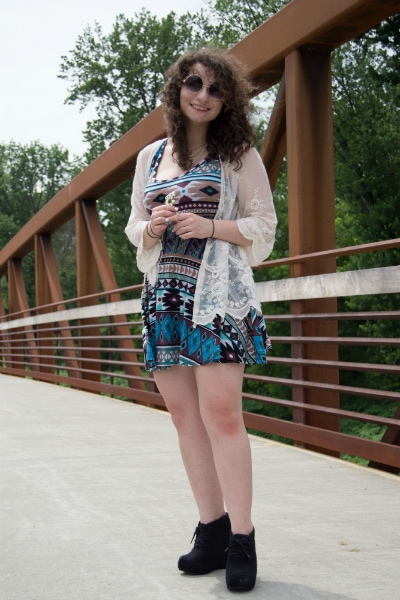 Name: Rachel
School: SUNY Oswego
Year: Rising Sophomore
Major: Art Therapy
Hometown: Vestal, NY
Let's Talk Fashion
Who or what inspires your style? "Vanessa Hudgens's style, Tumblr, and Pinterest."
Where do you like to shop? "Plato's Closet and thrifting. Also, Target and Forever 21."
How would you describe your sense of style? "Equal parts boho and girly."
Why did you choose this particular outfit? "This summer I've been digging the Aztec prints and I love wearing sundresses on hot days."
What fashion advice would you give other students looking to improve their style? "It's not what you wear but how you wear it! And the best accessory is a smile."
What are your favorite trends right now? "Aztec prints, skater skirts, midi rings, and head wraps."
Do you have any favorite fashion designers? If so, who? "I don't really follow any, but Jeffrey Campbell's shoes are gorgeous… even if I can't afford them."
What do you do for fun? Do you have any unique hobbies or interests? "I like art, like painting and drawing. [Also] writing, running, and rereading the Harry Potter books."
If you could raid anyone's closet, who would it be and why? "Vanessa Hudgens's because she is so boho and I wish I was in High School Musical."
Elements of Rachel's Outfit
1. Bohemian Accessories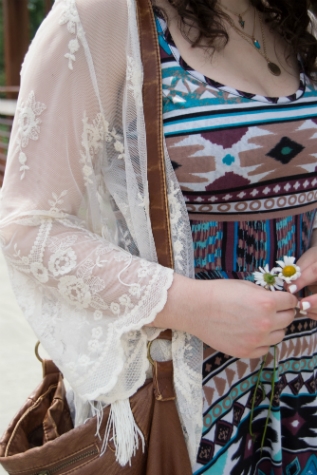 What makes a great hippie-chic look? The accessories, of course! Rachel's outfit includes the best little accents, like her fringed kimono, midi rings, dainty necklaces, and round sunglasses.
2. Black Wedges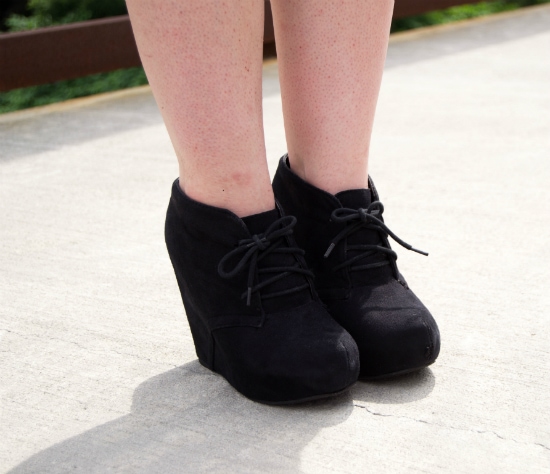 Most boho outfits opt for brown sandals or booties, but Rachel stepped out of the box in these black wedge heels. These shoes would pair well with almost any look, but we love how they edge up her ethereal kimono jacket.
Would you wear Rachel's outfit?
What do you think of her boho style? Do you love her shoes as much as we do? Comment below and let us know!