After being teased with sporadic warm days followed by much colder ones, Illinois is finally warming up for spring. Now that the weather is improving, people are breaking out their spring fashion. Rachel was spotted wearing an outfit that is perfect for this beautiful sunny day.
Rachel 101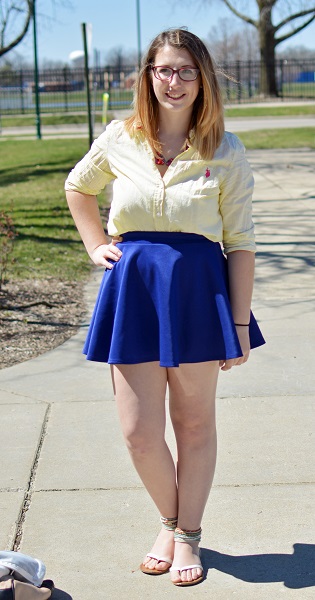 Name: Rachel
Major: Communication Studies
Year: Junior
College: Eastern Illinois University
Let's Talk Fashion
Who or what inspires your style? "I get my style from a lot of TV shows and people that I see around. I follow different things on Instagram and stuff like that. So, definitely the media inspires me most."
Where do you like to shop at? "Just at the mall. Sometimes I go thrift shopping and find really cool things. I also really like Rue 21 and Forever 21."
How would you describe your sense of style? "Kind of all over the place. Like, today I am kind of preppy and tomorrow I could be boho. It just really varies."
Why did you choose this particular outfit? "I am in a sorority and this week is our dedication week. Yellow is one of our colors, so I just had this yellow shirt and decided to pair it with this skirt. Our whole week we have to dress up."
What fashion advice would you give to other students looking to improve their style? "Don't be afraid to try new things because it doesn't really matter how other people look at you, it just matters how you feel."
If you could raid anyone's closet who would it be? "I watched a lot of Gossip Girl growing up. I'm really inspired by Leighton Meester and Blake Lively. So, definitely one of their closets would be cool."
Elements of Rachel's Outfit
1. Yellow Button-Up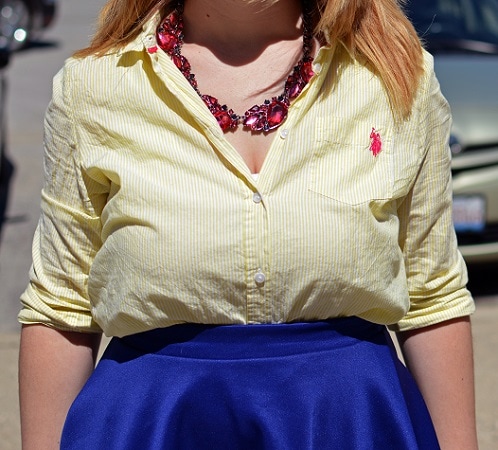 Rachel's top from Sears is a sunny yellow that matches the gorgeous weather. We love how the bright color livens up this classic-button up. The subtle striped pattern also adds to the overall preppy vibe of her look.
2. Bright Skirt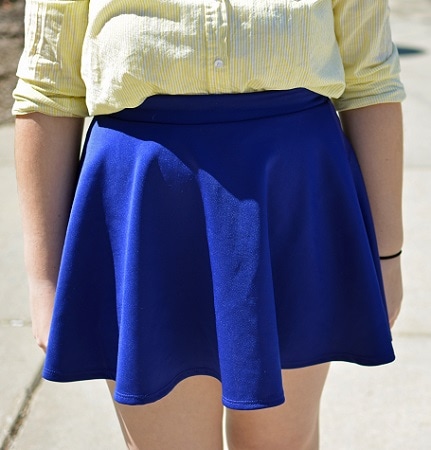 This cobalt-colored skirt from Wet Seal pairs well with Rachel's yellow top. These colors complement each other nicely and make this outfit a stylish pick for spring.
3. Pink Jeweled Necklace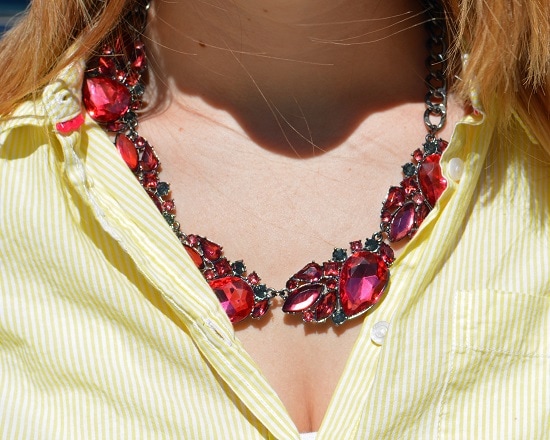 Rachel demonstrates how you can add three bright colors to an outfit without it clashing. This jeweled necklace is from JCPenney and is the perfect finishing touch to her adorable ensemble.
What do you think of Rachel's look?
Would you wear her outfit? Are you as obsessed with her bright necklace as we are? Let's chat about it in the comments!