Preena's style caught my eye when I noticed how effortless and put-together she looked with her sparkly top and edgy combat boots. I personally love when people bring together two styles that are very different from each other and pull it off flawlessly.
Preena is definitely one of those people who knows how to combine and contrast trends while staying true to her personal style.
Preena 101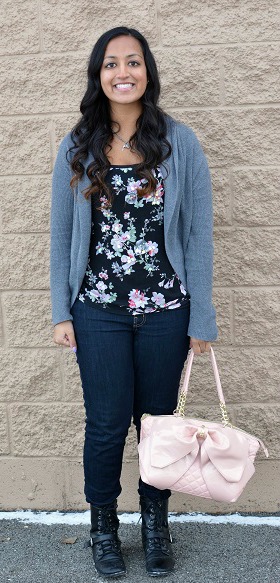 Name: Preena
College: University of Illinois, Champaign
Year: Senior
Major: Advertising
Hometown: Champaign, IL
Age: 21
Let's Talk Fashion
Who or what inspires your style? "I think my mood is the thing that inspires my style the most. Most of the time my outfits reflect however I am feeling that day. I think one of the best things about fashion is that it can help express how you feel."
Where do you like to shop? "I typically go to the mall since it is the most convenient for me. The stores I shop at most are Express [and] American Eagle for clothes, and online places, such as Etsy, for statement pieces. I love looking for pieces with bows on them when I'm shopping on Etsy."
How would you describe your sense of style? "I am extremely girly in my personality which is noticeable in most of my outfits, but I also have an edgy side that I like to display, too. I love mixing the two by having the majority of my outfit be girly, but adding in edgy accessories, like combat boots or studded bracelets. Usually my outfits are about 85% girly and 15% edgy."
Why did you choose this particular outfit? "I typically wear really girly tops like the one I wore today, but I added the long cardigan because it's so cold outside. I tried to add some edge to the outfit with the combat boots to make the outfit more interesting."
What fashion advice would you give to other students looking to improve their style? "Don't be afraid to try out and experiment with new trends. You can't know what styles you are into if you don't try!"
What are your favorite trends right now? "I love combat boots – I think that they are really cute! I used to think that they would be too edgy for me, but I tried some on and loved them. I also love patterned pants even though they are more summery."
Do you have any favorite fashion designers? If so, who? "I love Betsey Johnson! I can always find really quirky pieces and great statement pieces when I look at her things. I tend to always go towards her lines because I know I will find something unique."
Elements of Preena's Outfit
1. Bow Bag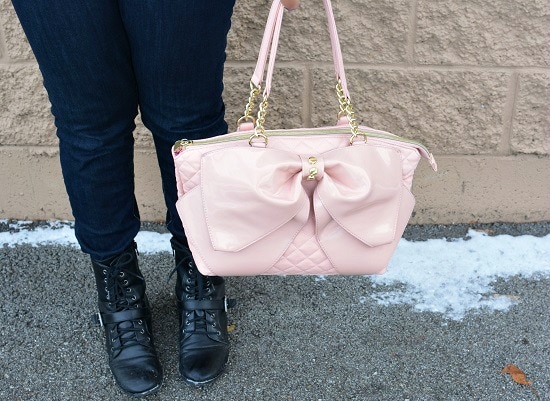 Preena's pink Betsey Johnson bow bag is one of my favorite elements of her outfit. The detail on the front and the cute light pink color really bring out her girly side. This pastel bag also adds a subtle pop of color to Preena's outfit.
2. Combat Boots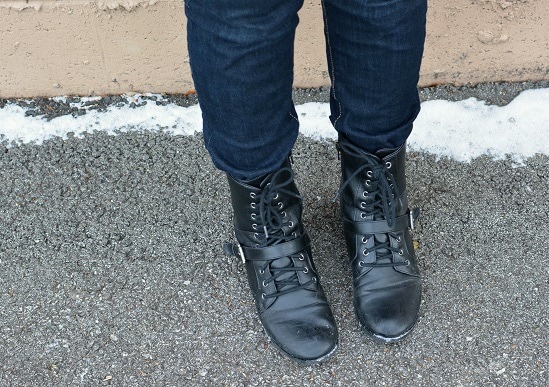 These combat boots add a bit of edge to Preena's "85% girly" look. I love that she is able to add such an edgy element to her outfit and make it work flawlessly.
3. Necklace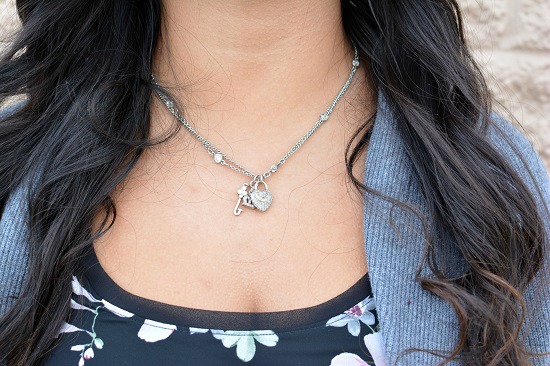 Preena's sparkly necklace is an eye-catching accessory worthy of attention. The shiny jewels add a little bit of sassiness to her sweet on-campus look.
Would you wear Preena's outfit?
Do you like contrasting prints and patterns? Do you mix girly and edgy elements? Would you rock her bow purse or boots? Let us know in the comments section below!