I've seen Pema walking around our residence hall looking fashionable many times, and I knew I had to talk fashion with this girl before the semester was over! I finally caught up with her and found out all about her sense of style and where she gets her inspiration.

Pema 101
Name: Pema
Age: 19
College Year: Freshman
Major: Journalism – Human Rights and Activism
Describe your style: "I like to keep my style as girly as possible!"
Hobbies and interests: "I like to dance and I love reading fan-fiction. I also like to surf fashion/style blogs on the net. My favorites are Style Bubble, The Style Rookie, and Jak and Jil."
Where do you like to shop? "I really like to shop at thrift stores/secondhand shops, Forever 21, H&M and Urban Behavior."
What inspires your style? "Korean TV really inspires my style, also the style of Korean pop-stars – lately I've seen them wear articles of clothing with Mickey Mouse on them, as well as things that are oversized."
Her outlook on fashion: "I feel girls need to be comfortable in what they wear, in order to be confident in their style."
Looks Inspired by Pema
After talking with Pema I felt really inspired, so here are two looks I put together based on my conversation with Pema and her outfit!
Look 1:
Pema's style is cute and simple, so I wanted to channel that with this look. This outfit is perfect for the weather on a warm spring day, and the cute embroidered top reminds me that summer is just around the corner! That being said, this outfit is fit for the spring weather with the added jean jacket for those chilly winds.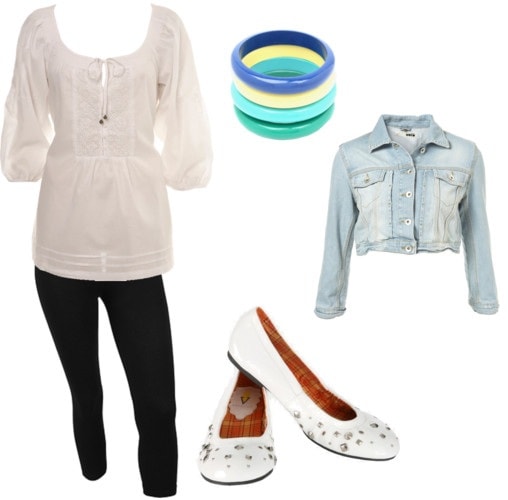 Products: Top- Miss Selfridge, Denim Jacket- Topshop, Leggings- Forever 21, Ballet Flats- Hot Topic, Bangles-ASOS
Look 2:
For this look, I added some color to the black and white palette of Pema's original look with some fun accessories. Also, with summer just around the corner and the weather heating up in Canada, I decided to swap out the tunic for a nice embroidered dress!
Products: Sandals- Forever 21, Dress- National Jean Company, Earrings- Forever 21, Bracelets- Forever 21
What do YOU Think?
Do you like Pema's style? How do you define "simple" fashion? Does it work for you or do you have a different fashion philosophy? Let us know with a comment!