The beginning of the semester is usually a hectic flurry of new schedules, buying school supplies, and readjusting to 8 a.m. classes. Here in Chicago, that stress is combined with winter's icy temperatures that can put a damper on any student's mental health, as well as fashion choices.
So when I walked into a meeting on a particularly dreary evening and spotted Pauline's floral ensemble and smiling face, I knew I had found a stylish student who could handle the cold and the stress without forgetting about fashion. Read on to learn about her and her style!
Pauline 101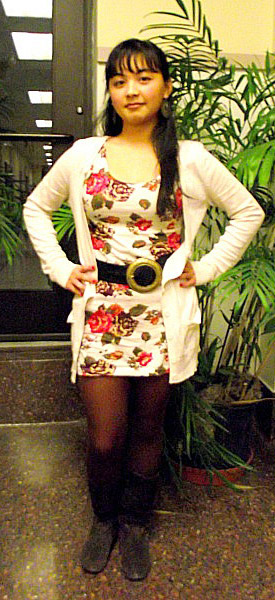 Name: Pauline
Major: Undecided
Year: Freshman
Hometown: Detroit
School: Loyola University Chicago
Hobbies/Interests: "A lot of volunteering. I like being busy! Plus, it's my break from everything else. I also like to bake and cook like crazy."
Let's Talk Fashion
Who or what inspires your style?"Anything and everything – whatever I think looks nice or looks pretty and I think feels comfortable."
Where do you like to shop? "I just like shopping in general! I shop everywhere, from the Salvation Army to Macy's."
How would you describe your sense of style? "Pretty and comfy."
Why did you choose this particular outfit? "It's one of my most comfortable outfits, actually. I love these boots, this dress, and this cardigan; I always pair these together."
What fashion advice would you give to other students looking to improve their style? "I would say look for something you are comfortable in and don't be afraid of color. If you think two things might go together, try it out because you never know, it'll probably work. And if it doesn't, then you can start your own trend. Be confident!"
What are your favorite trends right now? "Definitely belts – I'm big on belts lately. Also tights – normally I wear the solid kinds but deep down I want to wear more of the floral and lace kinds."
Elements of Pauline's Outfit
1. Gold Accessories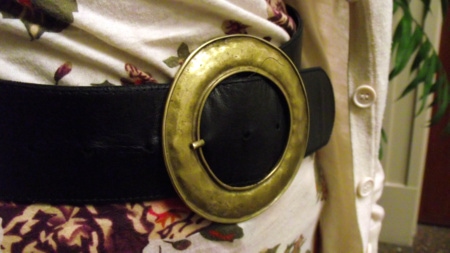 Wearing white can be a challenge in the winter because so much of the world is covered in the same, snowy color! In addition, white dresses can sometimes feel overly summery. Pauline, however, made the smart decision to pair her white dress and cardigan with gold accessories, which gave the outfit a warmer, more luxe feel. Plus, as she informed us, her accessories were hand-me-downs from her Grandmother, who lives in Switzerland, so they double as great conversation pieces.
2. Red Coat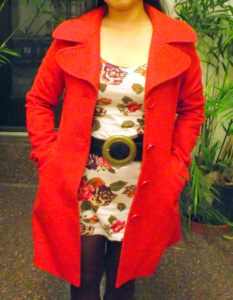 After taking pictures of Pauline's adorable outfit, I noticed she was also carrying this vibrant red coat to wear outside. The red coat reflects the warm tones of the flowered dress, which pulls the whole outfit together. In addition, a colorful coat is such a great way to step up your winter look and stand out in a sea of black jackets.
Share Your Thoughts!
What do you think about Pauline's sense of style? Do you wear dresses in the winter? How do you make dresses winter-appropriate? What kind of coat are you wearing this season? Share your thoughts with a comment!