I first spotted Paulina while I was outside of St. Robert's Hall having a cup of coffee. On an uncharacteristically cold and cloudy day in Los Angeles, when many girls reached for Uggs and sweatpants, Paulina stood out in her bright red tights and adorable matching ensemble. Between her thick knitted sweater, chambray shirtdress, vintage inspired necklace, and dainty ribbon pumps, I knew she was the perfect candidate for College Fashion's Looks on Campus.
Paulina 101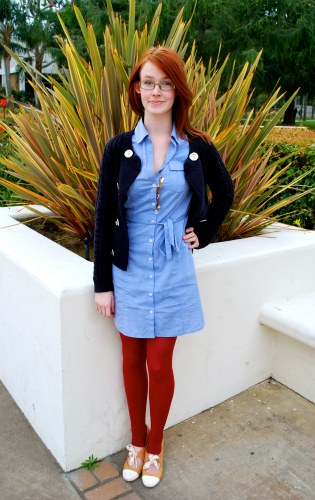 Name: Paulina
College: Loyola Marymount University
Year: Junior
Major: Dance and Theater
Hometown: Salt Lake City, Utah
Let's Talk Fashion
Why did you choose this particular outfit? "I love these comfortable heels and fun tights for a day like today!"
Where do you like to shop? "I shop at consignment stores, H&M, Nordstrom, and the J.Crew sale section"
Who or what inspires you? "Audrey Hepburn is my number one style icon, but I also love Carey Mulligan, Marion Cotillard and Blake Lively. I like their playful take on romantic and feminine styles."
How would you describe your sense of style? "I love anything fifties-looking or French. (I even started a blog recently dedicated to such things: http://faconnable.tumblr.com.) I wear lots of dresses and flats though I do love a nice heel. I live in cardigans and pearl earrings."
What are your favorite fashion trends right now? "I am quite happy royal blue is in right now. Blue is my favorite color and it contrasts very nicely with my red hair and pale complexion."
Do you have any favorite fashion designers, if so, who? "Marc Jacobs is my savior. I love everything he does. I received one of his purses last Christmas and I take it everywhere. Her name is Gloria; she's basically my child."
Elements of Paulina's Look
1. Bright Tights and Fun Shoes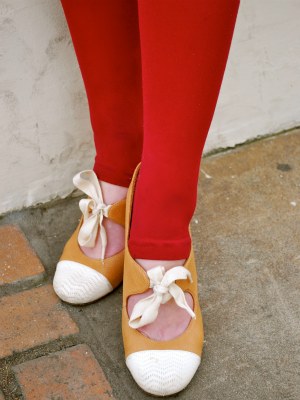 Paulina's bright red tights were the first thing that caught my attention, especially on such a dreary day. They show off Paulina's bright and sweet personality, while still keeping her warm. By pairing them with an outfit full of blues and neutrals, Paulina managed to make them look fashion-forward, not garish.
She also sported a great pair of Mary-Jane-inspired heels with cute cream-colored detailing (seen in the photo above). The shoes are unique and fun, but even better, Paulina said they were super comfortable, too!
2. Chambray Shirt Dress and Vintage Necklace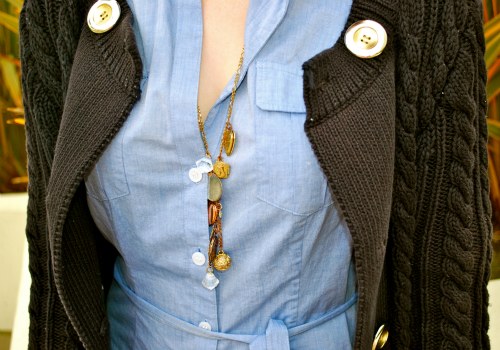 For the past few seasons, chambray has been huge for spring, and by pairing her chambray shirt dress with a chunky cardigan, Paulina found a great way to merge her winter and spring looks. She also utilized accessories to her advantage – her charm necklace added a little flair to her outfit, but didn't overwhelm it.
What do you think?
What do you think of Paulina's outfit? How would you wear red tights this winter? Do you incorporate summer pieces into your winter wardrobe? What do you think of Paulina's chambray shirt dress? Let us know with a comment!