For many college students, fall fashion is warmly welcomed with scarves, boots, and sweaters. Even a warm color scheme can give an outfit the ultimate fall look. Paige perfects the art of wearing fall colors and takes advantage of new trends. The statement-making piece in this look is the burgundy-hued leather jacket, which caught my eye from a mile away.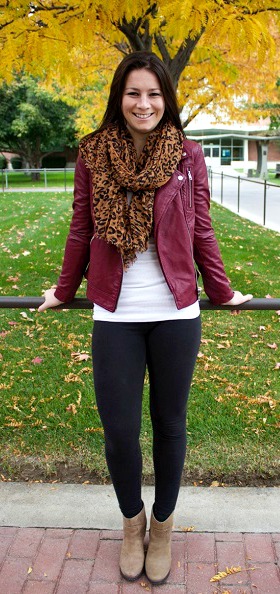 Paige 101
Name: Paige
University: University of Nevada Reno
Year: Senior
Major: Human Development & Family Studies
Let's Talk Fashion
What are your favorite places to shop? "I mostly shop [at] Forever 21, Nordstrom, H&M, and American Eagle; pretty much anywhere my college budget will allow me to."
How would you describe your sense of style? "My closet is full of a lot of traditional pieces. I always find a way to mix up items I already have. I do really like to try edgy trends."
Currently, what are your favorite trends? "Is black a trend? It will always be in style. So, I guess my black leather jacket, since it's my go-to piece in the fall."
Who is your fashion idol? "I love Lucy Hale's style. She can pull off some really rocker-chic looks. I would go crazy in her closet."
Elements of Paige's Outfit
1. Burgundy Leather Jacket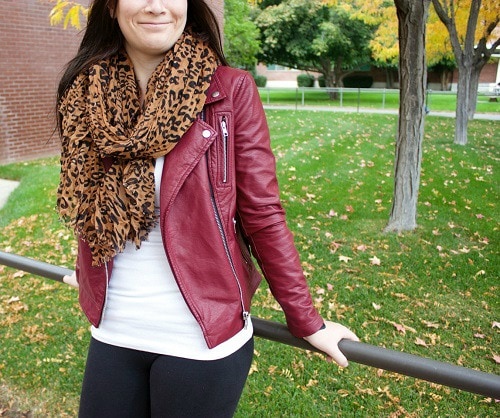 Paige says this jacket is the most trendy fall piece in her closet and is also one of her favorites. It's fashion-forward yet traditional, which means it can work with almost anything, including that fab leopard print scarf. Even though her favorite color is black, Paige adores the deep burgundy color and was surprised at how easy it is to wear.
2. Fall-Inspired Booties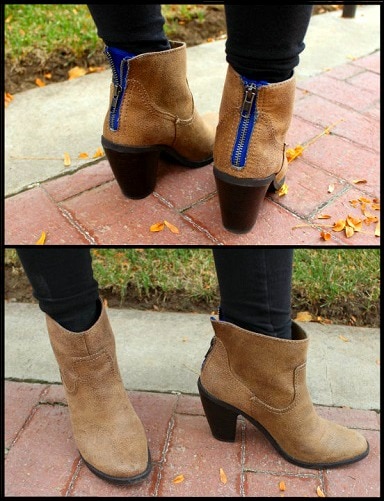 These Target booties are the definition of fall footwear. Paige understands the stylish versatility of these brown suede booties and says she wears them all the time. The blue accents are a trendy touch, but are still subtle enough to make these booties work for everyday wear.
What do you think of Paige's fall style?
Do you think she is a shining example of what students should dress like on campus? Do you love her pop-of-color booties and burgundy jacket? Let us know below in the comments!