In Northern California, spring has sprung! The birds have come out of hiding, sweaters are being put away, and nothing makes me happier than visiting my home state during this time of year.
On a lunch outing, I ran into Olivia, a girlfriend from high school. She has worked at a boutique in town since we graduated a few years ago, so her fashion is always on point. On this particular day, Olivia looked so effortlessly adorable – I knew I had to interview her for Looks on Campus!
Olivia 101
College: Sonoma State University
Year: Junior
Major: Child Development
Hometown: Windsor, CA
Let's Talk Fashion
Who or what inspires your style? "I work at a boutique, so the clothes in my store and my co-workers constantly inspire my style. I specifically love dressing this time of year. We have different days of the week at work where we like to get dressed up, which always keeps things exciting and fun."
Where do you like to shop? "I like Forever 21 a lot. They always have something that catches my eye. I also am a big fan of going into the city [San Francisco] for the weekend to shop around Union Square – such amazing shopping! Also, like I said, I work in an adorable women's boutique, so I tend to spend at least a portion of my paycheck in the store. Whoops!"
How would you describe your style? "I think my style is very laid-back. I [like] to keep things simple and comfortable, especially when I am standing for hours or rushing around to class. I do love to really dress up on the weekends though when my girlfriends and I go out dancing! That is the time for something a little more high maintenance."
Why did you choose this look? "Today it was beautiful out and one of the first days where there was no need for a jacket! I wanted my top to reflect my mood for the day, so that's why I loved all these colors. In general, I am a big fan of beautiful prints, such as flowers or patterns."
What advice would you give to college students looking to improve their style? "Hmm, advice? Definitely be comfortable! That is my number one piece of advice. If you feel good and beautiful in the outfit you are wearing, you will shine all day long. It sounds cheesy, but it's so true!"
What are your favorite trends right now? "My favorite trends are usually trends having to do with lots of accessories. For example, big bangles or long necklaces. I also like trying cute new hairstyles."
Who are your favorite designers? "I am not huge into designers and don't like only buying things because of a designer label. I do really love Free People, Splendid, and Hudson. Hudson jeans are the best thing ever."
What do you like to do for fun? "My friends and I like to go out dancing on the weekends. It's such a great way to let out stress from the week and get some exercise while having fun. In the summer I also enjoy going to the river or Lake Sonoma, a lake close to where I live."
If you could raid anyone's closet, who's closet would you raid? "This sounds funny Tay, but I would raid your closet! We haven't seen each other in a while, but I know I would love to check that out. I also would love to raid the Nasty Gal showroom closet. [It's] the best website for adorable looks."
Elements of Olivia's Look
1. Feather Print Top and Navy Blue Bag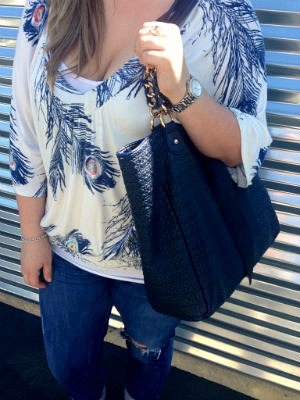 Olivia's feather print blouse is covered in beautiful colors that are ideal for springtime, and I especially like the way her navy blue bag matches the top. I am obsessed with this chain strap bag – the pattern adds texture and interest, while the large bow detail is an adorable touch.
2. Boyfriend Jeans and Black Sandals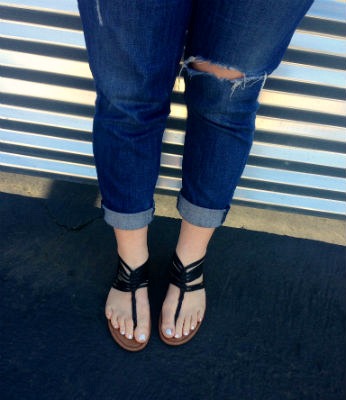 Olivia's boyfriend jeans are perfect for busy college girls on the go. They're comfy and casual, plus the cuffed legs are a great option for a warm spring day. The cropped length also showed off Olivia's braided black sandals. Now that the weather is nice, these flat sandals are a versatile option to wear throughout spring and summer.
Do you like Olivia's casual spring look?
What do you think of her cuffed boyfriend jeans? What about her patterned top and navy blue bag? What have you been wearing this spring? Let us know your thoughts by leaving a comment below!