The transition from winter to spring is always tricky in Indiana. It can be 60 degrees and sunny with strong signs of spring one day, then 35 degrees and snowing the next.
Dressing during these times can be complicated, but not for these two roommates! Alexandria and Olivia were looking fashionable and comfortable in the beautiful weather. Their trendy looks kept them warm and looking cute while walking to class.
Alexandria/Olivia 101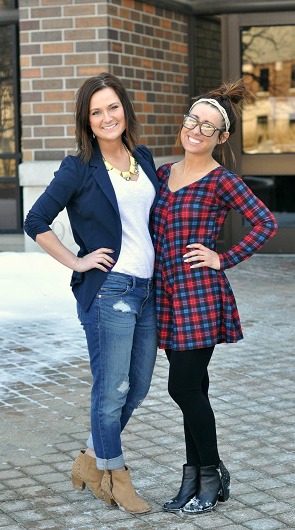 School: Indiana State University
Year: Seniors
Major: Olivia: Textiles, Apparel, and Merchandising with a minor in Marketing.
Alexandria: Textiles, Apparel, and Merchandising with a minor in Marketing and Business Administration.
Let's Talk Fashion
Who or what inspires your style?
O: "My style is influenced by Audrey Hepburn and Jackie Kennedy because they are classics. Currently, I would say Alexa Chung and a lot of bloggers."
A:"I usually look at bloggers as well. I also like to look at what Blake Lively wears on Gossip Girl."
Where do you like to shop?
O: "My favorite stores would be Free People and Urban Outfitters. I'm also a big fan of the websites Necessary Clothing and Sabo Skirt."
A: "I like to shop at Express, Lulu's, different boutiques around town, and Necessary Clothing."
How would you describe you sense of style?
O: "My style is preppy one day and boho-chic the next. I'm open; my style sense is a variety. I couldn't describe it in one word other than eccentric."
A: "My style is simple, I usually just wear statement jewelry. In the summer I dress more boho because of the warmer weather.
Why did you choose this outfit?
O: "I woke up a little late, so I thought I'd put on a romper and tights. It's a little chilly out and it was a quick and easy outfit."
A: "I chose mine because it is simple and cute. It wasn't hard to put together."
What fashion advice would you give to other students looking to improve their style?
O: "I think on campus you should keep it comfortable but classic and simple."
A: "I would say try to get items that you can mix and match with other outfits. One of my favorite shirts is a striped shirt and I can wear that with basically anything. I can wear it with an army jacket over it or a blazer. Anything you can mix and match will save you money."
What are your favorite trends right now?
O: "One of my favorite trends right now would be the grunge and hipster looks; I'm a big fan of flannel. For spring, I love the matching shirts and skirts, jumpsuits and rompers."
A: "I would say I really like rompers as well. This summer I want my outfits to look more free and boho-inspired."
Do you have any favorite fashion designers? If so, who?
O: "My hands down favorite would be Chanel. It's classic; Karl Lagerfeld is amazing."
A: "None!"
What do you do for fun? Do you have any unique hobbies or interests?
O: "I really like art and drawing. I play the piano. Music is a definite passion of mine."
A: "I'd say mine are about the same. I also like to go shopping and hang out with friends."
If you could raid anyone's closet, who would it be and why?
O: "Like I said, Alexa Chung, but also the Gossip Girl wardrobe."
A: "If I could raid anyone's closet it would be Blake Lively's closet from Gossip Girl. Everything she wears is really cute and put-together."
Elements of Olivia's Outfit
1. Headband and Glasses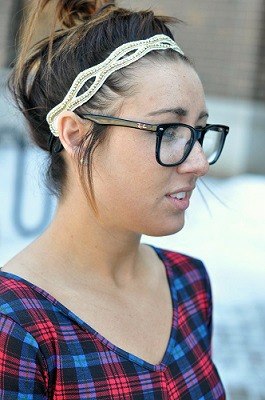 Olivia decided to polish off her trendy plaid romper with a beaded headband. Not only is her headband super cute, but the neutral color allows her to wear it with many different outfits. Her Ray-Ban frames fit into her love of the "hipster" trend, and she pulls them off well.
2. Pastel Nail Polish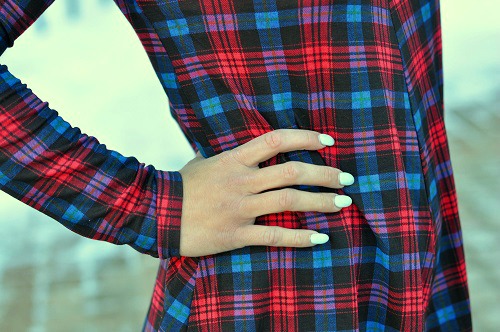 All things pastel are hot for spring, and Olivia rocked this trend with a beautiful pastel blue manicure. And c'mon – those nails are GORGEOUS.
3. Black Studded Booties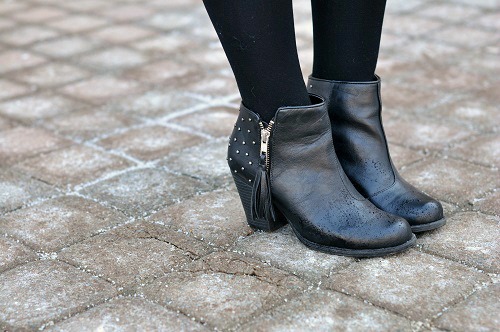 These black studded booties are perfect for walking around campus in the current weather. The heel is not too high, and they can be worn in many ways. The little details on these booties, like the tassels and small studs, really make them special.
Elements of Alexandria's Outfit
1. Sunnies, Coat, and Studded Purse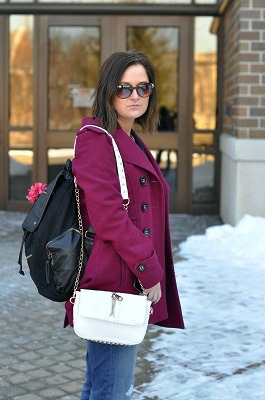 Alexandria finished off her outfit with adorable sunglasses and a white studded purse. Her jewel-tone peacoat is a lovely hue, and makes her purse really pop.
2. Statement Necklace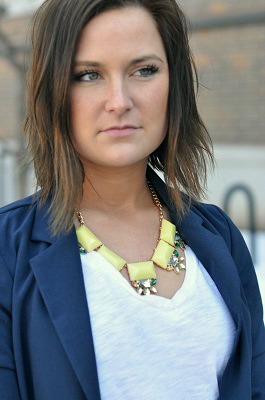 A statement necklace is a great way to step up any look, and this gorgeous piece provides the perfect pop of color in this ensemble. Since Alexandria purchased her necklace at a local boutique, she's also supporting local businesses, and that's always a great thing.
3. Studded Booties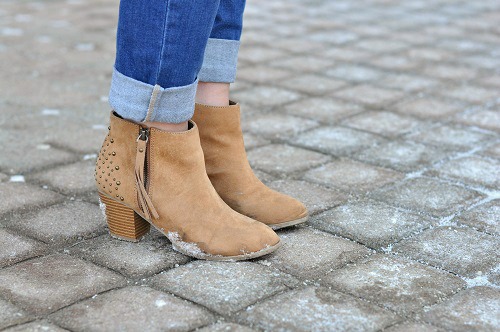 Alexandria's studded booties, from Express, are a fab winter-to-spring transitional piece. Like Olivia's boots, they are the perfect height for walking around campus. These boots pull Alexandria's neutral-colored look together perfectly.
What do you think of this fashionable pair?
Are you a fan of their adorable boots? Which look do you relate more to? Are you wearing pastel fingernail polish or bold necklaces this spring? Let us know what you think by leaving your thoughts in the comment section below!