When you're in college, papers, quizzes, and midterms take up so much of your time, and make it hard to find the motivation to assemble a cute outfit every day. I've had a few classes with Nozomi, and after seeing her around campus, I can say that I have never seen her with an outfit that wasn't well put-together. She matches different pieces and styles with confidence, and the end result is always a cool, girly outfit.
Although she studied English and business back in Japan, she decided to study fashion merchandising here at Indiana Unversity of Pennsylvania. I loved speaking with her about her style and finding out a little more about Japanese culture and fashion.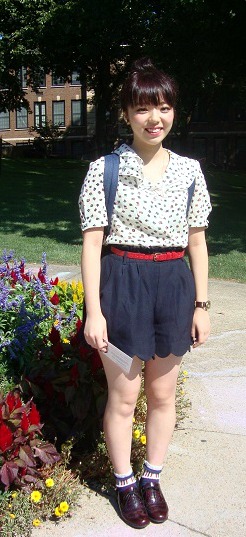 Nozomi 101
Name: Nozomi
College: Indiana University of PA
Hometown: Osaka, Japan
Major: Fashion Merchandising
Age: 20
Year: Junior
Let's Talk Fashion
Who or what inspires your style? "Actually, my mom and my grandmother! I got this shirt from my mother."
Where do you like to shop? "Anywhere. Although I like Asian clothes better, as they suit my style. I think American clothes are really casual, and I usually go for more girly 'Asian cute' styles."
How would you describe your sense of style? "I don't have a way to describe it; I think it's just me being myself!"
Why did you choose this particular outfit? "I honestly didn't think too much about it and just felt like wearing it. And I wanted to wear summery clothes before the weather turns a bit chilly again."
What fashion advice would you give other college students? "They should wear whatever they want and what they feel comfortable in."
What are your favorite trends right now? "I've been really liking ankle socks lately."
If you could raid anyone's closet who would it be and why? "I would have Kiko Mizuhara's closet. She's a Japanese model. I just like her style and personality."
Elements of Nozomi's Outfit
1. Ruffle Detailing & Jewelry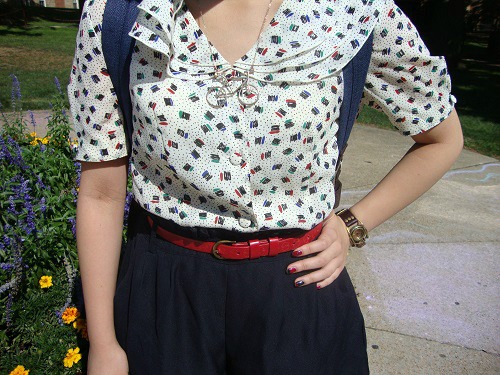 Details, details, details! This outfit was all about the details. Although Nozomi said she didn't think about it too much when putting her outfit together, it looks as though each piece was carefully selected for this ensemble; even her nails match her belt and shoes!
The ruffle collar and tiny polka-dot pattern on her blouse make her outfit very feminine. In addition, her vintage jewelry adds a cool vibe to this ladylike look. For this ensemble, she accessorized with a faded gold bicycle necklace and a gold watch with a leather strap.
2. Shoes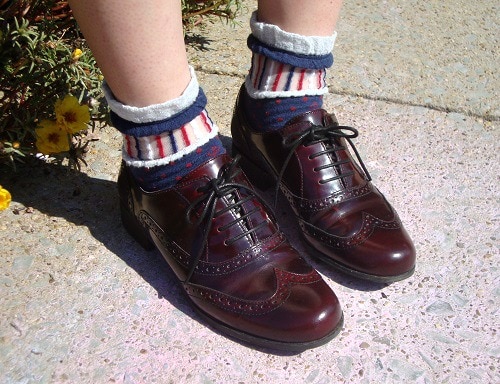 Nozomi paired her burgundy leather oxfords with cute ankle socks, a trend she mentioned loving right now. The colorful and full-of-personality socks created a fun contrast against her structured, menswear-inspired shoes.
3. Backpack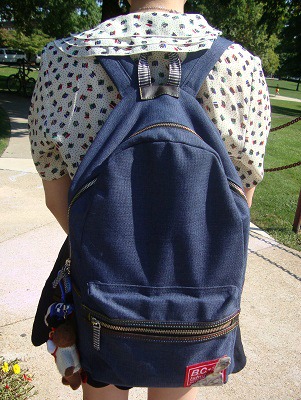 Staying true to her style, this blue backpack was paired with some cute details: plush keychains of a wizard Mickey Mouse and a little bear. This backpack is the perfect utilitarian piece to carry her books around campus. Why bother with a purse when you can carry a stylish yet practical backpack?
What do you think of Nozomi's ladylike look?
Is this outfit something you would wear to school? Do you like her ruffled, patterned shirt? What do you think of her bicycle necklace and ankle socks? Let us know your thoughts in the comments section below!