The stereotype is true: us New Yorkers love wearing all black. However, despite our monochromatic ways, our styles are far from boring!
While walking around the Union Square on a beautiful fall Sunday, I spotted Noele, who was a prime example of how an all-black outfit can be bold in all of the right ways. Noele added some personal twists to her look to keep it cohesive but unique.
Noele 101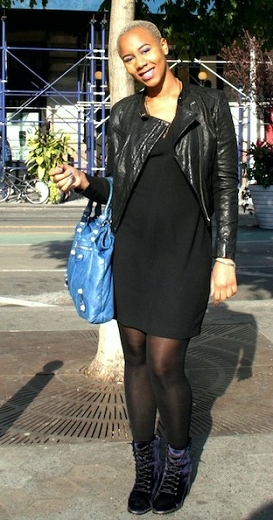 Name: Noele
Age: 22
Year: Senior
School: Johnson & Wales University
Major: Marketing & Fashion
Hometown: Brooklyn, NY
Let's Talk Fashion
First things first, where is your outfit from? "My jacket is from Nordstrom. Even though it's from a no-name brand, I always get compliments on it! The black dress is from Zara. These tights were purchased from a little town in Ireland during my internship at a corporate marketing firm. They didn't appreciate my funky tights as much as I do, so I stuck with plain! These boots are brand new from Steve Madden. My chain necklaces are from my dad."
Why did you choose this particular outfit today? "I woke up this morning feeling like wearing a smart and professional outfit, so I went for this simple LBD paired with an edgy jacket. A clean-cut silhouette keeps me looking more corporate at work."
Where do you like to shop? "I find all my favorite items from thrift stores and boutiques around Brooklyn. Williamsburg has so many hidden gems."
What advice would you give college students who are looking to improve their style? "Please do not wear sweatpants and pajamas in public! That is my biggest pet peeve. You never know when you'll run into your ex-boyfriend, high school frienemy, or worse, your boss. Keep the disheveled look inside your home."
Who's your favorite designer or label? "It's so hard to say because I'm a big fan of many high-end brands! Chanel and Tom Ford always have incredible and inspiring designs. However, Marc Jacobs' most recent runway show really caught my eye. Marc Jacobs' other line, Marc by Marc Jacobs, is much more affordable, too."
If you could raid anyone's closet, who would that person be and why? "Rihanna, without a doubt. She's my main girl! She always looks different and puts together the craziest outfits, but always manages to rock them flawlessly!"
Elements of Noele's Outfit
1. Dramatic Makeup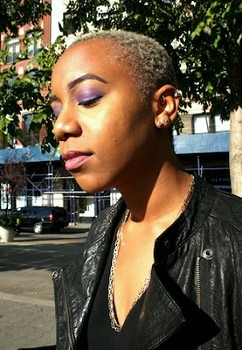 When Noele isn't in classes or studying, she works as a part-time makeup artist. She often bases her outfit around the makeup she feels like wearing each day.
Today, she sported a very colorful lavender eye. The color adds a bold touch of personality to her monochromatic and clean-cut outfit. This makeup definitely speaks for itself!
2. Bold Handbag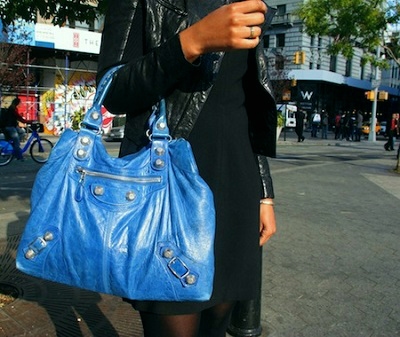 The show-stopping element of Noele's outfit is clearly this covet-worthy Balenciaga bag. It was a high school graduation gift from her father. Thumbs up for such a generous dad! (Also, we are super jealous.)
The size is ideal for schoolbooks, but it's also perfect for toting along to a professional job interview. The trendy hue of cobalt is such a sassy color for this fantastic bag.
3. Velvet Boots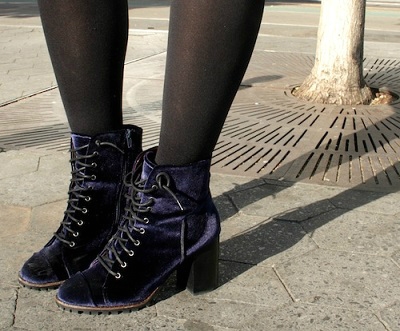 The velvet texture of these shoes immediately caught my attention! These Steve Madden lace-up booties are very fall-appropriate and on-trend this season.
At first glance, you may think the shoes are black, but they actually change from navy to purple as the light hits them. They are a stylish way to add some flair to an all-black ensemble.
Now we want to know what you think!
Are you in love with Noele's all-black look? Do you ever wear monochromatic outfits? What do you think about velvet shoes? Are you as obsessed with her bold bag as we are? Leave a comment below and let's discuss!