Early fall is by far my favorite time in northern California. The sun is shining and it's still warm enough to keep wearing your favorite summer clothes.
However, the weather is always unpredictable, so layers are a necessity on our Berkeley campus. So when I saw Nicole in a campus office, I noticed her style right away: She clearly has a knack for outsmarting the Nor-Cal weather and looking fashionable while doing so. Let's meet her!
Nicole 101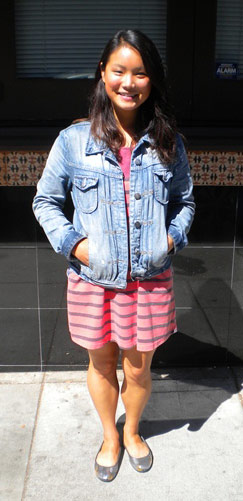 Name: Nicole
School: University of California, Berkeley
Year: Sophomore
Major: Economics
Hometown: New York City, NY
Let's Talk Fashion
Who or what inspires your style? "I'd have to say my grandma! She's a petite little lady like me, but she wears her size very well. Everything is tailored and elegant."
Where do you like to shop? "Sample sales and consignment/thrift stores are my favorite places to mine for new additions to my wardrobe. If I'm not shopping second hand or samples, you'll find me in the depths of J.Crew's and Anthropologie's sale racks."
How would you describe your sense of style? "My style is hard for me to pin down – it has changed quite a bit since I moved to the west coast. I'd say it's a good fusion of east and west coast – minimal but embellished, polished but relaxed… or so I hope!"
Why did you choose this particular outfit? "This is one of my staple outfits. I wear this denim jacket everywhere and my dress is comfortable and works well with my small size."
Do you have any fashion advice for girls looking to build their personal style? "Don't restrict yourself to one particular style. Experiment."
Any fall trends you are looking forward to? "I'm not much of a clothing trend follower, but I am looking forward to wearing purple lipstick this fall!"
Any interesting hobbies? "I do competitive ballroom dancing. Ironically, dressing relaxed and comfortable doesn't apply there. It's a totally different standard of dressing."
Elements of Nicole's Outfit
1. Shift Striped Dress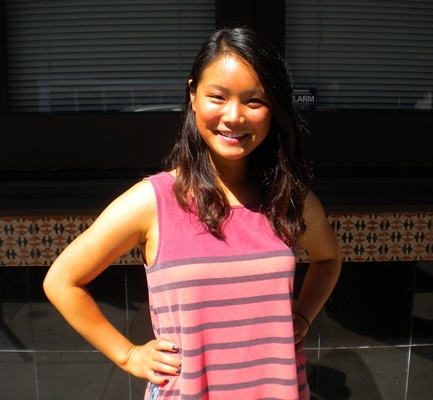 The simple shape of Nicole's dress provides the perfect canvas for a large horizontal print. While large, bold prints can sometimes overwhelm a petite frame, the muted colors of Nicole's dress help soften the stripes and keep the focus on her face.
2. Sparkle Flats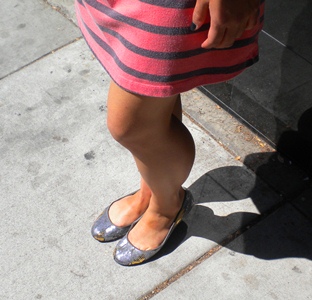 Nicole's flats are the perfect complement to the dress and add just the right amount of sparkle. "I typically wear my beaten natural Toms with this [outfit], but I though a little sparkle would be nice." Aside from being sparkly, her flats are also super comfortable and therefore perfect for navigating a large campus.
Your Thoughts?
What do you think of Nicole's look? How do you incorporate stripes into your wardrobe? Are you wearing a jean jacket this fall? Let us know with a comment!