I was friends with Nicole in elementary and middle school, although we lost touch when we went to different high schools. While at home for the summer, we caught up at a daytime party – and her outfit was so eye-catching, I knew I had to photograph her for Looks on Campus!
Nicole 101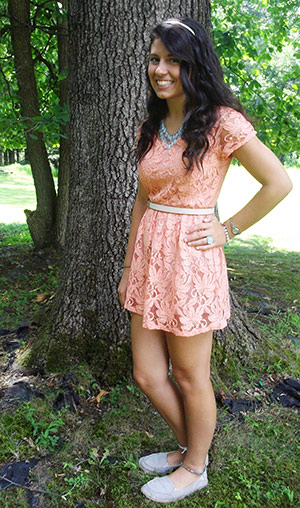 Name: Nicole
Year: Freshman
School: Quinnipiac University
Major: Journalism and Education
Hobbies/Interests: "I dance. I've been dancing since I was three and I'm continuing in college."
Let's Talk Fashion
Who or what inspires your style? "My mood. Some days I feel like dressing girly and other days I feel like dressing bohemian. It really depends on how I feel that day."
Where do you like to shop? "Forever 21, PacSun, and American Eagle."
How would you describe your personal style? "It changes every day. I like to be comfortable. I'd rather wear a dress than jeans, but I do rock sweats sometimes!"
Do you have any advice for other students looking to improve their style? "Don't be afraid to be bold or try something new. Always be comfortable. Be yourself, but experiment!"
What are your favorite trends right now? "I really like color-blocking, crop tops, and tank tops tied at the bottom. Anything summery and bohemian."
If you could raid anyone's closet, who would it be and why? "Zooey Deschanel! She always dresses super cute, but she always changes it up!"
Elements of Nicole's Outfit
1. Coral Dress and Turquoise Necklace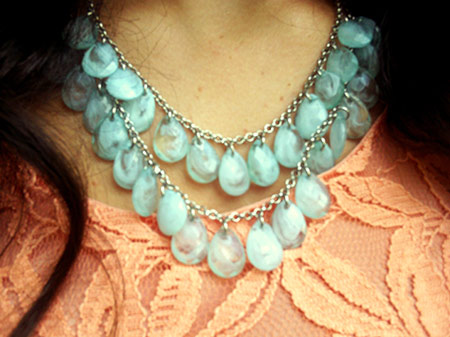 It's hard to get more summer-appropriate than Nicole's outfit. Since her dress creates such a statement on its own, I was impressed that Nicole was able to add simple yet interesting pieces of jewelry without detracting from the ensemble. Coral and turquoise mix so well together, and Nicole was able to pair them in a bold and playful way.
2. Fun Turquoise Jewelry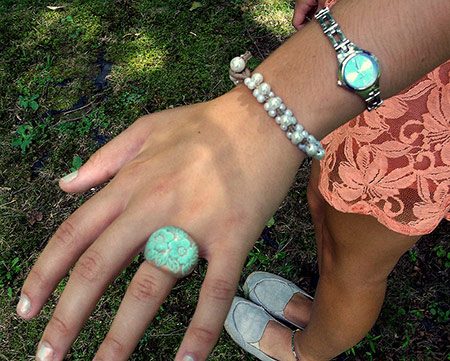 Nicole's layered turquoise necklace was just enough to add some interest to the top of the look. Her giant turquoise ring, however, really makes a statement and the flower detail goes with the flowered lace on her dress. Her simple bracelet and watch add a classic element to the bold outfit.
Your Thoughts?
What do you think of Nicole's look? Would you wear a lace dress? Do you love colors Nicole pairs together? Let us know with a comment!