When I met Nicole in my Sociology class at Irvine Valley College last fall, I was immediately intrigued by the array of outfits she wore each week. So when I saw her during a trip to the Irvine Valley campus, I not only had to photograph her vintage-inspired getup, but I also made sure to ask where she gets her style inspiration. Read on to learn more about Nicole!
Nicole 101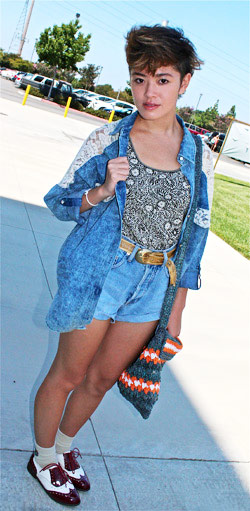 Name: Nicole
Year: Sophomore
School: Irvine Valley College
Major: Public Relations
Hobbies/Interests: Singing, dancing, drawing and painting.
Let's Talk Fashion
Who or what inspires your style? "I'm inspired by [what's happening in fashion] overseas – I adore the cuts and textiles in Thailand and India, as well as the rich colors and textures. A huge influence is Tumblr. I follow fashion blogs — minimalistic, bohemian, gorgeous vintage fashion photography from the fifties, etc. Plus, Tumblr lets me see what what the hype is in Paris, London, Milan, New York, all the fashion hot spots. Finally, I can't help but be influenced by my mom because a good chunk of my closet is my mom's gorgeous old clothes."
Where do you like to shop? "I shop in my mom's closet. Back in the day, she was a buyer for Macy's so there are gems in there. But aside from that, I shop almost exclusively at thrift stores like Salvation Army and Goodwill. Once in a blue moon, I cheat and go to an H&M, American Apparel, or Urban [Outfitters]. When I shop at thrift stores, I know I can find great, high-quality vintage items with prices fit for a poor student like me."
How would you describe your personal style? "It's eclectic; keepin' people on their toes. One day, I could sport punk influences; the next day, I could be vintage Americana; the next day, I could find inspiration from Thailand. This sounds super corny but fashion allows me to be anyone."
Do you have a favorite color to wear? "I love forest green. I'm pumped for fall because I get to wear my favorite yummy, spicy, cozy colors."
Why did you choose this particular outfit? "Nothing particularly interesting going on today, so I kept it extremely basic. It's the third day of school. It's warm and sunny out. Over the summer, a high-waisted vintage denim cutoff is my go-to. I find that if I pick up a pair of old Guess, Gap, or Levi's shorts from Salvation Army, they are uber comfortable and fit my body well."
What fashion advice would you give to other students looking to improve their style? "Ladies and gents, you have to be aware. Look to the media. There is a sea of fashion out in the blogosphere. Hit up YouTube for fashion week. Peruse Saks and Neiman Marcus in the "Contemporary Designer" division. Frequent hip places and let the art absorb into you. You could even go to the mall because when you know what the mainstream is, you know what to step away from. Trends are nice and all, but don't follow them blindly. Give them a unique spin. Whether you like Free People or American Apparel, go and find things that have the same vibe at a thrift store. More bang for your buck!"
What are your favorite trends right now? "The first portion of the decade, 'women were losing their waists' — and I mean that pretty literally. (I say this in the words of an old fashion design teacher of mine.) Everything was low-rise. Lower the better. So I have to say, I'm happy that pants, dresses, and skirts with waists that hit a lady's natural waistline are back in the mode – they're so feminine. And I know this sort of contradicts what I just said, but another one of the large-scale trends I'm enjoying is androgyny. These days, guys are less concerned about being macho, and women are happy to rock a little menswear. And recently, I did see a pair of really chunky, really sturdy-lookin', moto-inspired, work boots at Topshop. I am loving the too-cool-for-school rocker chic trend. Very London punk."
Elements of Nicole's Outfit
1. Black and White Printed Tank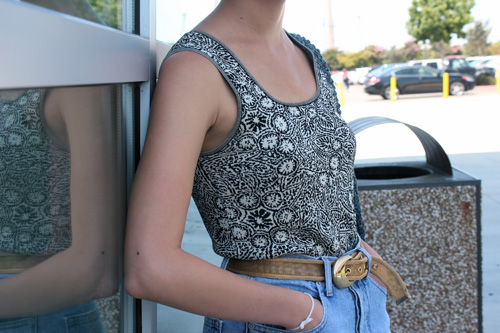 Nicole's black and white tank adds a bit of dimension and texture to her denim-heavy ensemble. Prints, especially complex florals, have been a popular design featured on tops and bottoms alike for several seasons now.
2. Vintage on Vintage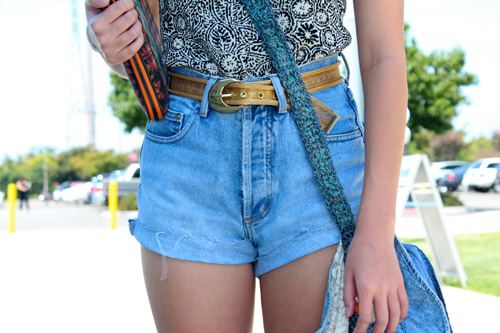 I'm definitely a fan of these high-waisted jean shorts. Nicole mentioned that they are a prominent trend in Malaysia, but as we all know, they're huge over here too! These particular cutoffs were originally purchased from the Salvation Army as pants, and Nicole then cut them into shorts. The gold belt is also a vintage bit, further highlighting Nicole's love of thrifting.
3. Lacy Jean Jacket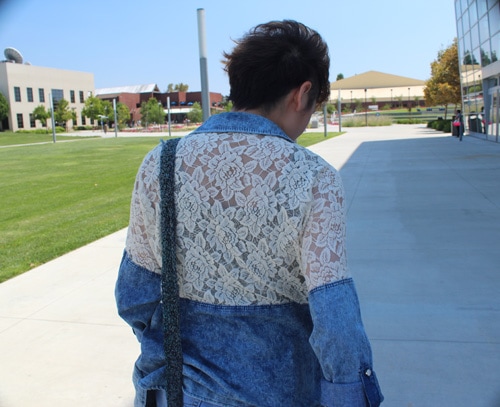 This fabulous find is a great alternative to the traditional jean jacket. It's not only adorable but incredibly versatile – wear it as a jacket with a dress, or as a shirt over a pair of jeggings.
4. Fancy Footwork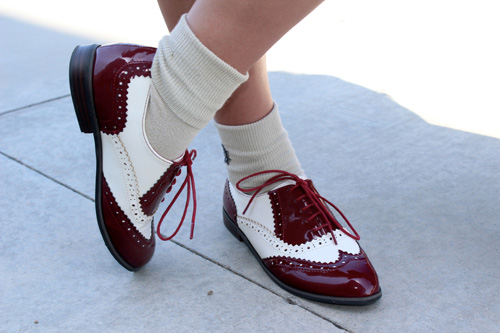 Nicole polishes off her look with my favorite element of the ensemble – a pair of glossy burgundy oxfords. These shoes, from a store called Vincci, help add to her look's vintage vibe and are comfy for walking around campus.
Your Thoughts?
What do you think of Nicole's look? Do you love your denim cutoffs? Are you inspired by Tumblr blogs and fashion from other areas of the world? Let us know with a comment!