This semester, I've walked by Niani on campus a few times and have always been impressed with her outfits. I asked around and discovered she runs her own fashion blog. The next time I spotted her on campus, I knew I had to take her picture for CF!
Niani 101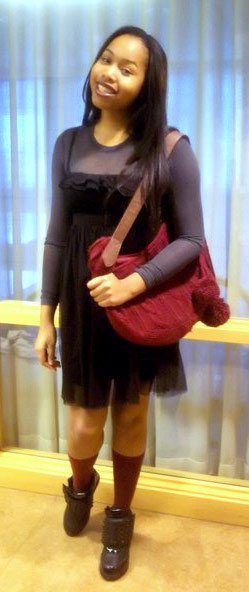 Name: Niani
College: Mount Holyoke
Major: Special Major in Fashion Consumerism and Participatory Culture in New Media with an emphasis on Textile Chemistry
Hometown: Miami, FL
Hobbies/Interests: "I love blogging! I also love going to parties in Miami, but the ones with cocktails that are more classy"
Let's Talk Fashion
How would you describe your personal style? "It's a mixture of all the phases I've been through in my life. My bag is from my thrifting phase, my dress is a hand-me-down, and my shoes are from now. I went through a rock stage, glam stage, retro, vintage, etc. and now my style is a mix of all of those things"
Where do you like to shop? "NastyGal, Miss KL, Karmaloop, and Urban Outfitters. Although I try not to go to Urban Outfitters because last time I went there I spent 300 dollars. I then learned not to buy anything full price at Urban because the next week it'll be on clearance…"
What are your favorite trends right now? "Oxblood is so hot. Also, I love dark purple lipstick, like "Cyber" by MAC or Revlon "Plum". I also love studs. Mostly, I just love the dark feel that winter brings."
If you could raid any celebrity's closet, whose would it be and why? "Rihanna, Rita Ora, and Teyana Taylor. They all have that baggy tomboy yet girly style that I love."
Who is your favorite fashion designer and why? "Alexander Wang because he can do high fashion or street wear. His high fashion is very wearable, which is why you see so many rappers wearing his pieces."
What advice would you give to a college student looking to improve their style? "I don't want to sound cliche, but college is for experimenting. Be bold. Don't care about what other people think. If you want to dye your hair blue and yellow, dye you hair blue and yellow!"
Elements of Niani's Outfit
1. Burgundy Purse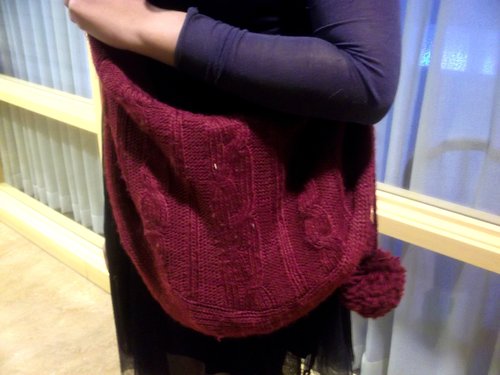 Dark red shades like burgundy, oxblood, and maroon are everywhere right now. Niani's woolen bag is the perfect way to add a hint of that trend to any outfit. Her burgundy purse not only contrasts against her black dress, but also matches perfectly with her socks.
2. Statement High-Tops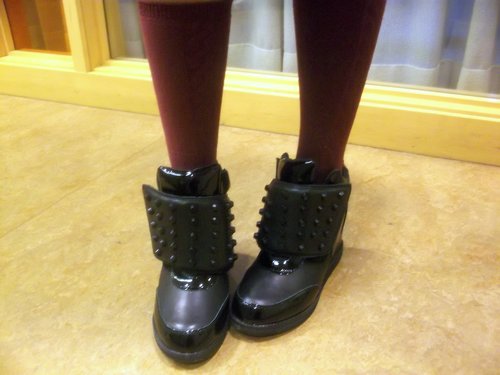 Niani's high-tops are by far my favorite part of her outfit! (How cool are they?!) These studded – and shiny – sneakers give her outfit an edgy urban flare. Their futuristic feel commands attention and showcases Niani's unique sense of style. Shoes like these are guaranteed to make a statement both on and off campus.
Your Thoughts?
What do you think of Niani's look? Do you like the oxblood trend? How much do you love her statement high-top sneakers? Let us know with a comment!