You can't help but want to get to know her – to talk to her and listen to what she has to say. Neima radiates confidence as she walks the brick paths at Elon University.
I have noticed her style and this incredible confidence many times, always slightly envying the way that she puts together and pulls off some of her outfits. It just so happens that this semester I have a class with her and have been given the opportunity to get to know the girl that evokes so many stares and awe-inspired glances.
Neima 101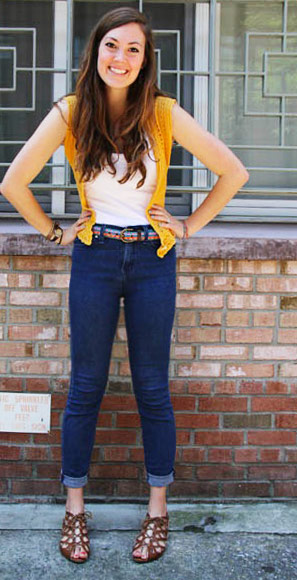 Name: Neima
Hometown: Originally from Somalia but more recently from Decatur in East Atlanta, Georgia
College: Elon University
Year: Junior
Major: Media, Arts & Entertainment with a concentration in Broadcast & New Media
Let's Talk Fashion
Who or what inspires your style? "I love Gwyneth Paltrow, Lisa 'Left Eye' Lopes from TLC, Janis Joplin, and Jada Pinkett-Smith circa the '90s. I also love the way that Jimi Hendrix didn't fit into any stereotypes and could represent everyone. I don't fit into a stereotype either because I love the Woodstock and hippie looks and try to blend it with art, hip-hop, and break-dancing types of style. I look to that time period (the '60s and '70s) the most [for style inspiration]."
Where do you like to shop? "On any given day that you see me, my outfit didn't cost much. I like to shop at thrift stores – I would call myself a thrift store connoisseur."
How would you describe your sense of style? "I am comfortable with myself so I know that what I am wearing is not the end-all, be-all of who I am. So if I want to wear a dashiki one day and the next day represent another culture by wearing a tie-dye t-shirt, I can. It doesn't matter what you wear as long as you wear it with confidence. I don't have one specific look – I try to mix eras and cultures and would say that I am 'accidentally fashionable' and wear what makes me comfortable that day. Some days I want to be laid back and be more 'girl next door' while other days I just want to feel pretty and 'dolled up.'"
What fashion advice would you give to other students looking to improve their style? "Don't be afraid of a stare. Don't be afraid to express your creativity. Don't be afraid to stand out. Never try too hard – that's how you lose your authenticity. Be fashionable, but be approachable."
Do you have any current fashion cravings? "I want to get more '90s urban thick roped earrings – 'Salt-n-Pepa' gold hoop earrings. I also want to get a Coogi sweater and Everlast boxing boots."
Why did you choose this particular outfit? "My favorite color is gold and today I wanted to feel pretty and 'dolled up.'"
Elements of Neima's Outfit
1. Gold boots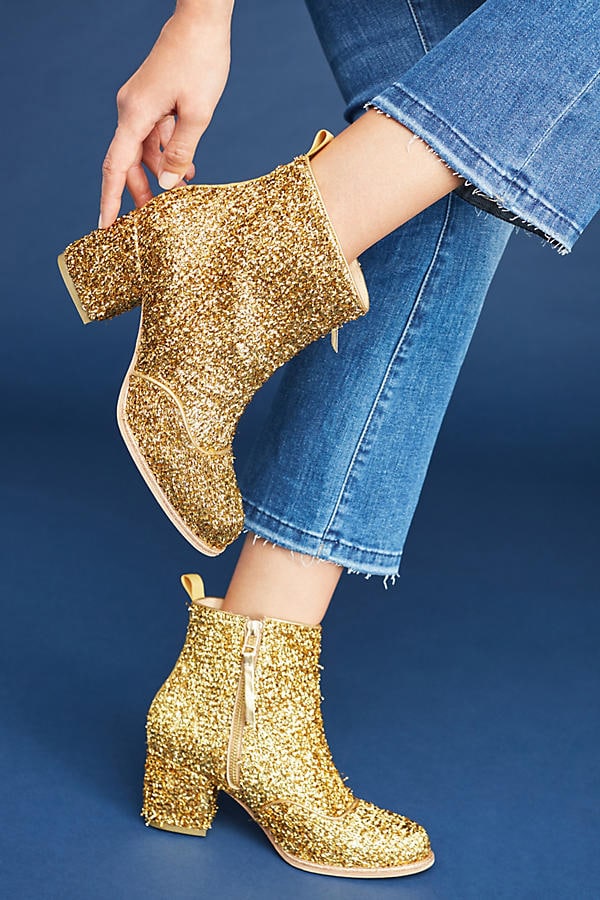 Neima bought these statement-making boots online two years ago. While they're definitely a polarizing item, I love these boots and think they add a special, whimsical touch to Neima's outfit. It was these boots that made me at her look twice. When people walk around campus, they often look down (just to make sure they don't trip on a loose brick) but these shoes would make anyone look up to see the rest of the outfit.
2. Gold Statement Earrings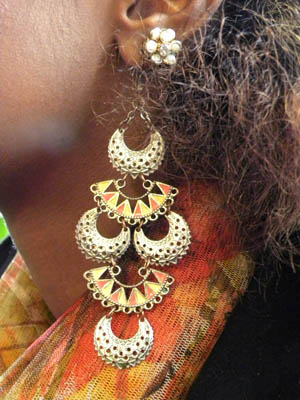 After noticing her shoes, I was drawn to Neima's incredible earrings. The orange and gold tones reflect the orange in her scarf and the gold of her boots, dress, and necklace (which she has had since ninth grade).
3. Flower Hair Accessory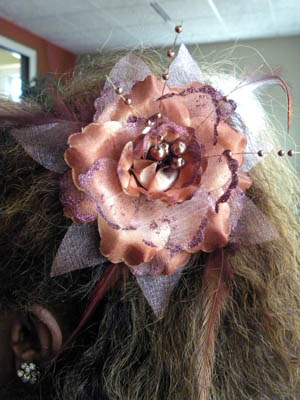 I have always found it difficult to pull off hair accessories, but Neima does it flawlessly. She continues with the whimsical and girly feel of her outfit by adding this flower to her hair. It's such a cute and unexpected piece, and adds a little something extra to her look.
What do you think?
Do you love Neima's fearless sense of style as much as we do? Would you wear a pair of gold boots? Do you agree with her fashion philosophies? What's your favorite part of her outfit? Let us know with a comment!