I met Natalia running out of the Pearson House on campus. I hardly go into Pearson because it is strictly for English and philosophy classes, but I just happened to be going to the one philosophy class I've had in my four years at Webster when I saw Natalia.
We bonded over our shared love of Kurt Vonnegut, and I was so impressed with her style. After all, she was headed to an early morning class but still had time to look put-together and adorable.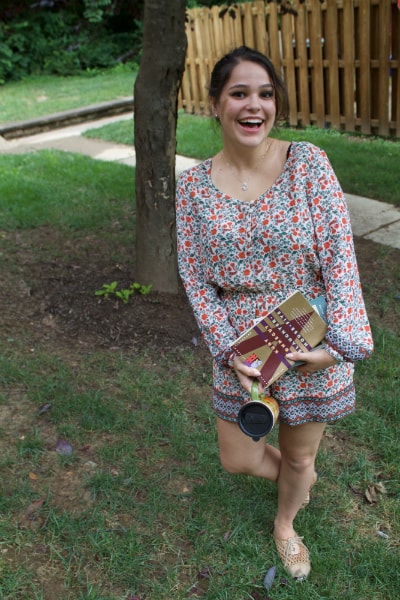 Natalia 101
Name: Natalia
School: Webster University
Year: Junior
Major: English Literature with a focus in society and politics
Let's Talk Fashion
Who inspires your style? "Lucille Ball."
Where do you like to shop? "H&M, Forever 21, Nordstrom, and I love hand-me-downs."
How would you describe your sense of style? "Eclectic and well-worn."
Why did you choose this particular outfit? "It's super-comfortable, functional, and it has pockets! Everything you want in an outfit, while still looking cute."
What fashion advice would you give to other students looking to improve their style? "I'm not one to tell people how to dress, but I think everyone should keep in mind: comfort is key. You should wear whatever makes you feel good and self-empowered."
What are your favorite trends right now? "Rompers, obviously, and I love oversized sweaters and fall boots; I may be too excited for this coming season."
Do you have any favorite fashion designers? "Betsey Johnson."
What do you do for fun? Do you have any unique hobbies or interests? "I knit my own clothing, like socks, sweaters, scarves, cowls, etc. I read a lot for school and you'll also catch me playing literature quizzes online for hours. Lastly, I love my tea; Harney & Sons is my favorite."
If you could raid anyone's closet, who would it be and why? "Even though she doesn't exist, technically, I would absolutely steal all of Scarlett O'Hara's curtain dresses. I love vintage clothes, I just never wear them."
Elements of Natalia's Outfit
1. Tea Mug and Classic Books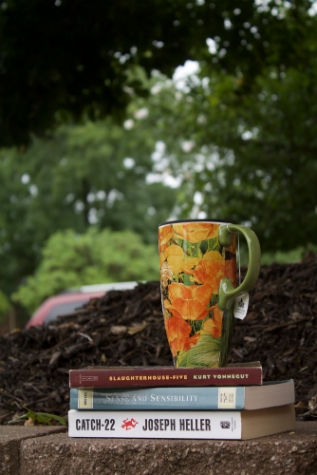 Even though these items may not technically be traditional outfit accessories, they completely represent Natalia's style and accentuate her outfit.
Natalia's adorable patterned mug pairs perfectly with her floral romper and even acts as an extension of her look. She was also carrying books for her classes, like Sense and Sensibility for her Jane Austen class and Catch-22 for her Prize Winning Authors class. The books and mug very much complement her eclectic style.
2. Woven Bag from Ecuador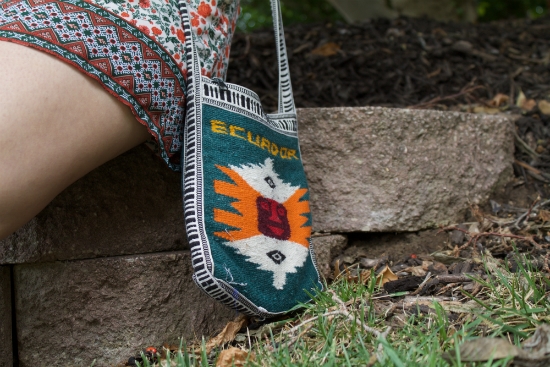 Webster is full of international students and Natalia told me her family is from Ecuador. She visits frequently and loves going, but has always lived in the United States. Although she doesn't permanently live in Ecuador, her culture is very different and Webster is a diverse place because of students like her.
She got this colorful woven bag the last time she went to visit her grandmother. She loved the pattern and told me it reminds her of where she's from.
3. Worn Oxfords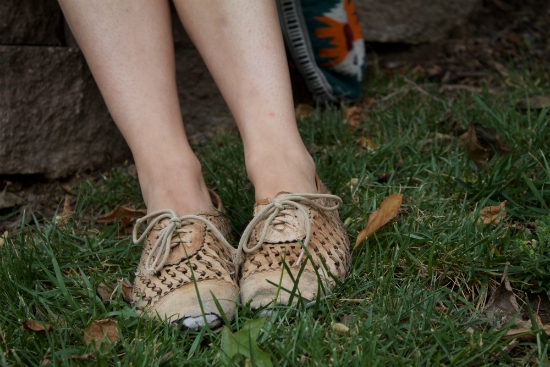 As a college student, Natalia takes advantage of any free clothing that comes her way, and she got these shoes from a friend a year ago. They were already worn out, but Natalia loves that style. She even wears them in harsh weather to mess them up even more!
What do you think of Natalia's romper?
Are you into the romper trend? Do you love her sense of style as much as we do? Do you ever wear hand-me-downs from friends? Comment below and let us know!