Nakisha's style can't go unnoticed around campus; it is so honestly her. Even she says it: comfort is key! Whether she is working on two television shows here at Indiana University of Pennsylvania, keeping up with classes, or volunteering at a film festivals in Pittsburgh, she always takes on the fashionable style of cool girl swag.
Nakisha 101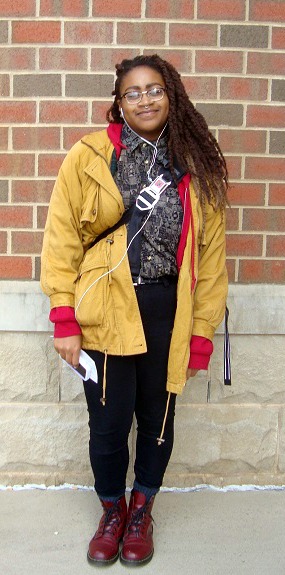 Name: Nakisha
College: Indiana University of PA
Hometown: Philadelphia, PA
Major: English Writing Studies
Minors: Asian Studies and Communications Media
Age: 20
Year: Junior
Let's Talk Fashion
Who or what inspires your style? "I'd say the underground punk scene in Pittsburgh and Philadelphia. That's what influences it."
Where do you like to shop? "I like thrift stores [and] Forever 21 since I used to work there in Philly. I'd say those are the main stores I go to."
How would you describe your sense of style? "An updated hobo or a 'stylish hobo.' That's what I'd consider it. My clothes don't match but then they do. I wear combat boots a lot with really old socks, different styles of pattern[s], [and] worn out clothes, but it still looks good."
Why did you choose this particular outfit? "Because it's my casual dress style. It's what I'm comfortable with and what I'm used to, so it's just become a habit to dress like this and keep up my street cred!"
What fashion advice would you give other college students? "I guess to continuously discover different types of fashion and see what you like the most, and then slowly work your way into it because you can find ways where, even if you don't have a lot of money, you can find different alternatives, whether it's cheap or expensive, and do whatever is comfortable for you."
What are your favorite trends right now? "I know right now a lot of girls are 'gel-ing' their hairline. A lot of people [are] wearing septum clickers and I'm interested in that. And a lot of girls who are African American are starting to wear their hair natural, so that's what I've been really into as well. And combat boots, which are always my thing. "
Do you have any favorite designers? "I don't think I have any favorite designers necessarily, because I never looked at fashion in that type of way; it's more of what I see on an everyday basis that inspires me to dress the way I do."
What do you like to do for fun? "I like to watch a lot of movies, as well as film, and direct short films on my own. And in my free time I just like to hang out. But other than that, if it's not anything school-related it's one of those."
If you could raid anyone's closet who would it be and why? "Mariah Carey. Just 'cause her closet is like the size of my room – no, my apartment."
Elements of Nakisha's Outfit
1. Doc Martens + Socks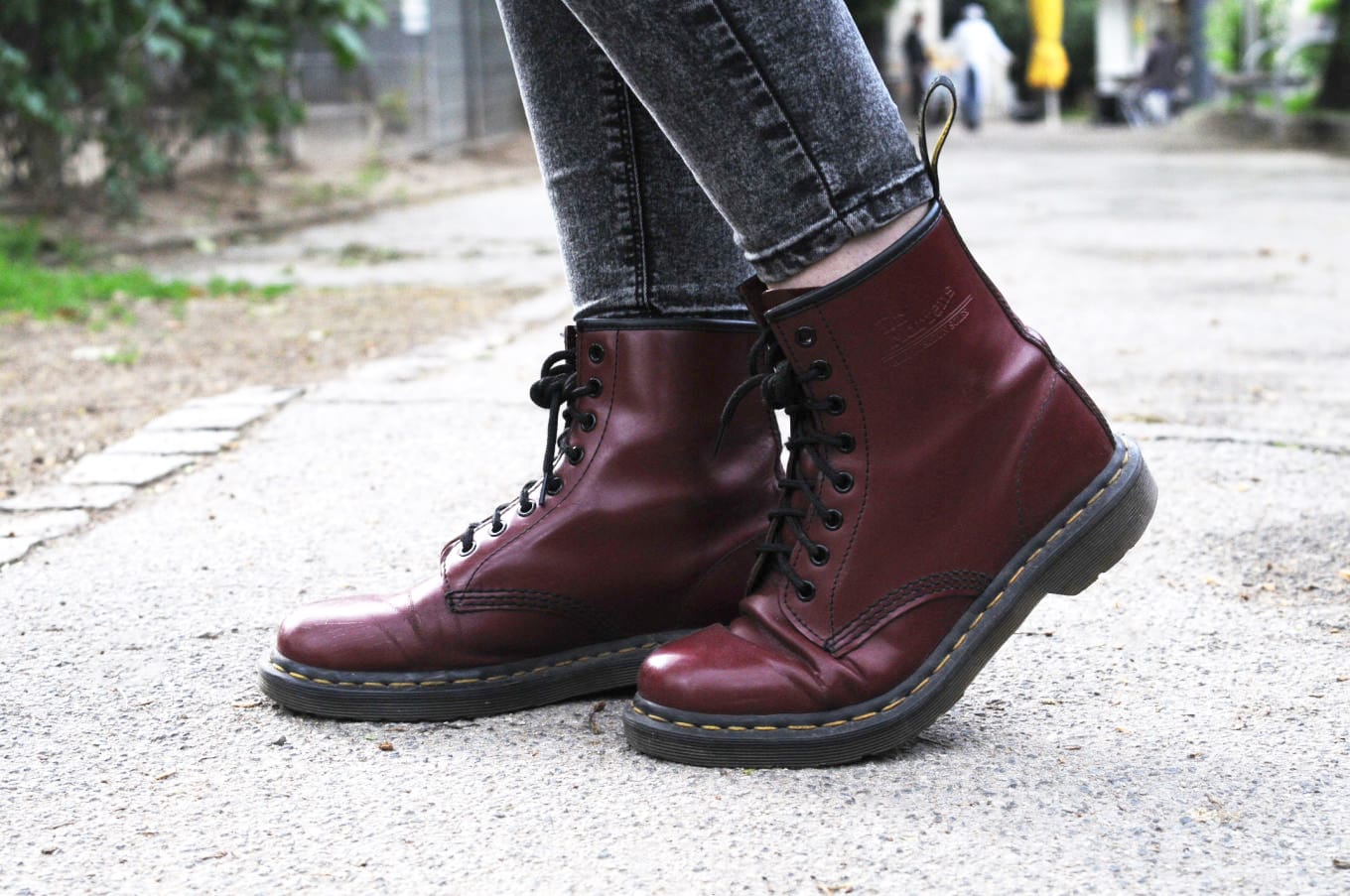 Nakisha's burgundy Doc Martens are a punk style staple and we love how these kicks perfectly coordinate with the rest of her outfit. Knit socks always pair well with combat boots, and these dark gray cable knit ones add texture and interest as they peek over the top of the Docs.
2. Backpack
What's not to love about this backpack? Full of personality, Nakisha's bag reps punk rock bands, her school, and feminism. The front also has a really cool and innovative hook closure that resembles a seat belt. This bag is the ideal size to carry books and binders to class, plus its across-the-body design is a unique alternative to the usual two-strap backpack.
3. Colors + Geometric Print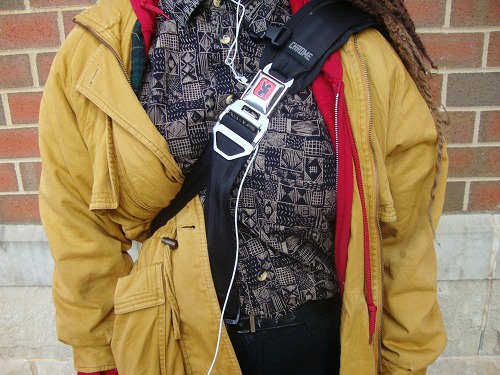 There is a range of colors and textures in Nakisha's outfit, which works well, since the more neutral tones are paired with attention-grabbing ones, like her red sweater and burgundy boots. Much love for the geometric print button-up; it brings in a funky element to a cold day outfit.
4. Gauges + Glasses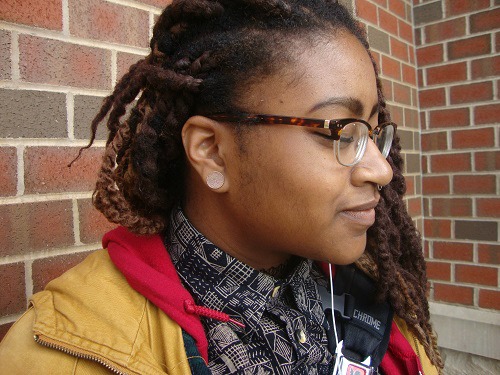 The history of gauges and ear-stretching pieces can be dated to ancient times, but in modern times it is especially present in punk rock culture. Nakisha wears her gauges well! In addition, her tortoise shell glasses also function as a trendy accessory.
What do you think of Nakisha's print-centric and colorful style?
What do you think of her burgundy Docs and gauges? Would you wear her outfit? What have you been wearing this fall? Let us know in the comments section below!