Fall has hit UGA's campus hard. With the temperature changing dramatically from morning to afternoon, a girl needs to be prepared when she sets out for class. I spotted Nagi on my way out of my residence hall and her look instantly reeled me in. After a week of constant rain and umbrellas, the burst of nice weather gave Nagi the perfect opportunity to strut her stuff. Read on to find out about Nagi's unique approach to fashion!
Nagi 101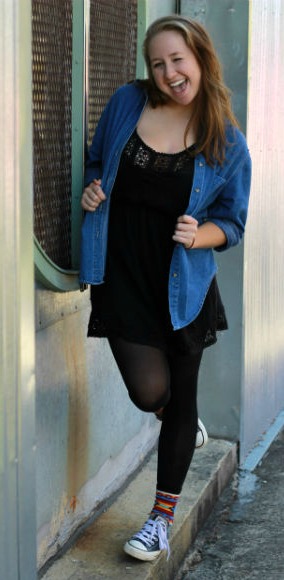 Name: Nagi
College: University of Georgia
Year: Freshman
Major: Pre-Journalism
Let's Talk Fashion
Who or what inspires your style? "My style doesn't derive from a single, specific influence. Traveling to Japan has made some impact because I can observe the dominant trends in both Asia and North America. Also, past eras in American culture inspire me. I love vintage items and mixing them with modern pieces."
Where do you like to shop? "My closet is a collective of items from Forever 21, Target, Goodwill, and boutiques in Japan. Very occasionally, I will shop at Urban Outfitters. I don't like to spend too much on any one item."
How would you describe your sense of style? "Sometimes it's androgynous, while other times it's feminine and vintage-inspired. As a whole, I would say my style is simple: subdued or neutral colors, tiny patterns, and basic silhouettes."
Why did you choose this particular outfit? "Because the weather is getting cooler, I wanted to wear something that can adapt to the temperature of the classroom and the outdoors. Also, I think a plain, oversized cardigan sweater adds a cool twist to an outfit."
What fashion advice would you give to other students looking to improve their style? "Start with the basics without getting too far out of one's comfort zone. A black or beige-colored blazer is a great piece, and a simple high-waisted skirt will go with almost any top. Gradually incorporate stylish items into your wardrobe so you won't get too overwhelmed. And never wear something that is unappealing to you but fashionable in other people's eyes; other trends will come along that you will be confident in wearing."
What are your favorite trends right now? "I love button-down collared shirts (I own at least 10!), simple ankle boots, and comfortable knit sweaters. I also am in love with '90s-inspired garments."
Do you have any favorite fashion designers? If so, who? "Although I can't afford their pieces right now, I am enamored with items by Phillip Lim, Marc Jacobs, and Alexander McQueen."
What do you do for fun – do you have any unique hobbies or interests? "Music is a great hobby of mine; I play guitar when I have the time. I can also play the clarinet and saxophone (albeit I haven't picked up either instrument in a while)."
If you could raid anyone's closet, who would it be and why? "Alexa Chung. She effortlessly balances femininity with tomboy influences."
Elements of Nagi's Outfit
1. White Knit Grandpa Sweater and Black Polka Dotted Dress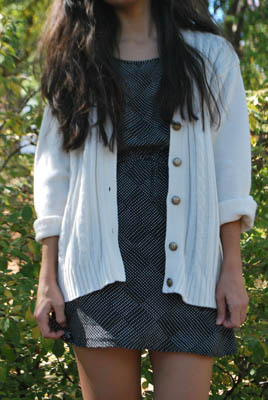 At just $4 from Goodwill, Nagi's precious white cable knit cardigan is a great bargain find. It's perfect for the incoming fall weather and has that "borrowed from the boys" aesthetic that is currently in style. I love how well it works with her flirty black and white polka dotted dress from Target – the proportions are spot on. In addition, the sweater's large gold buttons add simple color and interest.
Nagi's approach to fall fashion is cute and functional – she effortlessly pairs two unassuming items to create a simple yet charming look. In addition, her outfit is incredibly budget-friendly and reminds me that I need to plan a Goodwill trip of my own soon.
2. White and Tan Oxford Flats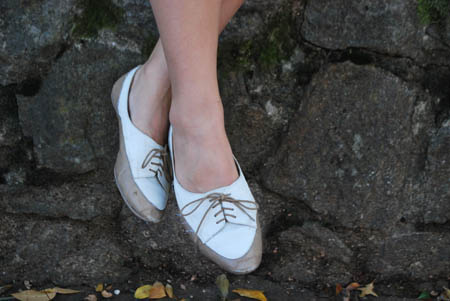 I've already discussed my love of oxfords for fall, and Nagi's adorable oxford flats only fueled my obsession. They are a great mix of colors, and their design is reminiscent of the popular 1950s saddle shoes that have reemerged onto the style scene. I find that their appeal is in their simplicity. The same can be said for Nagi's entire look – it's unique and stylish without being weighed down by over-accessorizing.
What do you think?
Do you like Nagi's outfit? Did Nagi's style inspire you mix masculine and feminine elements for a refreshing look this fall? Let us know your thoughts with a comment below!